We're very excited to announce ProProfs Project Version 2.0! With sub-tasks, real-time collaboration, a new dashboard and project email threading, we are sure you'll love this exciting new update.
It's been a few months in the making, but version 2.0 is now live! Yesterday we celebrated our second birthday and thought it was very fitting to release a major new update at the same time.
These are features that you've requested, as well as our own ideas such as interface design improvements. Read more below and enjoy the updates!
Sub-tasks
Yes, those sub-tasks which you've been requested for a long time have finally made their way in to ProProfs Project. If you've used ProProfs Project heavily for a while then you'll probably notice that Sub-tasks are basically To-dos renamed. However they are more powerful than you might think.
First of all Sub-tasks are now much more integral to the project and task management. The structure is now Client > Project > Task > Sub-task.
Sub-tasks are now part of the overall progress of a project. Therefore tasks now have a progress bar (like the Project) so that when you complete sub-tasks the task progress gets updated (and so does the Project progress bar in real-time).
We've redesigned the project's task page to make everything clearer and more useful. When you click on a project name now you'll go to this page where you'll see the project's progress, hours tracked and a quick link to the report page.
Project reports now include sub-tasks (as well as tasks), so your clients will find this much more useful when wanting a breakdown of how complete the project is.
Please note that as to-dos have now been replaced by sub-tasks we've converted 'project to-dos' to tasks and 'task to-dos' to sub-tasks. If you need help with this or a further explanation get in touch with us.
New Dashboard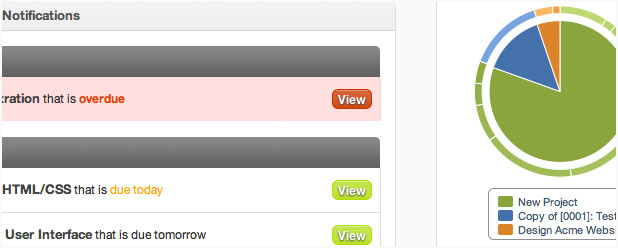 You'll probably know about this already, but the Dashboard has been improved with new charts and graphs to get overviews on your time spent, and the activity on your projects.
Also we have improved the Notifications section on the Dashboard to show up-coming deadlines as well as just what is overdue or due today. Therefore you'll find this section much more useful for getting an overview of your next 48 hours.
Real-time Collaboration

You can now view updates your collaborators make to projects and tasks within your project as they happen. As you work on a project (completing tasks and to-dos) you'll notice the project updates itself in realtime, likewise time that is tracked, changes to tasks or projects and the activity feed on the Dashboard all update now in real-time.
So if you want to monitor activity in your project across your whole team simply sit on the Dashboard page and watch events as they happen.
Email Threading
All projects now have their own email address which you can give to clients or collaborators. When emails are sent to this address they become comments which are threaded in to the project. Like normal, comments can be replied to aswell by email and they too will be threaded in to the conversation.
We feel this particular feature massively improves the CRM capabilities of ProProfs Project as email conversations can now be completely threaded to projects so you will never lose track of a conversation or get lost in a sea of emails about a project.
To access the email address of a project just click on the project report page, and then the "Email Comment" button and the email address will get passed to your default mail client.
We hope you enjoy the updates! Let us know if you have any questions.
X
MultiCopyPaste
Time to upgrade, it's free!
Simply click on the top left of the extension and register to get access to 10 shortcuts. Your email will remain secure, but we might get in touch for your feedback!
Do you want a free Project Management Software?
We have the #1 Online Project Management Software starting at $0