We're excited to tell you about a new feature that has been requested many times since we first introduced the invoicing system last year. You can now make Partial Payments on an invoice and filter invoices based on projects.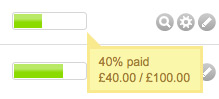 This feature works great for those wanting to take deposits on projects or for those wanting to accept another form of payment for example cheque. Just go to the invoice click on Add Payment and then you can add the amount as well as a description such as the cheque number.
Please note at the moment, if you have the invoice deposit paid with PayPal the invoice will be marked as paid automatically – we're going to be improving this over the next few weeks for those who like to accept PayPal for deposits.
Find out if you've invoiced for a project

From the projects page you will notice a couple of new little icons. Firstly the orange icon shows if the project (or task) is shared, and secondly the new blue dollar icon allows you to find out if the project has been invoiced for. Clicking on this icon will take you to the invoices for that project.
Filter Tasks by User
Another great addition we've just added is the ability to filter Tasks by user. This feature isn't available for those on the Freelance plan, but for all those doing heavy collaboration – you will find this feature really useful.
You can filter your tasks by assigned user by just selecting the user in the drop down. This will shows the tasks including the time spent on each task, allowing for project managers and administrators to get quick reports on how much time the users have spent on a project from within the interface.
Do you want a free Project Management Software?
We have the #1 Online Project Management Software starting at $0