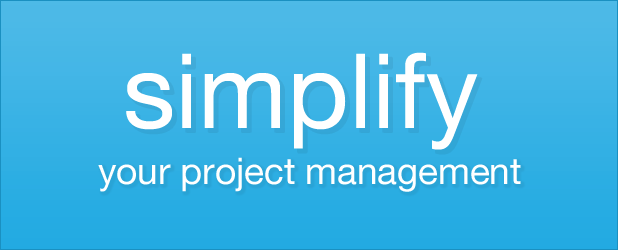 Your Project management system should not be complicated. In fact it should be easy and fast so that you can get on and do the work that you're supposed to be managing, or make it efficient for your team to take on the projects that you're managing.
Why then are so many project management systems over complicated, hard to learn and cumbersome? How can we make this process of managing your projects, really simple instead?
In this post we'll try to help you simplify your workflow and hopefully make project management really easy so you'll save time and money.
1. Get a birds eye view
The first step is to try to get a birds eye view of the project, and not get too granular with the details. For example, when you cook something from a recipe book the first thing you'll do is see the picture of what you're going to cook and ultimately eat. This will get your taste buds tingling and give you a mental picture of what you're aiming for. Then you start looking at the ingredients and the step by step instructions.
When it comes to project management, try to picture the project as a whole. What is the overall aim of the project? When does it need to be achieved by? Who's involved? What does it look like? Will it be a big project with lots of tasks and sub-tasks? Or is it a small project with only a few aspects to it. Get some of the fundamentals sorted first and then tackle the details. The best project management systems make sure the include all of these elements and more.
2. Make a template
In most cases you'll find that your projects are similar. Once you've got a picture in mind of the project you're about to take on, why not build the project as a template so you can use the structure again for other projects.

Ask yourself as you start breaking the project down in to smaller pieces "can this be re-used?". For example, you might have a task that's called "Design ACME Charity Website Wireframe", this could be "Design Wireframe" so it can be used in other projects you manage.
You'll save a lot of time if you build a project management template, because next time round you can just duplicate it and rename it instead of starting from scratch. If you need to tweak minor details, such as who's involved or the price you can just do this from the duplicated project and save yourself a lot of time and hassle.
3. Take one task at a time
It's stressful when you look at a project with lots of deadlines and masses of active tasks. When it comes to a smooth and simple workflow it's important to hide the things that don't matter.

Prioritize your tasks in to order of importance (by dragging and dropping)
Mark the un-important tasks with a red traffic light status
Tag your tasks in to different statuses or priorities so you can filter them out
Set up deadlines for each task
With the above steps you'll only see the tasks that you need to focus on. For example, you might have a task due tomorrow with a green light, which will show on your dashboard and on the project page, but the task that's due in two days time won't show if it's got a red traffic light so you won't need to worry about that. Take one task at a time.
4. Make use of reminders
Do you have reminders switched on? If you do then you'll get daily emails about what's important for the day. Likewise this same information will show in your Dashboard too when you log in, so you'll only need to think about what's important today and not lose your focus.
The reminder emails also contain links which will go straight to your project or task saving you a lot of time and getting straight to it.
5. Discuss the project with emails
Did you know that you can send emails to projects and tasks? If you reply to the emails that get sent out when you are assigned a project or task then these emails will get threaded in to the comment system allowing you to discuss the project with your team. This means you can keep a conventional method of your workflow (email) whilst making use of the powerful collaboration tools in the comments system.
6. Keep your projects tidy
As project manager, it's your job to make sure people are assigned to the right tasks and the project management system is always moving along nicely. To make sure your team stay focused on the right tasks and not get distracted, be sure to keep your projects tidy.

Update the status of tasks often, e.g. marking tasks as amber if they're awaiting something
Mark tasks as completed once your team have stopped working, therefore hiding it
Assign team members to tasks as you go, therefore not bombarding your team with emails
We believe that a project management system should be easy and simple, and our tool is all about that. We don't believe you need all the fancy features that other systems offer which can so often get in the way and take up time, rather than freeing up your time.
We hope these tips help you simplify your workflow and make it more efficient. If you have any other ideas, please share!
Do you want a free Project Management Software?
We have the #1 Online Project Management Software starting at $0