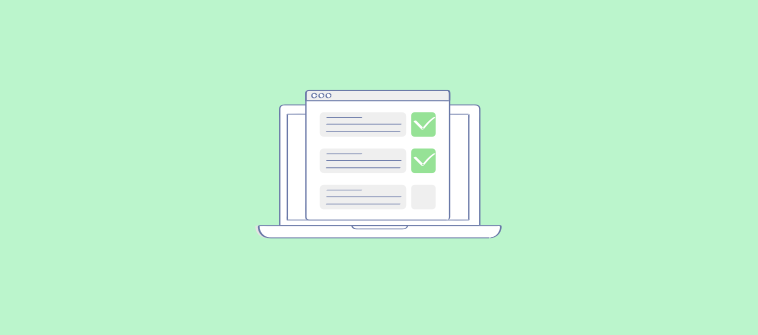 Managing a web design team is no easy thing to do. Depending on a client, web designers might face different challenges at every stage of the process, from initial briefing to presenting the final result. However, the main and most crucial challenge is to set up a process.
Setting up a web design process requires thorough planning and management. A project manager needs to make sure that their team won't miss the deadlines, won't blow the budget, and won't struggle with cooperation and communication in the process. This is hard to achieve without any project management software for web designers to help you.
The main goal of a web design project management software is to help standardize the work process and to help the team understand both their individual tasks and the main task in general. What's more, creative project management software can also help minimize different web design issues that often happen in web design teams.
Top 4 Web Design Issues That Teams Face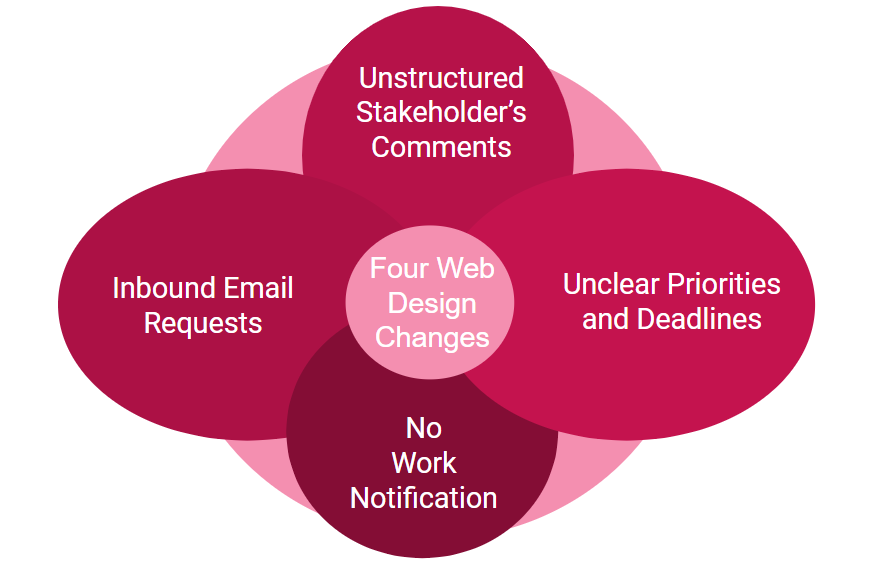 1. Unclear Priorities and Deadlines
In 2017, the Project Management Institute (PMI) named a lack of clearly defined objectives and milestones to measure the primary cause of the projects' failure. According to its report, 37% of the projects failed because of that.
While setting up the deadlines and defining the milestones are definitely the project manager's tasks, it's a creative project management software that helps a web design team both keep the goals in mind and visualize them. Take a look at how it is implemented in ProProfs Project.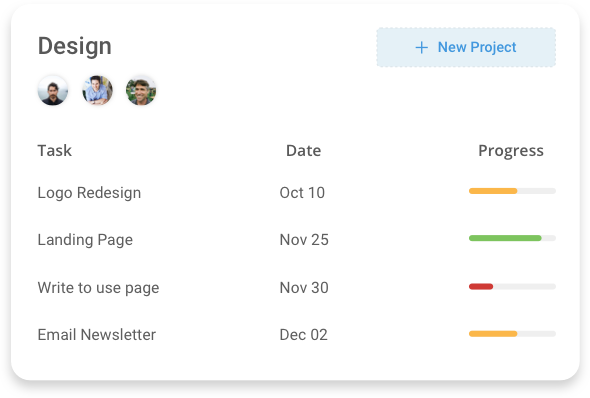 Meet all web design project deadlines using creative project management software. Try ProProfs project for Free!
2. Untimely Work Notifications or No Work Notifications at All
Notifying a team about a work assigned is crucial for every project. However, web design projects are usually among those where notifications pop up more than a few times and often require immediate reaction. For instance, when a client asks for urgent changes.
Email notifications and notifications via messengers are often not as effective as the ones sent by project management software for creative agency. PM software notifications don't get flagged as spam like email ones sometimes do. Most likely, the web design team would also spot them quicker than the ones sent via messengers: after all, some designers turn off their messengers during work.
3. Inbound Email Requests with Re-Formatting and Manual Data Entry
It takes time to write and re-format inbound email requests. While a project manager might have enough time for that at the moment, this doesn't mean it will happen all the time. Managing inbound email requests manually is definitely time-consuming, and such requests still require further organization.
In this situation, choosing a website design project management software instead of inbound email requests doesn't merely lead to better project organization: it also helps save more time. That time could be later spent on optimizing and improving a project's workflow.
4. Stakeholder's Feedback That Isn't Structured in One Chronological Summary
Stakeholder's feedback is one of the key elements for project success, especially when it comes to web design. Some requests for changes might pop up unexpectedly, and a team needs to react to all these things in time in order for a project to succeed.
Therefore, structuring this feedback and making sure that each team member has access to it is a must for every project manager. Furthermore, a project manager needs to be sure that feedback is structured in chronological order; otherwise, a team might get confused.
A creative project management software for web designers allows a project manager to centralize such feedback and to publish it on a platform, where each team member will be able to discuss and comment on it if necessary. This could significantly ease the workflow.
---
Read More: Sources of Project Failure – The Absentee Stakeholder
---
What Should Your Web Design Team Look for in a Creative Project Management Software?
1. Easy Reporting
Timely reporting is often crucial. A project manager needs to highlight what their team does during a day/week/month to show both the stakeholders and the upper management that a project is progressing and that a team will meet the deadlines.
However, creating reports manually might be time-consuming. That's when web design project management software steps in. You can create reports in just a few clicks with its help, specifying the data you need at the moment.
And here's how it looks in a creative project management software – ProProfs Project.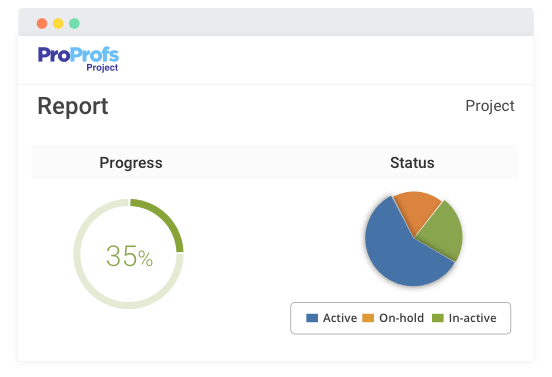 2. Seamless Communication
Product management software works well for both group and personal communication. Of course, not all software is equally effective for that. If communication is one of your top priorities, you need to pick a tool that enables you to reach out to your team quickly.
3. Collaborative Editing
We've already mentioned the importance of collaborative editing and commenting in reference to feedback. However, these features are generally beneficial for the workflow.
Collaborative commenting can help spot the unnoticed errors and improve the end task result, while collaborative editing can save lots of time: you don't have to wait for that one person responsible for the editing to fix something.
Here's how it looks in a robust project management software for web designers.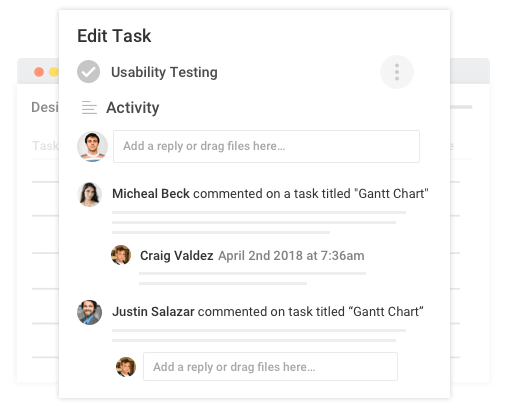 ---
Related Read: What are Common Project Management Software Features?
---
4. Efficient File Management
Website design project management software allows you to store files in one place, so anyone from a team could download or view them anytime they want. This simplifies the workflow massively and helps both a project manager and the team members save time on asking for certain files that someone needs at the moment.
5. Customizable Workflows
Each company has its own work guidelines and each team has its own approach to the work process. Therefore, a project manager needs to find a way to tailor the PM tools to the way their team works, not the other way around.
This is why having a software that enables quick and easy customization can save lots of time and nerves both for beginner project managers and for experienced ones.
Here's how it looks in ProProfs Project.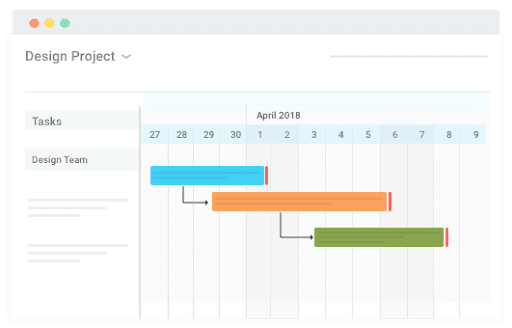 6. Visual Timelines and Work Progress
We've already mentioned the perks of visualization above. Without doubt, visualizing deadlines and workload helps team members set their priorities quicker and complete tasks on time.
A project management software also helps project managers to manage the workload better. Web design project management software displays a number of tasks assigned to a team member, in-progress tasks, completed tasks, and so on. Therefore, a project manager can easily see, which team members can take more work and which ones have enough tasks already.
---
Related Read: Choose the Best Project Management Software For Creative Agency
---
Use The Best Project Management Software For Creative Agency to Streamline Workflow!
Project management software is definitely a worthy investment and statistics proves it. According to audit firm PwC, 77% of companies with high-performing projects use project management software.
Which software should you pick? There are plenty of options on the market, but in the end, it all comes down to your personal preferences and the features these tools have.
Therefore, we recommend testing ProProfs Project, a PM software with the most functional and appealing UI before using it with your web design team. This is one of the best project management software for creative agency and it also offers a free trial period, during which you'll be able to find out whether they fit your needs or not.
---
Recommended Read:
Do you want a free Project Management Software?
We have the #1 Online Project Management Software starting at $0