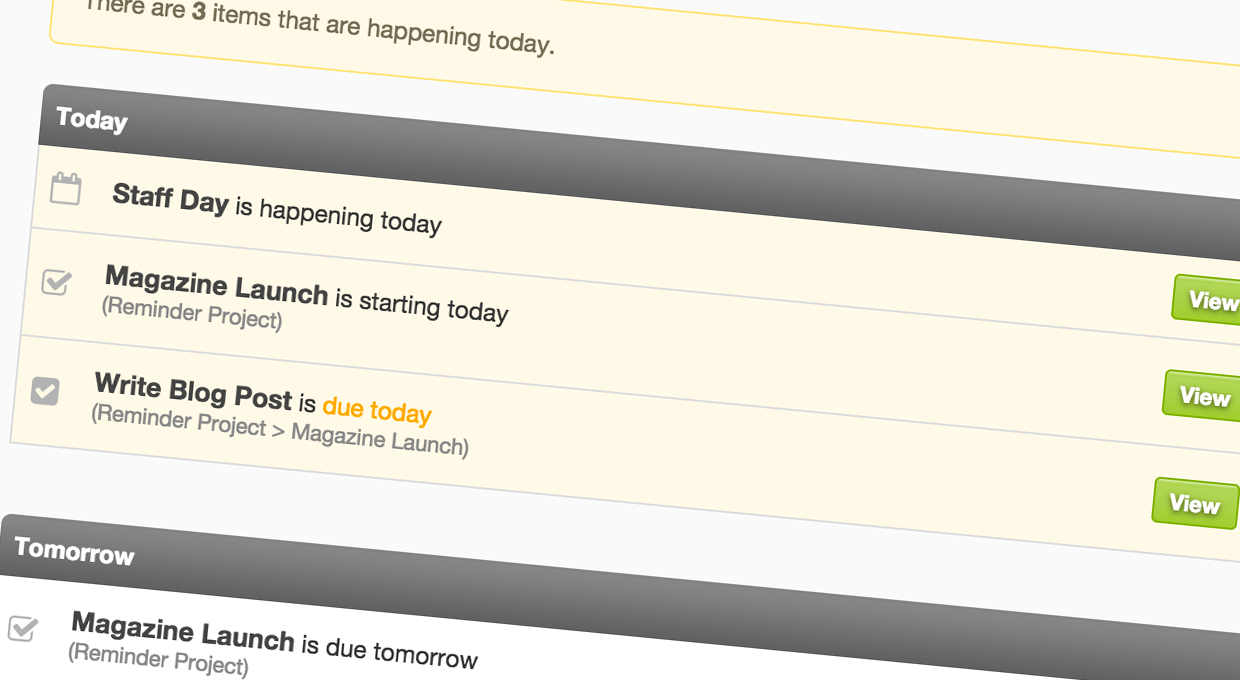 We just launched two really great new features. One will help you keep focused on what is happening today, and the other will save you time as you select multiple projects or tasks and perform bulk actions.
As we launched these features this weekend I started thinking about when ProProfs Project began. The original idea was to keep focused on what is happening today and not to get distracted by what might be around the corner, or what is overdue and being waited on by an angry client.
Somewhere along the way, with APIs, and redesigns and iPhone apps and other things, I admit that this priority of 'focus' within the app got a little lost. However today, we have addressed that.
Reminders to keep you focused
We have completely re-built the reminders system (previously, and confusingly, called "Notifications") from the ground up. So now you can click the Reminders button and you will see what you have to focus on today. Everything has been tidied up and made a lot more readable and useful.
We now also include items that are starting, not just due, as you might want to know about a new project that is just beginning and you need to gather the team on it.
Along with that we have completely re-built the email reminders too. So, everyone, no matter what timezone, will get an email at 6AM telling them what to focus on today. We'll also give you a sneak peak of what is happening tomorrow too.
Get hassled until you know what you are working on
We have added a badge which shows the number of reminders happening today, whether it's an event, project, task or sub-task – you will see a number in red which will stay in red until you click on it. At that point it will turn grey to get out of your way.
This number may change, or it may go back to red if something has changed, e.g. a project manager has added a task that is due today, or changed a date. Also it will keep reminding you each time you log in, so that you never forget to complete a task.
Bulk actions to save you time
Finally, we've added a great new feature to save you lots of time. You can now select multiple items by holding the CMD (or CTRL) key or the Shift key, and performing multiple or bulk actions on projects, tasks and sub-tasks.
For example, you might want to complete 100 tasks that have been sitting around for ages, but you've just never had the time to click 100 times to complete them all.
Or, you might want to invoice for all 1000 projects that you have just finished, all in one go (actually it's just 3 clicks).
Case study – we had a user who spent 3-4 hours every weekend invoicing for his projects, adding each one to an invoice manually. It now takes him about 20 seconds.
Enjoy the new features! We have another big announcement to make in a week or so.
Do you want a free Project Management Software?
We have the #1 Online Project Management Software starting at $0