Finally, a feature that you've been requested from day one has arrived. Introducing the ProProfs Project Expenses Tracking system, saving you more time and hassle.
A while ago many of you were suggesting a simple way to track your expenses and have yourselves another reason not to use any other tool except ProProfs Project (a lot of you are using 3rd party tools for tracking expenses). We held off on developing the feature for fears that it would add a level of complexity to our app which we are trying to keep mega simple.
However because many of you kept asking for this feature we have spent a while thinking about how we can add something that is really simple, and operates in exactly the same way as the other features of ProProfs Project (Estimates, Clients etc) allowing you to just add your expenses as they come in, and have the ability to attach them to an invoice when appropriate.
So we have built a simple Expenses offering that should help many of you track your expenses as they come in. This means that hopefully (as long as you don't need anything too fancy) you shouldn't need to use anything else other than ProProfs Project because now we track Expenses, Time Sheets, Project Management, Task Management, Collaboration, Estimates and Invoicing. The whole package, for an affordable price!
How does it work?
To track your expenses simply go to the Expenses tab and click "Add Expense". There you will be presented with a form that asks you how much the expense was, a description, which client it was for, any tax and also the option to group it (e.g. Travel Expenses).
Your expenses will be stored there as Billed or Unbilled, and you can archive them just like you can archive projects and invoices. You can also export your expenses as CSV, similar to the other tabs.
If you want to invoice for your expenses you can either do it from the options button (Convert to Invoice), or alternatively when you create an invoice for a client the system will automatically work out if there are any unbilled expenses for that particular client and ask if you want to add them to the invoice. Just click "Yes" and your expenses for that client will get added for you.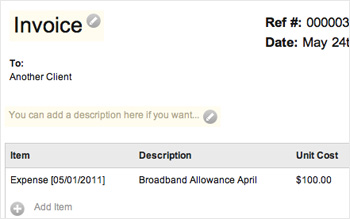 We hope you find this feature really useful and of course, if you have any feedback let us know.
Do you want a free Project Management Software?
We have the #1 Online Project Management Software starting at $0