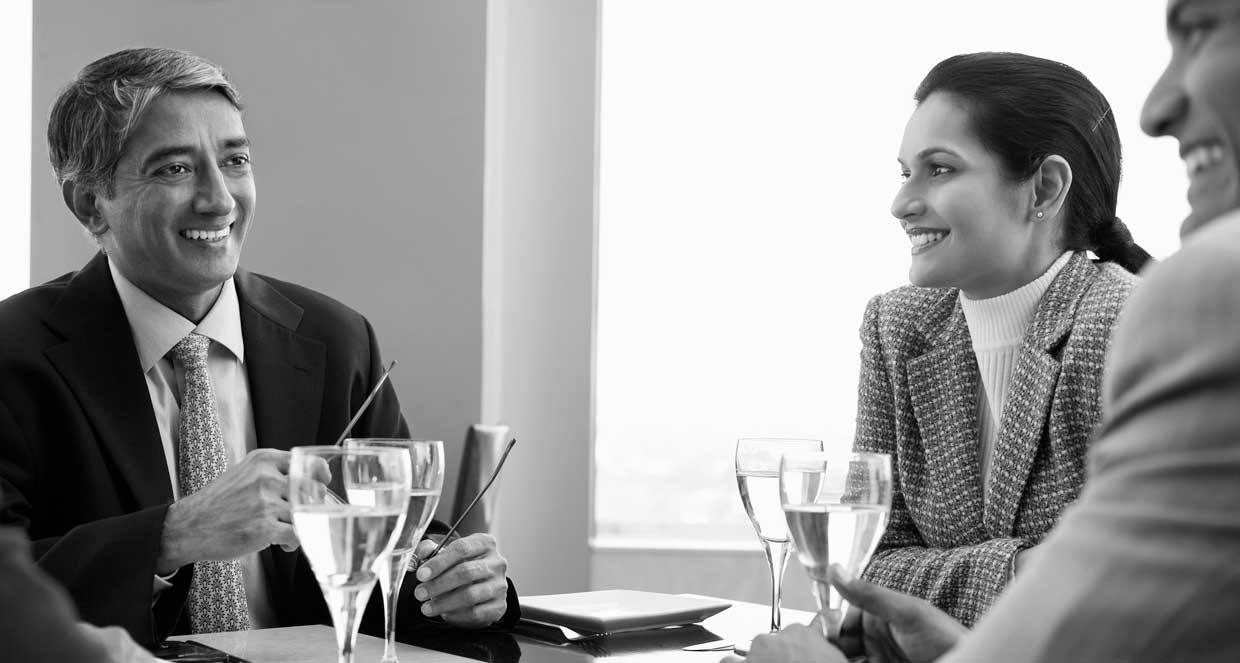 For the small business owner and consultant, networking via breakfast clubs, local meeting groups and trade events is a daunting but necessary part of the job. Many people say it's a waste of time, but for others, it's the way to tap into a goldmine of referrals and new jobs.
Are you making the most of this resource?
Ten years ago I was introduced to a networking breakfast club. It was run in a regimented manner with a strict scheduled that everybody was expected to adhere to.
When we entered the room, we had 30 minutes of "meet and greet" where we could get a coffee and casually chat with whoever was there at the time. Then, at 7.30, we'd be ushered to our seats where we had to fall silent so the chairman could begin the meeting.
The first task was for everyone to bring in their leads. This was the core activity of the meeting and as members we were expected to sell for all the other members. For example, if there was a plumber in the group then each of us, while about our day-to-day work, would have to look out for when we could refer on to this member. At this point in the meeting, we had to fill out a little form and pop it in the hat.
Why so strict? Well, we were expected to bring in at least one lead every two meetings. If we didn't, then there was some punishment. Nobody could tell me what that punishment was, and I didn't stick around long enough to find out, but there was some stick with which to beat transgressors.
After everyone had been praised for bringing leads (I mean that literally, you got quite an applause if you brought in plenty), you then had a chance to tell each other, in 30 seconds, how others in the group had done fantastic work. So, someone would stand up and say "I referred Jim to a friend of mine the other day and I'm told he did an amazing job".
More applause.
Then, we got 30 seconds to give our 'pitch'. This consisted of a few words to describe what we did, who we did it for and the kind of customer referral we wanted.
That was it.
I hated this structure and didn't go back, but it turns out lots of people actually made a lot of contacts from it and also gained a lot of work. They knew how to play the system and they understood how to make the most of others who simply went there for conversation. To some lone workers, this was pretty much the only connection with people they got all week.
How to play the networking game
It's worth pointing out that not all networking groups are like this. The one described above works well for people who are entirely new to networking and business and lack social experience. Being told what to say and when to say it is useful for some and it lends structure to the day.
However, when it comes to people who have been in business for a while, many want a more free-flowing and less structured meet-up. There are plenty about, so that's not a problem, but how do you engage with people when the structure is taken away?
The problem to avoid is to think that the meeting is the end of it. To go there, try to make contacts and then to forget about it when you leave is to waste the opportunity. Instead, you should aim to get as many contacts as possible and make sure you follow up later.
Firstly, get your LinkedIn profile up to date. Make sure it's current and highlights what you do in a clear and concise manner. Also, make it clear the sort of companies you work with. This is similar to the pitch in our structured meeting; we're making it easy for people to refer us because we're telling them up front who we want to meet.
Get some business cards printed and make sure it has the link to your LinkedIn profile on there. It should also have the standards such as email address, phone number, address, etc. It's probably not wise to list your Facebook account if you use it mostly for sharing pictures of your family, but you should certainly put your business page if you have one.
Likewise your Twitter account, IF it's not controversial. If you spend most of your time complaining and swearing, best leave it off.
Next, get yourself a notepad. Not everyone at the meeting will have business cards, so be prepared to take down names and numbers. This neatly leads on to the next point…
Remember people's names. You wouldn't believe the power of being able to turn up to meeting number two and greeting people with their first name. It's incredibly powerful. By writing their names down when you first meet them, it's easier to remember. Also, use some sort of silly memory technique to help you remember. If I meet someone called "Brian" for example, I write down the name together with something like "Brian who tames lions from Zion". It's even better if he has lots of hair.
After the meeting, you have a number of jobs to do.
When you get back to your office, you now need to contact the people you've just met up with. To do this, drop them an email and simply say it was great to meet them. Then you need to use a bit of psychology. Ask them a simple question like this:
"At the meeting we spoke about the sort of business you were after. Is there any chance you could explain in more detail the kind of client you work with? I'll make sure to keep an eye out."
Then, later in the day, find them on LinkedIn and connect with them. Also, and yes, this sounds a bit like 'stalking' behaviour, find them on Twitter if they surrendered that information or it's on their business card.
That's it, done.
What happens next?
Social networking works best if you can mix both on-line and off-line methods. By offering to help people and then actually backing that up with action, you're showing you care which means others are more likely to engage with you and help.
You may have heard of the "seven interactions" needed in marketing before someone trusts you. Well, there are at least two already. By regular communication within your new network, you can get to number seven quickly and efficiently make use of your new contacts.
Do you want a free Project Management Software?
We have the #1 Online Project Management Software starting at $0