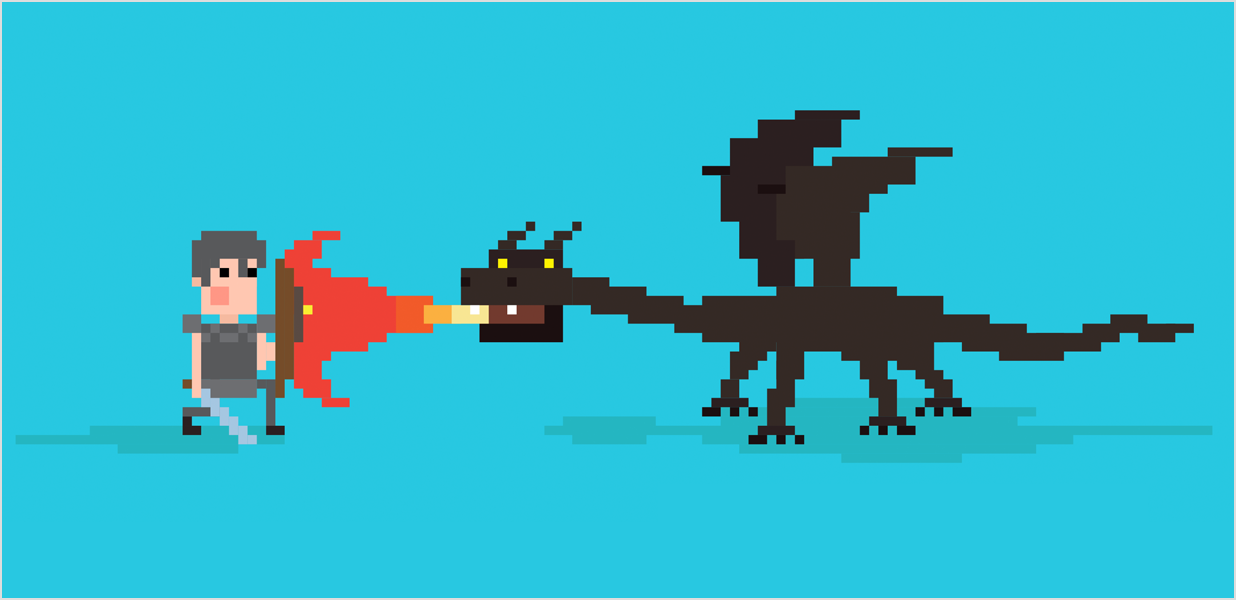 It knows when you are dawdling. It peeks around the corners of your mind looking for wisps of the wail it can attack. The pesky spectre is procrastination.
The harbinger of slowed project planning perched to strike—and ready to steal precious productive time when you least expect. Planning ahead is the fast elixir to stopping the beast dead in its tracks with 6 tips to slay the procrastination dragon.
Yes, slay the dragon, for good.
The Monster under the Bed
The reasons we procrastinate run deep. We tell ourselves getting our work done is a matter of tapping into willpower. However using your willpower is not sustainable over great lengths of time. Just like exercising the body, the joints, ligaments, and muscles you train can work for a finite period. It isn't long before they reach their peak max and fatigue.
It is so easy to forego a physical workout than get the workout clothes, haul out the running shoes or the weights, and get physical. This kind of mental game we play can spin out of control when the stressors affect our mind.
That is when "it" comes. It sneaks up on you while you go happily about your day, ready to challenge productivity at every turn. Like Smaug from The Hobbit, procrastination is a dragon scarier than any monster under the bed.
The stressors we feel from work or from problems we cannot solve, open up the mind to thoughts of doubt, and other times, worry. When we decide to do something 'later' that makes us uncomfortable, we feel the rush from the 'fast fix.' However the danger of falling out of sync with our goals is still there… and when we don't face the fear head on, we reinforce its power over us.
Find the Golden Treasures Buried inside Negative
Negative reinforcement is the proverbial procrastination dragon to slay. The immediate pleasure experienced by shrugging a task for more engaging play can lead to feelings of guilt, or lower self-esteem. A simple remedy is to take a mental potion to defeat the dreaded monster.
Instead of fleeing from daily responsibilities, meet them head on: procrastination needn't be the feral monster under the bed that poised to get you. Master the snorting, fire-breathing Smaug with a dose of fortitude and 6 tips to slay the procrastination dragon, yes, slay the dragon, for a happy ever after.
You want those tips? Well here they are…
6 Tips to Slay the Procrastination Dragon
Planning ahead is the fast elixir to stopping the beast dead in its tracks. Here are 6 tips to slay the procrastination dragon. Yes, slay the dragon, for good.
1. Plan a Mindset
Effective planners are sometimes associated with the archetype of "over-achievers." True achievement stems from a joyful mindset of excellence. Success is a trait you can develop by applying conscientious, intentioned planning.
Structure your day with hallmarks that keep you accountable and develop how you work on tasks daily. Your productivity can scale vertically in tandem and richly.
2. Create a Habit of Mind
Habits of successful people include how they face an obstacle or a perceived problem by creating its solution. Increase productivity at the workplace, by creating empowered solutions that effect with greater performance. Don't sit on the sidelines with a problem: work with it and develop a grander solution.
3. Do It Now
Don't wait to get a thing done. Think about one of the greatest slogans of the 20th century from the company Nike: "Just Do It."
It is the 21st century. The baton of success now passes to you to 'kick butt' in your productivity.
"If you don't like style, innovation and puppies, it ain't for you."
— Nike.
4. Banish Fear
Fear is a bully that introduces itself as a 'friend.' It isn't though. It happens to be one of the 6 tricks of the procrastination dragon. Beat feelings of fear by greeting it. Shake hands with it. Acknowledge it and then banish it from your mind with extreme happiness. When you feel afraid, replay the meme, "There is nothing to fear but fear itself."
5. Get to the Heart of It
Increase productivity by getting to the heart of the work. Pinpoint where a task or assignment is most complicated. Schedule a series of routines that can chomp off segments of the work, one piece at a time. Don't be shy with assignments. Shake their hand. Remember, there is nothing to fear but fear itself. Get crackin'.
6. Don't Worry, Be Happy
Attract happy thoughts into your life more than unhappy ones. Happiness can carry you through the day like a cool breeze and tame the most wily of procrastinate memes. Don't give fear an audience. Stick to the tasks at hand, or if the environment allows, play a wistful tune. "Don't Worry, Be Happy."
Negative thoughts and worry do not have to slow the work pace of breathe fire into your day.
So… Get to heart of every project and challenge and apply the 6 Tips to Slay the Procrastination Dragon and nail your projects with a focused purpose every time.
Do you want a free Project Management Software?
We have the #1 Online Project Management Software starting at $0