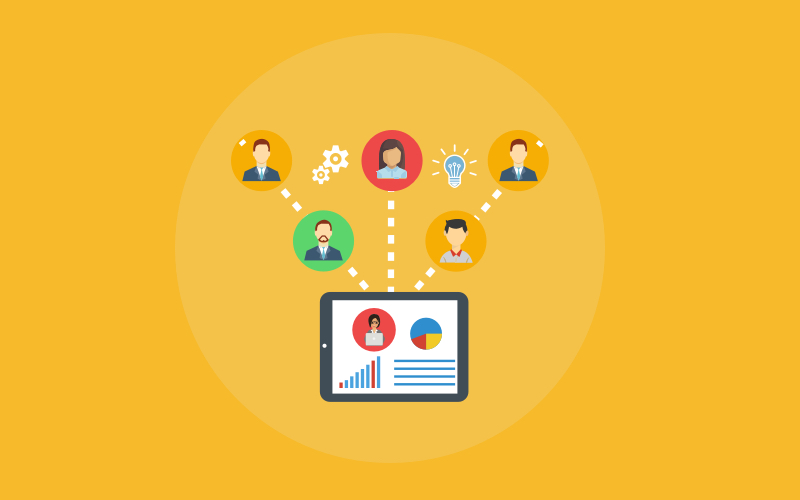 Did you know that 52% of recruiters reported that they encountered issues like a lack of qualified applicants for their open positions?
It's shocking and a major concern for most businesses.
So, how do you deal with it?
Reaching talent was a hassle before, but not anymore.
You have so many recruitment portals to scout and choose from that the process of shortlisting candidates is much easier than before.
Also, with remote teams, accomplishing your goals has become easy. And needless to say, talent knows no boundaries.
Talking about remote employees, some companies still have doubts about the effectiveness of such a workforce structure.
How to manage remote employees?

How do we track the work done?

How do we communicate with them in real-time?

Are remote teams really efficient?

Is managing remote workers easy?
So many questions come to mind when working with remote teams,
So, in case you too belong to that group and are concerned about freelancing your work, here are a few reasons why you shouldn't be worried at all!

Benefits of Hiring Remote Employees
# Quality Workforce:

Searching for the "right" talent can be cumbersome. But with remote employees, it is easy to come across self-driven and talented employees who will help you meet your objectives.
# Boost Productivity:
Did you know that 86% of remote employees claim that they prefer to work alone to hit maximum productivity?
If you have clients in different time zone and you're the only one to manage them, then it's time you invest in remote employees. Not only will you be able to provide your services 24×7 to customers, but work productivity will also increase.
# Pocket-Friendly:
Recruiting remote employees is an economical option. Your organization can also overcome employee absence or sick leaves and prevent losses.
Other than these, instant hiring is also one of the benefits. This will help you save time and get into action.
But what really emerged as an advantage for the organizations to go that extra mile is office space reduction. They don't have to relocate their office setup every once in a while. It's expensive and time-consuming. So, those in search of talent can choose to work with remote teams to garner these and many other benefits.
But can benefits be achieved that easily?
No, they're not.
You are bound to face challenges while managing a remote team.
Let's take a look at some of the common challenges that an organization can face.
Challenges Faced While Managing Virtual Teams
# Time Zone Gap
There are various reasons that would require you to schedule a meeting with the remote team members. From taking an overview of a project plan to discussing its work progress, you will find various reasons to get in touch with them.
But scheduling team meetings with remote employees can be a challenge. You will have to select a time that is convenient for all, including yourself.
# Communication Gap
Communication is the key to success in any business. But when working with remote employees, you will find poor communication as one of the biggest hindrances to your project. This can happen because either they are working from a different time zone or their working hours don't match yours.
# Poor Collaboration
Collaboration is an essential procedure that every organization should adhere to. But yet again, it a challenge when it comes to remote teams. It lacks coordination and collaboration altogether. And there is no guessing on 'why'. They are working a thousand miles away. So, missing updates on the project can be one problem that can affect the overall workflow.
What's making the situation even worse are the mistakes that managers make while facing these challenges? Though they can easily be put to the bay, yet they being minor is the reason why they are made in the first place. Here are some of the many mistakes that managers tend to make while facing challenges managing remote teams.
# Passing on Irregular Information
There are certain updates from a client that you've received two days back. You're in a hurry to get those on track and aligned to the existing task's objective. This is when you make the first mistake. You only shoot emails to the in-house team. But fail to do the same for the remote employees.
It further leads to changing the objectives for the same task for both the in-house and remote teams. This creates confusion and results in time loss.
# One Way Convenience
You wish to discuss some matters of priority with your team. You call them for a meeting at a time when you are free. But are others free? This one-way convenience can cause inconvenience to others. In fact, the remote team members are left to rearrange their schedules according to yours.
# Limited Growth Opportunity
Everyone wishes to see their careers grow, whether it is your in-house team or remote employees. But what if you've limited growth opportunities to in-house members? This is where you'd notice long ties with virtual employees coming to an end. They too seek an opportunity that makes them stay with you.
These mistakes may look ordinary at the moment but may reflect the consequences later. This is when you need to decide how to keep them at a distance.
So, where to start?
That's exactly what we will talk about in this blog.
The key to managing work and your remote employees is to adopt the right tool. A tool that offers all the features needed to manage work, clients, employees, and other stakeholders – all on one platform. A tool like ProProfs Project.
Managing Remote Teams Best Practices: 5 Ways to Remember
Here are five efficient ways that will help you manage to work with remote teams using a simple project management software like ProProfs Project.
#1 Manage All Projects on a Single Dashboard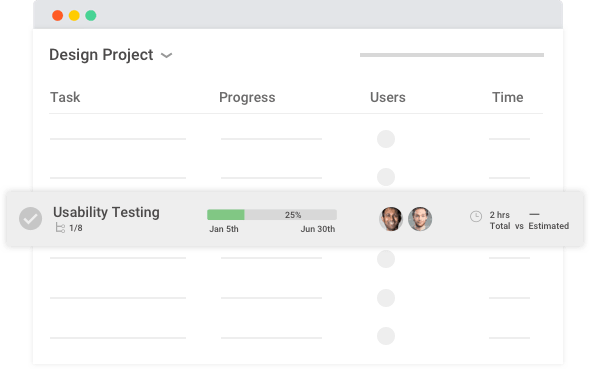 When a company outsources their work, the most common issue that crops up is "how to manage remote teams and projects on a single platform?"
ProProfs Project, a simple project management software, offers a single dashboard that helps you:
See who is working on what

Progress of all the ongoing tasks

Start and end dates of tasks

Total time spent v/s estimated time spent on each task
This way, you will have a bird's eye view on all ongoing projects and ensure all deadlines are met effortlessly.
#2 Plan Project Execution on a Shared Calendar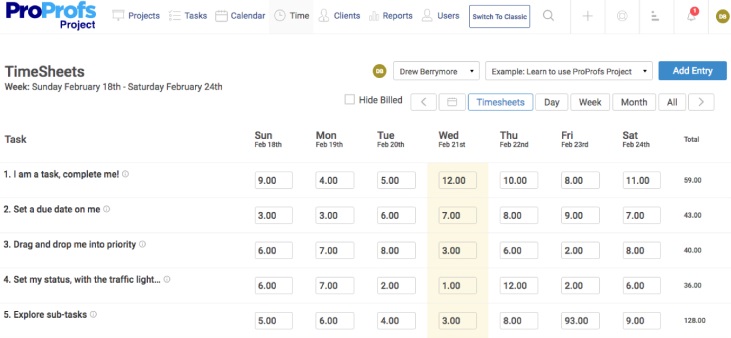 Another common issue most companies have with remote employees is the lack of understanding of what needs to be done and by when. ProProfs Project sways all these issues away.
The project management software offers a shared calendar, using which you can:
Plan what needs to be done and by when

Who needs to work on what

Set reminders for important events or tasks

Ensure all team members are on track and know what they need to do
The calendar view makes it easier for teams to plan their weeks and deliver work well in time.
#3 Track Project Execution & Meet Deadlines Easily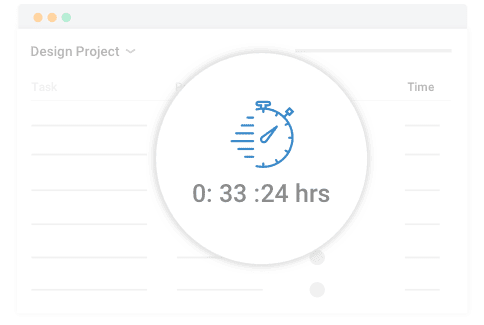 Keeping track of how much time is spent on completing tasks might seem impossible, but with ProProfs Project, it's easy peasy!
ProProfs Project comes with an easy to use time tracker. You can:
Track time spent on each task

Meet deadlines effortlessly

Ensure no team member is spending more time than needed

Monitor project and team performance

Keep your project on track and budget
#4 Collaborate With Teams Anytime, Anywhere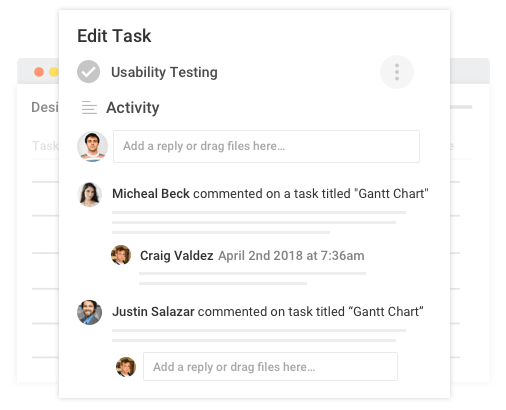 The #1 question that people ask when hiring remote employees is:
"How will all teams collaborate?"
ProProfs Project offers features like task comments, file sharing, and email notifications. With these features, you can:
Share files with your team members instantly

Give feedback and ensure the quality of work is not compromised

Keep everyone in the loop and communicate as and when needed

Receive project updates on the go
Project tracking will lead to organized work weeks with consistent workweeks which works great to boost efficient execution, especially with remote teams.
Having a solid project management software, like ProProfs Project, also goes hand-in-hand with keeping essential tech-enabled connectivity tools under your belt. This is very critical, especially if you have employees that are remote workers or travel constantly as part of their operations. You want to make sure everyone on the team is accessible, should the case arise. Collaboration and communication are very interdependent in this manner.
Pro-tip: Make sure your employees are trained and equipped to handle these softwares.
On the health front, because your employees have consistent work weeks, they'll go about their workweeks in an organized fashion. Your team will have better efficiency, work-life balance and even a healthy sleep schedule.
A recent study was conducted on how better sleep can lead to decision making. It makes an interesting read to learn better team management.
#5 Monitor Project & Team Performance With Reports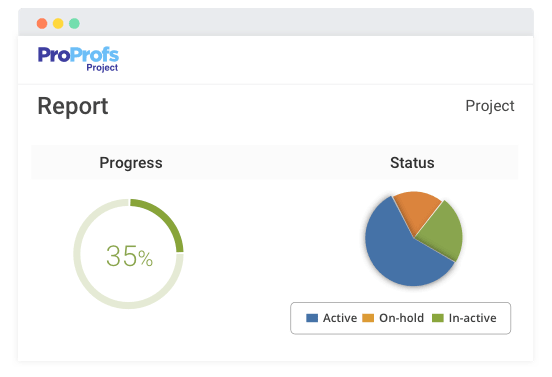 Monitoring project and team performance are really easy with ProProfs Project.
It comes with a robust reporting feature that helps you:
Track project completion and keep an eye on how easily deadlines are met

Monitor how easily teams meet their numbers and how productive they are

Keep a check on resources and whether projects are completed within the set limit
Managing Remote Teams: Deploy a Robust Project Management Software
A management position brings in a lot many responsibilities. You need to make sure that work is being distributed accurately, completed on time and with quality, and meeting the client's expectation. Since you get bombarded with a lot of tasks, it is important you plan on hiring remote teams to get quality work and spending less time on the recruitment process.
But even with remote teams, there are many challenges. So, how do you overcome them at all? Simple, integrate the use of tools that help you improve your work practices further. They'd help you clear the air of confusion. What's even better, your organization can garner benefits like work completion with quality and that too on time.
Now that you know how to manage remote teams, let's cover a few FAQs that companies have regarding remote employees.
---
Q1. How do you manage employees who work from home?
A few ways to manage remote teams, especially those who work from home include:
having work policies in place
keeping a steady communication chain
keeping a watch of warning signs
restricting yourself not to micromanage
deploying project management software to keep things in check.
Q2. How can I be an effective remote manager?
You can be an effective remote manager by leveraging technology to your advantage, learn to trust your employees, establish complete team transparency, and be open to feedback.
Q3. How do you motivate remote employees?
There are so many ways in which you can motivate remote employees. A few of them are:
taking out time to build team relationships,
finding innovative ways to reward remote employees,
measuring team performance,
offering training opportunities.
Do you want a free Project Management Software?
We have the #1 Online Project Management Software starting at $0