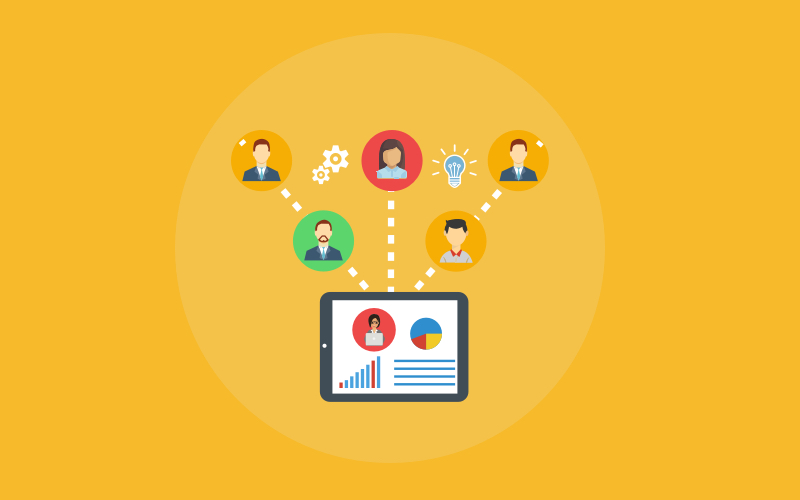 Hiring the "right" talent for your company can be a challenge. Still, you're motivated and on the go to hire employees that meet your expectations. After all, your organization has goals to meet. But what if you get stuck with the recruitment process?
A study by NFIB reported that more than half of the small business recruiters were in the "hiring or trying to hire" phase. But why is that so? The same study gave the answer to this question. 52% recruiters reported that they encountered issues like lack of qualified applicants for their open positions.
It's shocking and a major concern for most businesses. So, how do you deal with it?
Reaching talent was a hassle before. But not anymore. With remote teams, accomplishing your goals has become easy. Some may feel vary of hiring talent in a different continent. But then again, talent knows no boundaries.
In case you've not been convinced with managing remote employees, then let's look at some of the convincing reasons that boost this work culture.
Benefits of Hiring Remote Employees
Access to Quality Workforce: Searching for the "right" talent can be cumbersome. But with remote employees, it is easy to come across self-driven and talented employees that'll help you meet your objectives.
Welcome the 'Different' Perspective: It's always productive to integrate a different perspective for your work practice. It helps to solve unique problems or even reach a wider audience.
Boost Productivity: If you have clients in different time zone and you're the only one to manage them, then it's time you invest in remote employees. Not only will you be able to provide your services 24x7 to customers, work productivity will also increase. In fact, 86% of remote employees claim that they prefer to work alone to

hit maximum productivity

.

Saves Money: Recruiting remote employees is an economical option. Your organization can also overcome employee absence or sick leaves and prevent losses.
Other than these, instant hiring is also one of the benefits. This will help you save time and get into action. But what really emerged as an advantage for the organizations to go that extra mile is office space reduction. They don't have to relocate their office setup every once in a while. It's expensive and time-consuming. So, those in search of talent can choose to work with remote teams to garner these and many other benefits.
But are benefits that easily achieved? No, they're not.
You are bound to face challenges while managing a remote team. Let's take a look at some of the common challenges that an organization can face.
Challenges Faced While Managing Virtual Teams
As organizations get loaded with more projects, the need for hiring virtual teams has increased. This has become a common fate for most of the companies as they lack qualified applicants. But while working with remote teams, they face certain challenges that need immediate attention. Let's view some in detail.
There are various reasons that would require you to schedule a meeting with the remote team members. From taking an overview of a project plan to discussing its work progress, you'd find various reasons to get in touch with them.
But scheduling team meetings with remote employees can be a challenge. You'd have to select a time that is convenient for all including yourself.
Communication is the key to success for any business. But when working with remote employees, you'd find poor communication as one of the biggest hindrances to your project. This can happen because either they are working from a different time zone or their working hours don't match yours.
"Alone we can do so little; together we can do so much." - Helen Keller
Collaboration is an essential procedure that every organization should adhere to. But yet again, it a challenge when it comes to remote teams. It lacks coordination and collaboration altogether. And there is no guessing on 'why'. They are working a thousand miles away. So, missing updates on the project can be one problem that can affect the overall workflow.
What's making the situation even worse are the mistakes that managers make while facing these challenges? Though they can easily be put to the bay, yet they being minor is the reason why they are made in the first place. Here are some of the many mistakes that managers tend to make while facing challenges managing remote teams.
Passing on Unequal Information
There are certain updates from a client that you've received two days back. You're in a hurry to get those on track and aligned to the existing tasks objective. This is when you make the first mistake. You only shoot emails to the in-house team. But fail to do the same for the remote employees.
It further leads to changing the objectives for the same task for both the in-house and remote teams. This creates confusion and results in time loss.
One Way Convenience is Injurious to Work
You wish to discuss some matters of priority with your team. You call them for a meeting at a time when you are free. But are others free? This one-way convenience can cause inconvenience to others. In fact, the remote team members are left to re-arrange their schedules according to yours.
Limited Growth Opportunity
Everyone wishes to see their careers grow, whether it is your in-house team or remote employees. But what if you've limited growth opportunities to in-house members? This is where you'd notice long ties with virtual employees coming to an end. They too seek an opportunity that makes them stay with you.
These mistakes may look ordinary at the moment but may reflect the consequences later. This is when you need to decide how to keep them at a distance.
So, where to start? That's easy to answer. Adopt tools that help you improve your practices further. These will make your collaboration, coordination, and overall project management practices simple.
Let's view some tool suggestions to make your remote team management hassle-free.
Tools to Perfect Your Practices for Managing Remote Teams
In a technologically advanced society, there is no way you can avoid the use of collaboration and management tools. These simplify your workflow and employee efficiency. Here are the five effective ways to manage work with remote teams.
One tool that helps you manage tasks completion for a project is a simple project management tool. This helps you to stay on top of your team's progress for every activity created under a project.
What's even better is how it helps you organize and schedule the tasks, track how much time has been spent on each of them, and track latest updates received by clients.
If you're a beginner and don't know where to start, then it's important to integrate a tool like ProProfs Project that comes along with an easy-to-use interface. You can give its 14 days, no obligation trial.
To stay in touch, it's important you make the full use of a live chat software like ProProfs Chat. This helps you answer your remote team's questions. You can also stay in touch with them on the go with its mobile app. This way your in-house team and remote employees stay up-to-date with all the latest changes.
File storage is one aspect that many organizations lack in their workspace. Result? Loss of important files and documents essential for a task completion delay project deliverable. So, what's next? Try integrating a file management tool that helps your clients, in-house teams, and virtual employees to share and save files easily.
It's important to know how much work has been delivered in a specific amount of time. This helps you know if your association with the remote employees is fruitful or not. To help you out with this agenda, the best solution out there is the integration of time tracking tools. Accurate timing along with intuitive interface can help you complete your projects on time.
Video Communication Tools
Last but not the least, you can also put video communication tools to use to make things simple. With facial interactions, you can personalize your messages to remote employees and pass on the work more efficiently. In fact, these are one of the most preferred tools to manage workflow with virtual teams.
Bottom Line…
A management position brings in a lot many responsibilities. You need to make sure that work is being distributed accurately, completed on time and with quality, and meeting client's expectation. Since you get bombarded with a lot of tasks, it is important you plan on hiring remote teams to get quality work and spending less time on the recruitment process.
But even with remote teams, there are many challenges. So, how do you overcome them at all? Simple, integrate the use of tools that help you improve your work practices further. They'd help you clear the air of confusion. What's even better, your organization can garner benefits like work completion with quality and that too on time.
Do you want a free Project Management Software?
We have the #1 Online Project Management Software starting at $0