With ProProfs, you can sell your courses or quizzes through your store. Selling is not only an easy process but also a secure one. Our new password protection feature ensures that the seller can provide secure access to the buyer through an exclusive password, that can be changed by the seller anytime. This allows you as a seller to control: who gets access, how long they can access and even revoke access (by changing password).
Password protection feature ensures that only those who buy your course or quiz get priority access to the course or quiz.
How do buyers access their purchase?
As soon a purchase is made, the quiz/course link and password is instantly sent to the buyer's email address. The buyer can access this link with a unique username & password to securely access their purchase. You are also immediately notified of the sale via email and you can check the details on "My Sales" dashboard, by logging in to ProProfs Store. Creating and delivering courses and quizzes was never so simple and secure!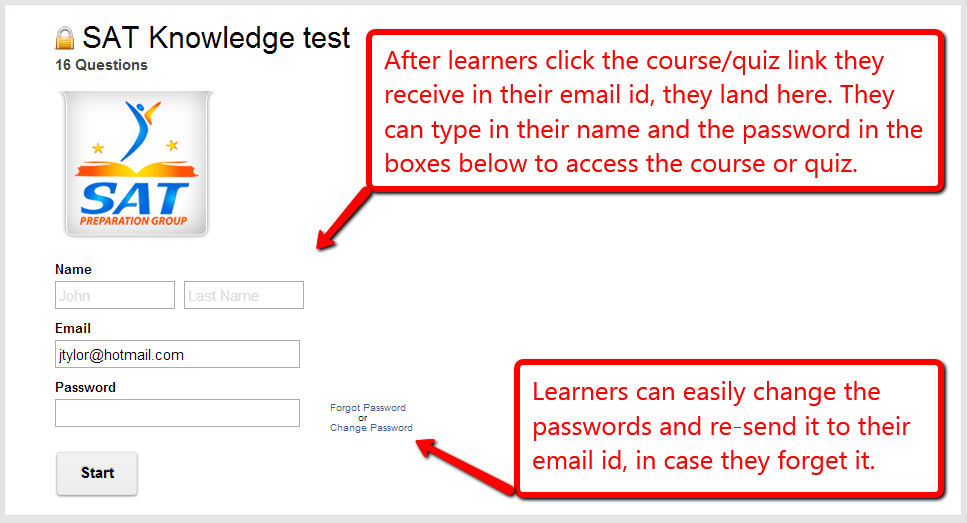 Benefits of password protection:
Secure your quizzes/courses and allow access only to your learners
Easily change passwords from your sales dashboard
Allow your learners to change the password or re-send it to their email-id, in case they forget
Learn how to change the password of you quizzes and courses
Step 1: Log on to ProProfs Store and go to "My Sales" dashboard.

Step 2: Click on the link under 'Password'.

Step 3: Type in the new password and click on "Change" and you're done.