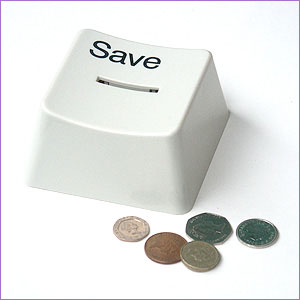 Our new save & pause feature allows learners to take breaks while taking an e-course. It allows them to save the progress they have made on a particular course, and then resume the course right from where they left it without having to start from the beginning. This feature benefits learners in many ways as they can effectively set their own pace of learning as well as easily handle lengthy courses at their convenience.
Allow your learners to easily take extensive courses.
You can create courses of any length, on any topic with ProProfs Training Maker. However, if you have created an extensive course then your learners might require a day or two; or may even a week to complete the course. We built our new feature keeping this scenario in mind, so that you can build a course of any length and allow your learners to pause the course in between and then finish it later. Our new feature allows them to come back, in a day or even a week, and resume the course right from where they left it.

Engage your learners when they are most receptive
Learners have their own highs and lows of energy levels that affect their concentration and alertness. With our new feature you can allow learners to divide the course and take it in installments at their natural peak learning time – whether it's early in the day, post-lunch, in the evening or at any other time. By doing so, you help your learners to assimilate information better and finish courses quickly.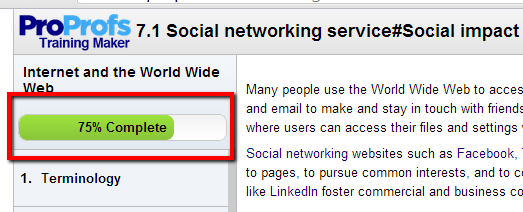 Assist your learners to set their own pace of learning
With our pause and save feature, learners can set the learning pace for themselves and take courses at their own convenience. They can take a part of the course, save it and resume it later depending on the time they have in their hands as well as their inclination and mood to take the course.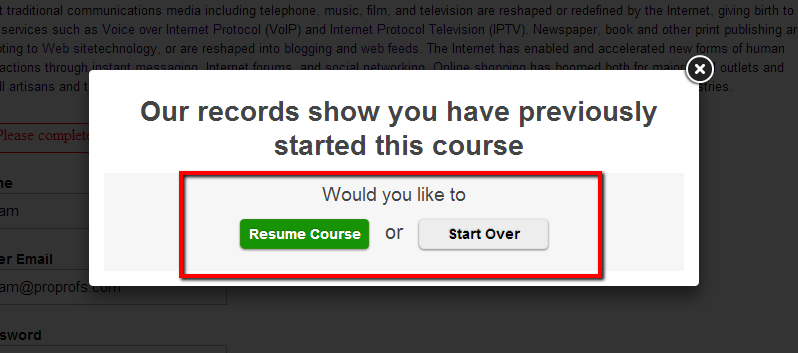 Learners can effectively handle interruptions
In a typical corporate office, employees taking an online course can face many interruptions. For instance, they can be suddenly called to attend a meeting or asked to visit a client. With our new feature, employees can effectively handle interruptions by saving their progress they have made on a course and returning to it at their free time.