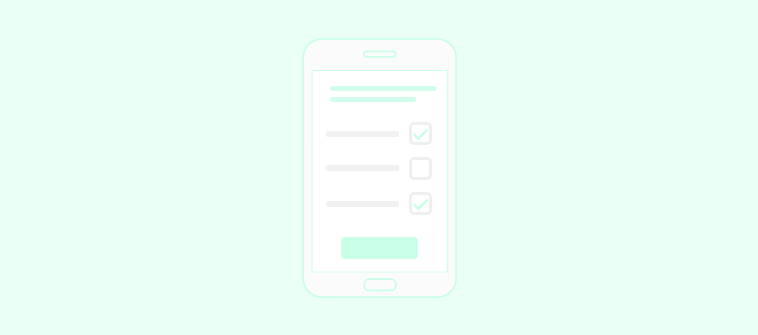 Today, mobile technology has been adopted on an unprecedented scale. With an ever increasing audience performing business, social and consumer transactions over the phone, you can no longer assume that your surveys will be responded to via laptops or desktops. Keeping this in mind, we at ProProfs decided to offer all our customers the gift of speed and ease of use. Yes, surveys created by ProProfs survey Software are fully responsive meaning you can ask your respondents to take surveys from any device such as desktops, laptops, tablets or phones. With this in place, you can accumulate survey results faster, make the right business decisions sooner and save tons of time. What's more, research indicates that you can accumulate up to 83% more responses with mobile surveys!
"Research indicates that more than 78% people respond to mobile surveys than desktop surveys. Customers get a clean, consistent and amazing survey experience every time on their mobiles while you receive responses faster & capture valuable insight, always" - ProProfs Internal Study
Survey - anytime, anywhere!
Since surveys at ProProfs are fully responsive or mobile-compatible now, your respondents no longer have to be bothered with restrictions such as 'zooming in' and 'zooming out' to navigate the page. Share unlimited surveys with respondents who can attempt them anywhere, anytime. Gather valuable data from a large audience faster and make your business decisions smarter!
Key Benefits of Responsive Surveys
Higher Response Rate: Make responding easy by allowing participation from a number of devices. You can even extend the reach of your surveys by asking respondents to share them on all social networks. In addition to this, you can even add an incentive to encourage them to complete your survey.
Enhanced Customer Engagement: Use mobile surveys to add some fun to the customer experience. Looking to test a concept before you implement the same? Ask respondents if they approve the idea or not. Gets the vote of many? Reward them all with freebies! Have fun while you survey and transform a regular promotion to a great one that builds customer interest, interaction and loyalty.
Quicker feedback: With quicker audience feedback from mobile devices, you can accumulate data faster and use it to take immediate steps to improve business.
Faster Continuous Improvement: Need to know what your consumers felt about your service? Ask them whatever you need to know and let them respond on mobile devices so you can focus on continuous improvements, faster.
Tips to make optimum use of mobile-friendly surveys
Since mobile devices are key tools for respondents to instantly respond and participate, you must follow important steps to ensure you make the experience even more fantastic for them.
To ensure that the navigation speed of your surveys is not affected, do not add more than 2 survey questions on a page.

For responsive surveys, short questions work the best. Using multi-select radio buttons, check-boxes and single-line open text question types are highly recommended.

For mobile surveys, keep it as clean and simple as possible with minimum distractions.

To enhance readability, consider increasing the font size.

Avoid 'Matrix questions' for mobile devices as they demand more space.
Responsive themes ensure you collect data in a timely way and implement necessary actions to uplift your brand. With ProProfs, you can share unlimited responsive surveys, gather feedback instantly and launch crucial business changes that impact you favorably.