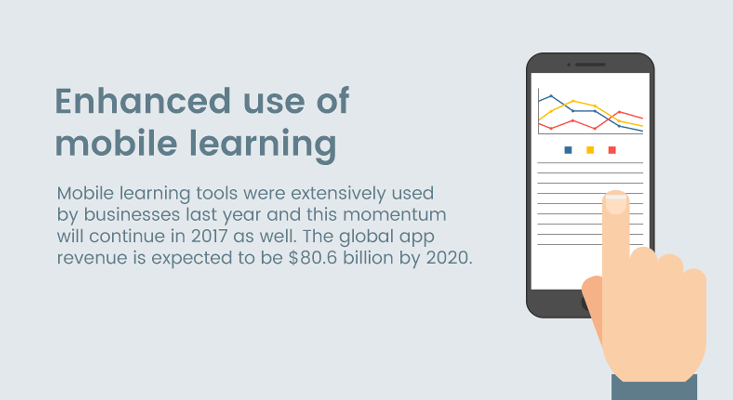 Over the years, elearning as a concept has evolved greatly and 2020 will be no different.
This is illustrated by the rising budget allocations for elearning programs, the growing importance of elearning across varied geographies, latest trends in the emerging technologies and tools that lend helping hand to elearning and the prominent role of social learning as a top priority for learning and development (L&D) sector. 2016 had already witnessed massive development in the elearning domain and the way things are progressing, 2020 could prove to be one of the most disruptive years for this industry.
So, you think you have seen it all in the elearning domain? Think again because the global L&D industry is increasingly becoming complicated with the shifting priorities. That's why we have put together a list of the most interesting and exciting elearning trends and predictions for 2020 outlining the global L&D industry and online learning in particular. To support the trends and predictions mentioned in the list, we have used reports, surveys, data and statistics that proves elearning as a whole is constantly evolving and transforming.
The infographic will give you a sense of what's likely to set the elearning industry on fire in the coming days and why key approaches like mobile learning, gamification, social learning, videos will continue to make their position stronger in the learning domain. Apart from being an interesting read, all the trends and predictions will make you ponder why to adopt it.
The technology evolution has opened doors to interesting opportunities which when harnessed in the right way is capable of creating meaningful impact. While some of these mentioned trends and predictions are new, few of them have already made their mark in the past few years.
We are hoping that these elearning trends and predictions for 2020 will be a great source and prove helpful for the L&D enthusiasts understand the global eLearning landscape better so that making an informed decision isn't tough. In fact, businesses that are already using elearning in their day-to-day activities will be able to make necessary changes in their existing strategies that will help improve engagement and create the rightful impact.
And if you are one of those who still hasn't hopped onto the elearning bandwagon, then it's time you embrace the cloud-based authoring of new age, collaborative, tech-enabled learning. After all, nowadays people don't prefer to sit in front of the computer and spend hours on learning something new. Since time is a major constraint for everyone, here the elearning concept gets a thumbs up as it focuses on conveying maximum information using minimalist of time.
Which trends and predictions according to you will rock the learning landscape in 2020? We would love to hear your opinion.
Do you want a free Training Software?
We have the #1 Learning Management Software for complete learning solution starting at $0