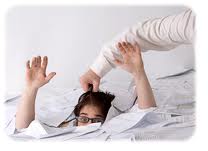 Any effective teacher wants to provide his or her students with enough information to succeed in the course. In addition to the course materials, the online instructor also needs to post information on how to navigate the classroom, where to post assessments, and proper online etiquette. Because instructors can't provide a verbal course overview and provide helpful tips during class lectures, supplementary materials are also necessary.
However, students often become overwhelmed in online classrooms when too many documents are posted in a short period of time. Many lack the ability to discern between primary course documents and supplementary materials.
How does the teacher find the correct balance between presenting enough information and not confusing their students? ProProfs offers many solutions to creating a course and organizing course material to increase learner satisfaction.
How to Choose the Best Virtual Classroom Software:

Organizing Your Classroom
Have you ever walked into a bulk goods store and felt completely overwhelmed? A cluttered online classroom can have the same effect on students. The key to an effective online classroom is organization.
Maintaining a clean homepage certainly helps students feel less anxious. Instead of posting multiple documents on the homepage, try using only three or four folders. ProProfs' easy to navigate sidebar allows students to view the folders and access the appropriate material.
Then, place the handouts in the appropriate folders, or create sub-folders within the main folders. Students can still access dozens of documents, but they aren't frazzled by too much information presented at once. Having a folder system also allows learners to pick and choose what information they retrieve at their convenience.
Applying proper labels to the folders and documents will also help students understand what material is of primary importance and what material is supplementary. Titling folders such as "Assignments," "Readings," "Helpful Information," and "Accessing the Classroom" will aid students in finding the appropriate material when necessary.
---
Read More:- How Students Can Benefit from Online Education
---
Formatting Your Documents
The documents inside the folders should also be organized and formatted in an easy-to-read manner. Use bulleted points, highlighting, bold typeface, and colored fonts emphasize the most important material students should learn.
However, avoid using too many formatting tricks within the same document. If too much material is accentuated, the purpose of the formatting fails. The student will no longer be able to determine what information is the most important within the document.
A reader's experience differs when reading a textbook versus reading an online document. In general, online documents are shorter, more direct, and focus on actionable content. Even if your document is meant to be a substitution for a textbook, many students lack critical reading skills when reading something off the computer.
Avoid lengthy paragraphs and long sentences. Rather than providing a ten-page document, try splitting up your "lecture" into more manageable chunks. For example, a ten-page lecture could be broken into five two-page documents. The student receives the same amount of material, but he or she feels more comfortable with the quantity.
Going Beyond the Written Word
According to a study in The Journal of Online Learning and Teaching, 90% of students thought that multimedia presentations were easier to understand than written materials and 70% found such presentations "enjoyable."
Video lectures, narrated screen captures, and PowerPoint presentations are all available through ProProfs' online environments — even if the student doesn't have the software on their home computer or mobile phone.
These features will increase students' learning retention as well as make the classroom less inundated with documents. A twenty-minute video could present an entire lecture, whereas the instructor would need five to ten documents to present the same information effectively.
Do you want a free Training Software?
We have the #1 Learning Management Software for complete learning solution starting at $0