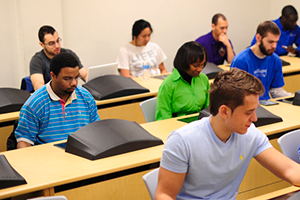 In the 1990s, when computer use was expanding rapidly in both homes and schools, concern arose about the digital divide, the unequal access to technology between people in higher and lower socioeconomic classes. This was particularly a problem for education, as students in affluent schools had much greater access to new technologies than students in impoverished ones.
Many government and educational programs have since been aimed at bridging the digital divide and, although computer and Internet access is not yet ubiquitous, the playing field is now more level.
Let's look at some facts:
As of October 2010, nearly 70% of U.S. households had computer access, and more than 80% had at least one Internet user. Mobile technologies have further closed the technology gap.
In 2011, CTIA reported that the number of wireless devices exceeded the population of the United States and its territories.
The divide is also shrinking in schools, as 97% of teachers now have computers in their classrooms and 93% of these computers have Internet access
The Internet and new learning technologies have opened up a whole new world of access to education. Increased access to technology has put more modern tools in the hands of more students.
What has changed?
Online courses provide educational opportunities for people who would otherwise not have them, for example, because they live in underserved areas, have jobs and families, or cannot afford traditional programs.
Watch this video on How to Create an Online Course in 5 Min
Social media and networking have made it possible for people to build their own personal learning environments, connecting with other learners worldwide. With a reliable Internet connection, it is literally possible for people to learn anything, at any time, from anywhere.
But we are not out of the woods yet. Researchers are starting to redefine the concept of the digital divide, focusing not on access to the technology, but on the skills and knowledge required to use it.
Enhanced access or new digital divide?
The new digital divide is considered as gaps in computer and information literacy, two areas that represent essential skills in education and in modern life. This divide is seen both in teachers, who need special skills to use new learning technologies efficiently in the classroom, and in students, who need them to take full advantage of the technologies. The awesome power of computers and Web 2.0 relies on users being able to confidently navigate new learning environments and understand what they find there.
What is required?
The key ingredients to successfully bridging this new divide are twofold:
First, to use any new technology, students and teachers require a basis of computer literacy, which goes beyond knowing how to surf the Internet. As Cathy Cox wrote in a report for the Academic Senate for California Community Colleges, "in order to become competent users of information in the digital age, students must first be able to use the basic tool of information retrieval, the computer." A 2009 article in TechRepublic identified the 10 key skills of computer literacy ranging from how to hook it up to using browsers, search engines, word processing, and spreadsheets. In 2013, computer literacy surely also includes using communications and social media tools.
Second, learning technologies must be easy to use. New technologies are constantly being introduced and integrated into learning environments, from new ways to present content (Prezi, VoiceThread, videos, screencasting) to social media tools (blogs, Twitter, social bookmarking). While these all have the potential to be powerful educational tools, they each have their own learning curve. If the necessary technical know-how becomes overwhelming, these new technologies can detract, rather than enhance, the educational experience. A frustrating technology can discourage students from participating in that element of the course.
Bridging the divide
Integrating new technologies into a learning management system (LMS) is one way to ease their adoption. An LMS makes it easy for teachers or trainers to put course materials online for use in either e-learning or a blended learning environment. Many LMS systems allow users to import various types of content, create quizzes and tests, and track learner statistics. Educators can determine in real time which topics are the most challenging and which students may need some extra help. Learners also benefit as all of the materials for the course are located in one place, usually organized by module, and they can easily access the content and track their own progress through the course.
---
Read More:- Best Docebo Alternatives that You Need to Know About!
---
Education, like most other sectors, is becoming increasingly reliant on technology. As a society, we cannot afford to have gaps in computer and information literacy. These are skills that need to be integrated into education at every level to ensure student success in the classroom and in the modern digital and information economy.
Do you want a free Training Software?
We have the #1 Learning Management Software for complete learning solution starting at $0