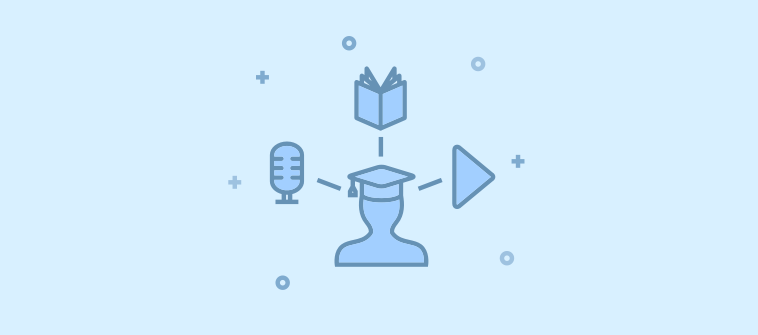 Tell me and I forget, teach me and I may remember, involve me and I learn.
Chinese proverb.
Innovations in business technology (BT) are burgeoning at an impressive rate. The total technology spending worldwide is projected to grow from U.S. $2.8 in 2015 to U.S. $3.3 billion in 2019. Employee training software such as learning management system (LMS) is a part of the evolving BT trends.
LMS has come a long way since 1924 when Sidney Pressey, a psychology professor at Ohio State University, invented the teaching machine. Today, we are talking about the new-age learning management tools and software, more developed and capable than their earlier versions.
Such advanced and robust tools are handy in streamlining corporate training and achieving learning and development (L&D) objectives. They come with many enabling features that simplify workforce training to a great extent.
Let's now walk through some of those intriguing features one after another.
Ownership Over Learning
One of the most interesting parts of adopting LMS software is that it gives you a sense of ownership over the learning process. It helps you organize and oversee the learning and development needs in a much better way.
From creating custom courses and designated learning paths to real-time tracking and reporting, an LMS gives instructors control over training while allowing learners to govern their own learning through features such as self-paced learning.
Anywhere, Anytime Learning
Flexibility is another key feature in most of the modern learning management systems. By scheduling coursework and enabling anytime, anywhere access, instructors can make learning an easy and enjoyable experience. This inevitably improves the attendance rate of learners.
For instance, ProProfs Training Maker supports anytime, anywhere access for learners, both in-house trainees as well as those in remote locations. You can leverage the centralized online classroom in the LMS to assign courses and manage learners with ease.
All this removes the administrative hassles usually associated with traditional classroom training.
Blended Learning
Using a robust learning management system on the market, you can create training courses to offer both online and offline training. The same training materials can be reused to train multiple batches of trainees. This saves organizations the costs to organize new training sessions each time a need for training arises.
This is called blended learning or hybrid learning. One good example of this type of learning is a course in which learners watch video lectures online before attending a physical class.
Gamified Features
Some of the present-day employee training software incorporate game mechanics so that users can get a delightful learning experience. Well-defined learning paths, learning levels, badges, and scoreboards are examples of game elements found in an LMS such as ProProfs LMS.
Gamification is the best way to hook learners to their courses and increase course completion rates. This type of learning is purely based on learning progress and reward, which keeps learners motivated from beginning to end.
Collaborative Learning
An enterprise LMS fosters collaborative learning by helping build a learners' community and facilitating conversations, discussions, and knowledge exchange. This way, learning and development no longer remain an isolated activity for learners but it becomes a social experience.
As for the instructors, group discussions around training content or best practices offer insights into the most effective ways to impart training. Additionally, it provides them an understanding of which training content is working and which is not.
Accurate Reporting & Analytics
Yet another benefit you can expect from the latest LMS software is the ability to automate assessment of learning progress. They can provide you baseline reports related to course completion rates, learner participation and engagement, and learner satisfaction level.
User-friendly by nature, ProProfs Training Maker makes monitoring individual progress easy and you can make learning adjustments accordingly. You can also identify knowledge gaps to make sure your learners reap the full benefits of your courses. Armed with such delightful statistics, you can have a fair idea of where things stand.
Seamless Integrations
Most of the leading employee training tools on the market today integrate effortlessly with CRM software and email marketing tools. This means that when you integrate your LMS with another useful tool, you get the best of both worlds. For example, you can train your channel partners and sales representatives located in different geographies with a single software without having to switch between platforms.
Closing Remarks
As you just saw, a learning management system is a goldmine for enterprises of all sizes. It can be their go-to resource for online training. Realizing this fact, organizations around the world are making investments in such software at an increasing pace to meet their L&D needs.
Adopting the right training tool coupled with effective strategies can improve employee performance and make your business stay relevant. Streamline corporate training and keep the training costs, time, and efforts down by embracing the best LMS available. They are up for grabs.