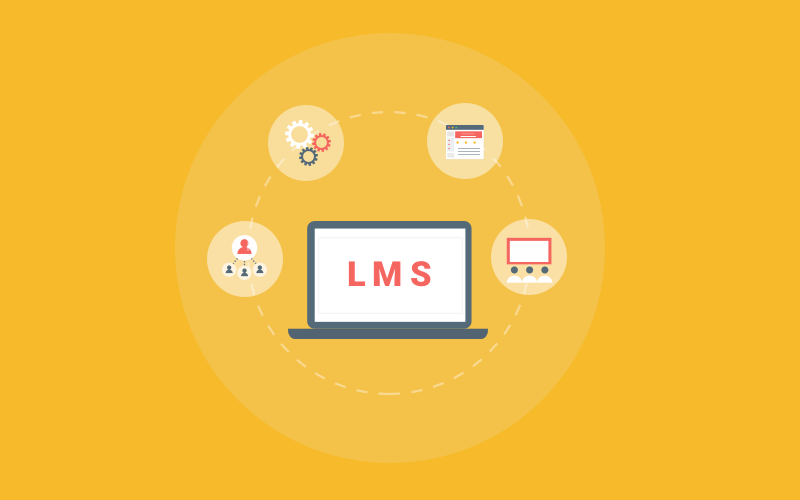 Modern organizations have come to accept that knowledge plays a vital role towards driving success, and cannot deny the importance of integrated learning and development programs for business growth anymore.
However, picking up an LMS (Learning Management System) for employee onboarding and training is not an easy task. A quick look using your favorite search engine will reveal hundreds of modern learning management systems available in the market today, with almost all of them offering unique, cutting-edge features and promises of making online learning fun, engaging and productive.
And while many LMS vendors claim to be the best in-class, not all of them may live up to your expectations and warrant the investment. This article points out the 10 must-have features that every LMS, that offers all the right perks without wasting resources on unnecessary functions, must include.
Watch This Video To Know How to Choose the Right LMS Software

1. Support for Mobile Devices
What good is a mobile responsive e-learning course if your LMS software isn't mobile compatible? Given the increasingly wide-spread adoption of mobile devices today, having a mobile compliant LMS is no longer just an option. At the bare minimum, a good LMS software should support the HTML5 framework, to allow for viewing of the learning modules across the wide range of mobile devices available today. So, if you're going shopping for an LMS system, don't forget to test it for its cross-device functionality.
2. Assignments Management
As much as we hate exams (remember high school and college days?), there are fewer better alternatives to properly-designed assessments when it comes to gauging progress. Any learning program that does not incorporate some form of an assessment mechanism to evaluate the learners is, therefore, incomplete. Assessments become especially relevant when it comes to employee training where learners are awarded certificates upon successful course completion.
In its simplest form, an assessment mechanism will allow trainers to upload assignments and conduct online exams for a proper evaluation. More advanced learning management systems come with integrated assessment engines that allow educators to plug-in a questions database to build their assessments from.
3. Tin Can (xAPI) / SCORM Compliance
Tin Can and SCORM are software specifications that allow LMS applications to talk to other applications (cross-software communication). Today, this is a must-have ability for any learning system. As such, any serious LMS software worth its salt will at least be SCORM compliant. Tin Can, also known as xAPI or experience API, goes a step further and incorporates the ability to track a wide array of information across a number of different platforms, including those that aren't supported by SCORM.
Watch This Video to Know What is the Experience API or Tin Can API? Know about Tin Can API (xAPI) Features and Benefits

4. Integrated Authoring Tools
Integrated content authoring tools can go a long way in taking any LMS software to the next level. Take an example – you want to test the learners' ability to take the concepts they just learned and put them to use in a specific scenario. An integrated quiz authoring tool could be the perfect answer! Similarly, a survey/questionnaire tool to quickly gather feedback on a course module could come in handy. A good LMS software will allow trainers to build different kinds of content (an html page, a quiz or questionnaire) without having to invest in external 3rd party apps.
Modern learning management applications provide an integrated, end-to-end eLearning solution, allowing course creators to create, distribute, manage, and edit entire courses from scratch all the way to the finish, no matter what the content type (an html page, a quiz or questionnaire).
5. Asynchronous Learning
The end-goal of any good Learning Management System is to ensure learners find the content engaging and are able to retain knowledge. Asynchronous learning, the ability to allow learners to keep learning at their own pace is a great way to ensure that. With integrated asynchronous learning, LMSs take away the requirement for the learners to be physically present for the training session or to be able to talk directly with the trainer. This can be achieved by integrating video lectures, online resources, personal messaging, student-teacher forums, and other media with the learning materials so that students feel free to learn at their own comfortable pace at anytime they want.
6. Gamification
Gamification is fast evolving as the industry standard for eLearning, and should be an absolute necessity for all LMS software out there. Just as any experienced instructor will tell you, creating an eLearning course only half the battle; the other half, of course, is to get your learners paying attention. And that's where gamification can be so handy.
Any good LMS application worth its salt should include game mechanics to help add elements of excitement and engagement in the courses. In other words, it should make learning feel less like a 'task' and more like playing a game of Need for Speed. Or Super Contra, if you're old enough to remember those days of Nintendo. The term "gamification," in the context of eLearning, means introducing certain elements of game play into the courses that are more game-like. This includes integrating well-known and time-tested techniques, such as Points, Leaderboards, Badges, Levels, and Rewards with the courses.
7. Intuitive User Interface
At the end of the day, any LMS system, however feature packed, will become irrelevant if it doesn't come with an intuitive and easy to understand user interface. The User Interface of an LMS is the bridge between the learner and the learning system. Several components like icons, buttons, tooltips, menus, welcome screens and onboarding guides make up the user interface of modern learning systems. For an LMS software to be truly effective, it's important that the learner's interaction with the system should be simple and straight forward. If the interaction becomes a barrier to the learner's learning activities, then the entire system fails.
8. Interactive Discussions and Peer Support
Learning is a much more than simply studying a given subject. Good training methodologies aim at developing skills and knowledge in any field via interactive community based discussions, peer support, sequential tasks, activities and games. Accordingly, any modern LMS system should include support for collaborative forums and interactive support tools, to help create a dynamic learning environment.
Community based tools like discussion boards, content ratings, ability to upvote or downvote content, and the ability to follow other learners and educators make it easy for students to collaborate with peers, instructors, and managers even after the actual course has ended.
9. Reports and Analytics
Advanced reporting and analytics features are essential for any LMS as they offer meaningful insights on how effective your training is, and how well your training courses are aligned with your goals and objectives.
Good reports encompass eLearning compliance tracking as well, to ensure that students are able to receive and meet the required educational standards. Reporting analytics should include better student analysis and management capabilities. This way it becomes easier to track which students are performing better than others and which ones need additional help. It should also be able to highlight areas of the course that require more attention or need to be recreated.
10. Scalability
Last, but not least, how well does the LMS scale?
It's ability to scale as needed should be the top priority of any modern Learning Management System. Any good LMS should support the growing needs of a business, allowing it to scale up or down as needed. Typically, such an LMS will come with a flexible pricing structure that charges businesses based on the number of learners they have. This way you end up paying only for the number of users accessing the platform in any billing cycle. As the business grows, so should the LMS.
Do you want a free Training Software?
We have the #1 Learning Management Software for complete learning solution starting at $0