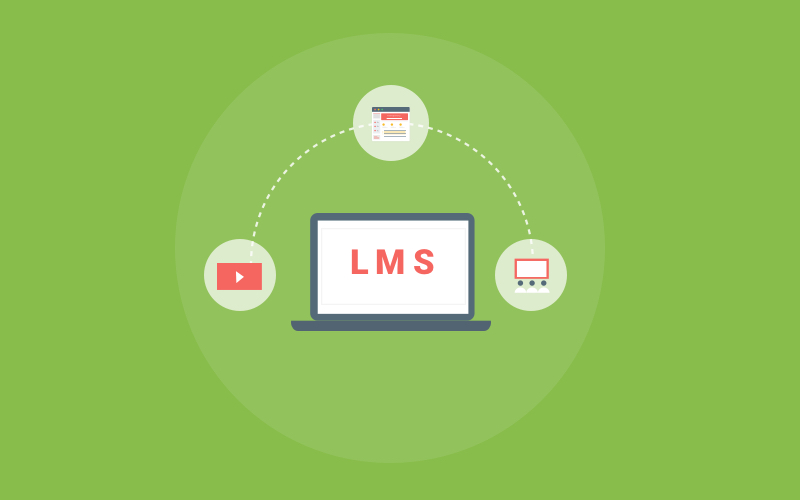 LMS is an abbreviation for Learning Management System; it is a software application that is typically used to design, execute and publish self-made online courses in online catalogs. LMS is basically a cover-up term that encompasses various attributes of eLearning; in fact, its origination also emerges from the concept of eLearning system. With an advent introduction of cloud based LMS in the education system, the learning and assessment strategy has soared by far because of eLearning and online assessment platform.
Watch This Video

If we focus on the spotlight on its extensively growing market, then it enunciates the fact that its global market size is expected to grow from USD 5.22 Billion in 2016 to USD 15.72 Billion by 2021, at a CAGR of 24.7%. With a higher acceptance to adopt digital learning in corporate organizations and academic institutes, it is highly possible to implement the benefits of LMS on a scalable level.
Features of LMS that can improve learning and assessment techniques in the educational and corporate sector:
Learning Management System is a wide term with far-reaching possibilities and applications. In today's time, LMS serves as a comprehensive solution for carrying out varied tasks related to eLearning courses such as creating, assigning and even evaluating, which saves big time on administrative activities and logistics. So if you think why cloud-based LMS is becoming an active part of educational and corporate sectors then here is a brief description of its extensive, multifarious features:
Centralized Repository
Learning Management system functions as the main source to provide education, and information. The created content can be assigned to multiple users at a time and they all can have access to the learning tools from wherever they want. It ensures consistency starting right from the formulation till the end of the evaluation process.
No Restrictions
One of the best characteristics of LMS software is that it largely functions in a virtual world eliminating the restriction of being physically present in a place.
Classroom learning is only possible when both the teacher and the students are present in the same premises at the same time. If any one of them is absent from the setting, then the learning process gets hampered.
Well, this is not the case with LMS, there are no such restrictions. One can always find the created course or quiz online and also get access to it according to one's own convenience. The quizzes and courses can be easily created by the use of online exam software and can also be updated anytime when the quiz/course creator wants.
Easy Tracking And Reporting
Learning Management System is preferred explicitly by the experts in the education system because of its 'tracking' feature. It gives an in-insight to the performance of every candidate. The learning curve for every student can be elaborately analyzed, and the strength and weakness can be determined. This way it becomes easy for the administrators to conclude as to where they need to put in extra efforts in improving the areas that are at fault.
Accurate Evaluation
With Learning Management System the evaluation part becomes completely automated, automatically becoming perfect in rendering accuracy. The manual process is subject to error and restrictions and classifying the scores can be a real task becoming intolerable with the increase in the count of the candidates. But with LMS the number of candidates does not matter as everything is carried out by the ease of the software.
Pocket-Friendly And Time-Saving
Educational institutions are always short on resources and time. With the use of LMS as an individual asset, one can easily manage to impart training and teaching. With the use of online exam portal that is a prominent part of LMS, the administrator can create assessments and assign them to the candidates who are outstretched to greater proximities.
If we further speculate the inconvenience of rudimentary education system, it is noted that administrative departments in school and universities are under the continuous burden of ever increasing paperwork. LMS does not only help the teachers or students individually, but also simplifies everybody's role as a whole. With the advent of LMS, documents can be easily accessed online which decrease the work of printing hard copies.
Efficient Training Courses
With the ease of Learning Management System, organizations can easily train their staff by creating completely automated courses. The employees can attempt them according to their time availability, and other features can be assigned to the course such as passing marks and time limit. Accordingly, the certificates can also be issued to the person who will score good marks. Videos, images and audio clips can also be added to the course for instant reference. Instead of planning out specific time to conduct a quarterly or yearly training by confining everybody to the space of a room and then conducting a paper based test or quiz it is more feasible to implement LMS to serve the purpose.
Conclusion
LMS is a proven solution to many shortcomings that we are still facing in the educational and corporate setting. If LMS is keeping the records of employee's progress in an organization, then it is also keeping track of student's performance in the educational sector. Building course for students or training course for employees, it can take any task on hand irrespective of the setting. With a free choice to customize your own assessments, online assessment platform is a much sought out choice.
If the market for LMS software tends to increase in the upcoming time, then it is all because of the privileges that it assigns to its users. Still being used on an insufficient level, its beneficial features are yet not exploited to an extent to yield its full worth. But the future lies bright for this technology foretelling an era of completely automated educational and organizational tasks.
Do you want a free Training Software?
We have the #1 Learning Management Software for complete learning solution starting at $0