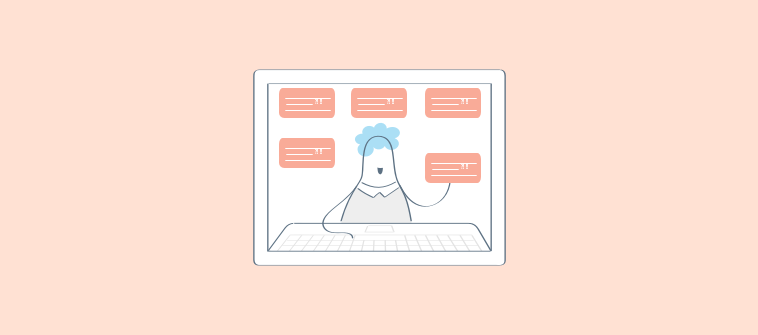 Learning is an ongoing process that goes beyond the four walls of a classroom. This is why more and more businesses are starting to see the importance of continuous learning and development (L&D) among their employees.
Fortunately, the rise of Software as a Service (SaaS) and other cloud technology has made it easier for businesses and individuals to access different training and development software tools.
In fact, a recent report by LinkedIn shows that 57% of businesses' L&D will invest more in online training in the coming years.
With the world now fast-tracked towards the digital age, it is high time that you check out what technology has to offer for your customers and employees' growth and development. After all, having the best online learning software can give you that needed edge over the rest of your competitors.
If you're out on the market looking for quality e-learning software for your business, consider these key features for best results.
1. Customization
Everyone has different ways of learning. What works for one person may not necessarily work for another. Hence, your courses or modules must adapt to different learning habits and capabilities.
When considering an e-learning platform, you should look for those that give you the freedom to not only create online training for employees but customize them as well. This enables you to train them in the most effective and efficient way possible.
Likewise, having customizable modules that cater to the needs of different audiences means you can also sell your courses online.
Software solutions such as ProProfs Employee Training Software which is one of the top examples of management systems listed by CompareCamp offer a wide variety of options for customization. This includes incorporating multimedia content in courses, branding, notifications, security, and other settings.
2. Progress Trackers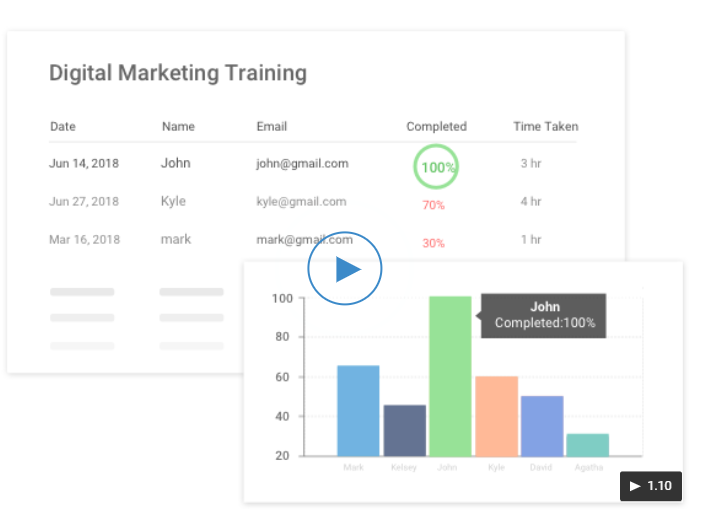 Many people tend to view virtual learning as a double-edged sword. On one side, it makes learning accessible and convenient for everyone. However, learners can get sidetracked once they get into the rabbit hole of the internet. Hence, 67% of educators and trainers remain skeptical about the effectiveness of online learning.
This is where progress trackers come in. This feature lets you monitor learners' performance and results during training. The software will automatically evaluate their receptiveness to the training, assess and rank them accordingly, and have these results posted or sent to you.
Through this feature, you can also measure the effectiveness of your online training and see whether your employees or customers are benefiting from it or not.
---
Read More:- The 10 Must-Have LMS Software Features
---
3. Social Learning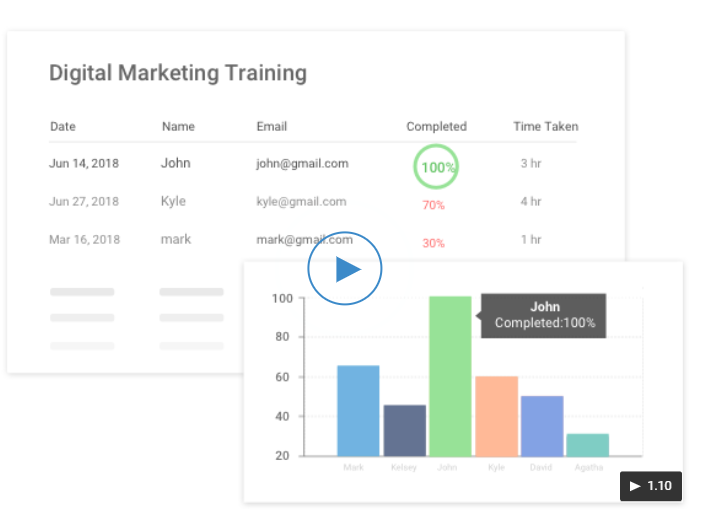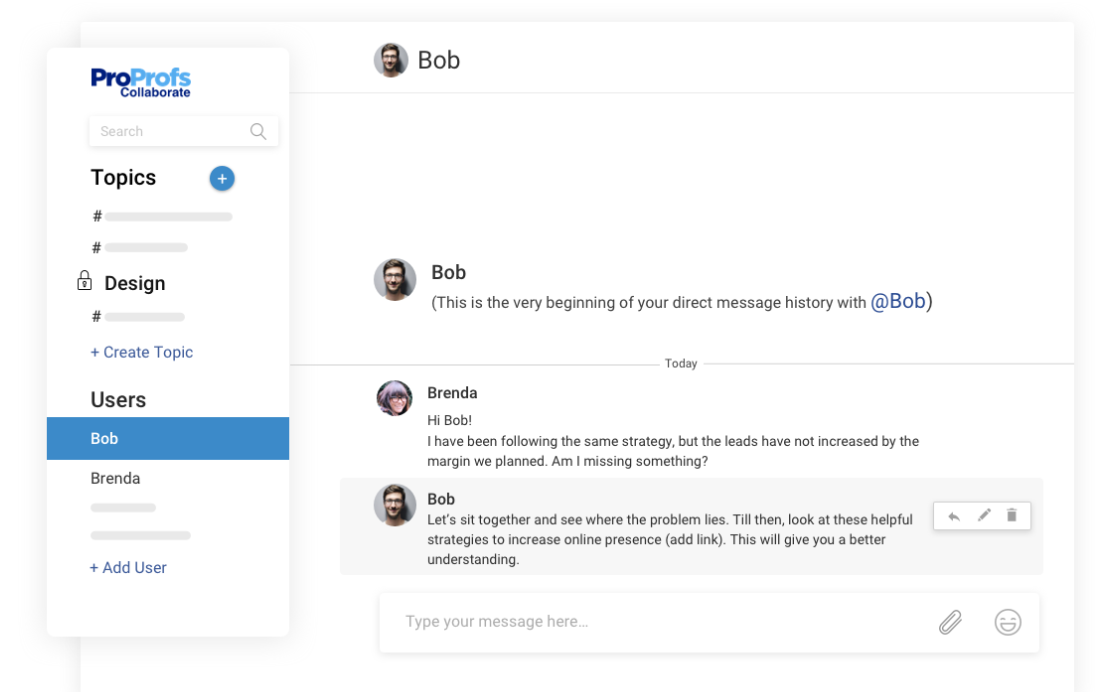 Training is more fun when you do it in groups. Alone, you can quickly lose motivation to persist and do better. But with social learning, you can involve everyone to help each other out by sharing knowledge and through discussions and collaborations.
Several tools can foster social learning. You would get a centralized dashboard where learners can communicate with each other, post their achievements, and comment on others. It can help promote friendly and healthy competitions among your learners. This, in turn, can act as an incentive for them to perform well in their training.
Likewise, your software can also have a cloud-based file management system where learning materials can be downloaded and uploaded by anyone who has access to the system. This way, everyone can share information and cultivate teamwork.
Watch: How to Create Employee Training Courses Online

4. Analytics
Nowadays, technology has made it easier to mine data in every area of your business. So, it is no surprise that you can extract critical data from your employee training. You can gain insights into your employees such as their expertise on certain subjects and their individual capacity for growth.
Online training software gather, analyze, and summarize the data collected from training modules. You can use these insights to plan business strategies.
This feature helps you identify your online courses or modules' strengths and weaknesses and determine the best way to present them to your employees or customers next time. It also lets you determine what skills and training they need for their personal growth or for achieving company goals.
5. Integrations
Sometimes, you may find yourself using more than one solution to get a well-rounded and effective online learning system. After all, there is yet to be an all-in-one solution that can cater to all your business needs. Your online training software inevitably has its limitations beyond its intended purpose.
However, you can maximize your software's capabilities through integrations. You can integrate your training software with useful tools such as HRMS, CRM, and employee monitoring systems.
Even when you connect multiple tools, you can ensure that all your data remains intact while switching from one software to another. You can facilitate a faster and smoother workflow as you move on from one task to another.
6. Platform Independence
Flexibility is one of the essential features you must look out for in any of your software. Your online training software is no exception. At a time when people have many devices to choose from, you must maximize the accessibility and convenience of your online courses.
Web-based training software, for one, gives you the flexibility and adaptability for multi-platform usage. You will simply need a web browser and a stable internet connection to provide access to your course content.
Through this feature, learners have different options on how and when they want to take their training. This enables self-study, proper pacing, and finding the best mindset and environment for conducive learning. This way, learners can process information faster and make sure it sticks in the long run.
---
Read More:- LMS: Enabling Tailored Employee Training for Best Result
---
7. Security
Cyber attacks remain a threat to businesses of all shapes and sizes. Many companies have become the prime targets for hackers and scammers. That's why it is essential to keep all your software safe and secure against such threats.
You may not know it, but your online training software can contain sensitive or personal information about your employees or customers. Along with this, you must also consider your own intellectual property rights on the content of your courses and modules. Any hacker or scammer would gladly lay their hands on this information for their own gains.
To protect your business, employees, or customers, you should make sure that your software comes from a reliable and reputable service provider. With their support, you can keep your online training safe from the threats that lurk on the internet.
Choose Online Training Software Wisely
You can never confine learning within the four walls of a classroom. It is an integral part of education, whether you're a student, an employee, or someone in between. And as the world catapults to the digital age, new knowledge and skills are now easily accessible online.
Through online training software such as ProProfs LMS, you can help learners unlock new potentials for their individual growth. These tools offer the right features for successful online training, and they are flexible, scalable, and customizable. Using them, you can deliver personalized training experiences and let your employees learn efficiently.
Do you want a free Training Software?
We have the #1 Learning Management Software for complete learning solution starting at $0