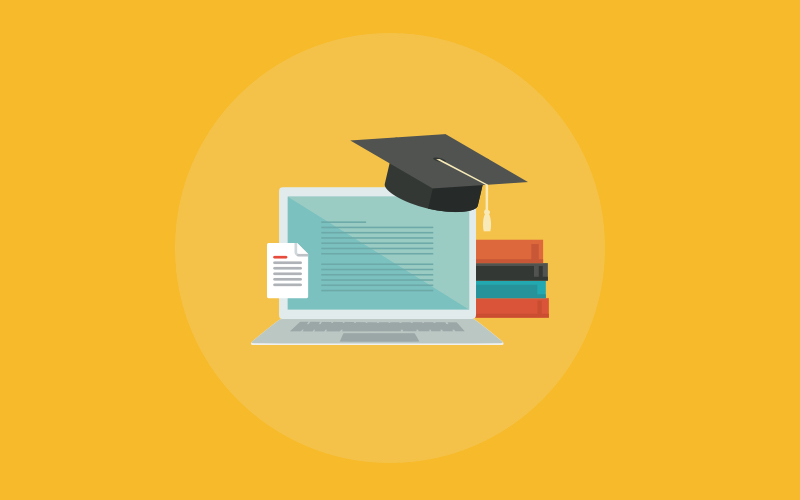 The increasing importance of personalized learning forced many schools around the world to create better environments for their students. The amount that institutions spend in introducing new technologies is increasing day-by-day and is expected to reach a whopping $19 billion globally by 2020. With the rise of technology in classrooms(blended-learning models, online classrooms, etc.), students are having more access to constant information when compared with the previous generations.
Personalized learning refers to different types of learning experiences, instructional approaches, and educational programs that are intended to address the specific learning requirements, interests, cultural backgrounds, or aspirations of individual students. It is a major shift from "one-size-fits-all" approach to education and capitalizes on the instinctual ability of a student to utilize technology.
In personalized learning, the blended instruction is designed purposefully to combine student-to-student collaboration, technology-assisted instruction, and face-to-face teaching to leverage the interest and learning style of each student for more in-depth learning. Though technology plays a big part in the success of personalized learning, there exist few ways where personalized learning can be achieved without the need for any technology.
We hear few instructors saying they cannot use personalized learning for their students as they don't have the technology needed to implement it. With a few strategies in mind, educators can implement personalized learning for their students in an efficient way. Let's see how it's done.
Create a Safe and Joyful Learning Environment
If you are a teacher, it is your responsibility to ensure that your students have the basic, physiological needs met. These include food, shelter, and safety. No matter what authoring tool or LMS software you use to create courses, learning will become a daunting task when such basic needs are left unmet. Also, greeting students every day creates a welcoming environment where they feel safe to enter the classroom.
Making use of techniques from Responsive Classroom is a nice way to start the day as it creates an atmosphere where the students feel valued. After greeting your students, you should let them share their feelings and engage them in an open dialogue about the things that are going on in their daily life. Morning meeting helps students reveal their inner selves with the class and helps in revealing their true nature to others.
Things related to academics can be integrated into these morning meetings. For example, you can play math games like dots and boxes, and secret detective. You also can share stories, nurture friendships and thus build a joyful, engaging, and safe learning environment.
Watch How to Choose the Best Virtual Classroom Software

Promote Flexible Seating
Flexible seating is one aspect of personalized learning, and it changes the way students learn. Flexible seating improves posture, increases engagement, motivates learning, improves metabolism, and channels excess energy. To allow for flexible seating, replace the traditional hard chairs and desks with tables of various heights, standing desks, soft mats, camp chairs, soft rockers, back patter seats, and so on. With flexible seating, the students can choose the way they sit that best suits their learning style. In this way, the students will have all the control and can concentrate more on their work. They can move around the room, share ideas, and work with others. Thus, will flexible learning, you can witness a change in their commitment to behavior and learning.
Leverage Data Analytics
Data is a highly critical tool that makes personalized learning possible. Data provides a robust, timely picture of where students are, their progress over time, where they need to grow, and their strengths. With the help of this shared understanding, teachers can provide students the individual opportunities and support they need to succeed. Teachers must have timely access to data to understand the unique needs of each student.
Data also helps teachers set learning goals for their students and see how they are progressing towards their goals. To understand a particular student's needs, teachers can ask thoughtful questions and give individual pre-assessments to each student and assess them based on the outcomes. In this way, teachers can identify their students' unmet needs, interests, strengths, and know what strategies best work for each student.
Based on this, they can prepare lessons and activities individually for each student. Teachers also need the training to act on, analyze data as well as the time to plan, analyze, and collaborate with peers. Thus, the utilization of data is fundamental when you are looking to personalize learning for your students.
---
Read More:- How to Create Innovation With Learning & Development Programs
---
Introduce Project-Based Learning
Once you identify the unmet needs, interests, and strengths of your students, it's time to plan activities based on their individual needs. Project-based learning helps teachers be flexible in how they help students reach their learning objectives. As students generate their products for learning, project ideas, and questions, teachers must align their work to outcomes and standards.
This means that teachers must know their students' standards deeply to serve as translators of the personalized projects of students to the standards. They can develop checklists of the outcomes, standards, and sub-standards, and get into the details of hitting the standards via personalized projects, and they can utilize these checklists along with students to jointly create project assessments and ideas. If there isn't enough time to complete such projects in class, students may take help from online tutors to complete assignments so that they can achieve their learning objectives more comprehensively.
To align the instruction and resources needed for success, students and teachers should assess the work often with the help of formative assessments. These assessments enable students to lay down goals while allowing teachers to provide immediate instruction to students in various ways. In project-based learning, teachers must hand over the control to the students. This enables the students to explore their passion in learning.
As the students engage in different personalized projects in the project-based learning, teachers can strategically move from student to student. The students can make mistakes, set norms, pick their teams, and adjust goals accordingly in this way of learning. Thus, project-based learning enables students to engage and learn at their own pace.
Final Thoughts
Till now, you have learned few major tech-free ways to personalize your student learning and add more engagement and ownership to your classroom. They will set the students on a learning path that truly meets their desires and needs. Thus, with the help of personalized learning, students of all backgrounds can develop critical 21st-century learning skills.
This article is written by Savaram Ravindra, a Content Contributor at Tekslate.com explains how a technology-free personalized learning strategy is implemented in classrooms.
Do you want a free Training Software?
We have the #1 Learning Management Software for complete learning solution starting at $0