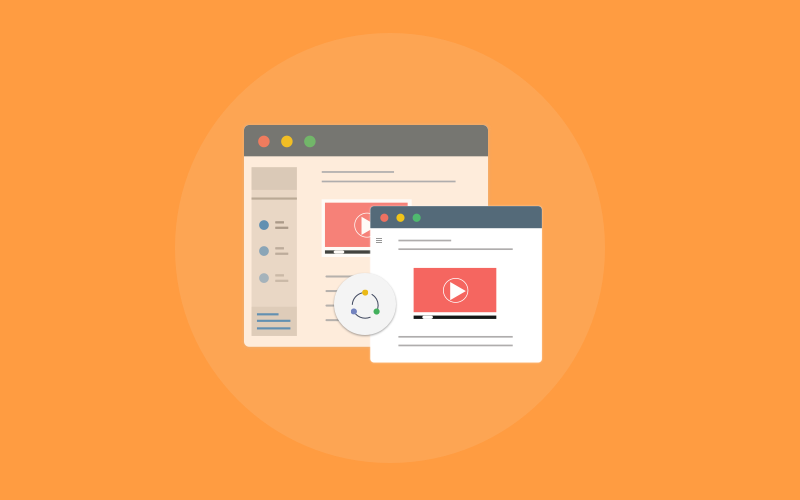 Today, people are keen to learn new things through online training courses. The reason behind that is online training courses are readily available, accessible and compatible with any device you are using. However, to create such courses, you need to use the right authoring tool that enables responsive design. It not only helps the user to create dynamic online courses but also ensures that it is compatible with multiple devices be it a smartphone, iPad, or desktop.
Now, there is no need to compress slides to make them fit into specific screens, as your smart online training software will itself do the job, thereby delivering impressive results. However, before you start creating online courses, you need to know some basic creation and distribution elements to further forward it to your audience in an effective way. In this post, you'll learn about how to create responsive online courses and distribute them efficiently to your learners. Take a look.
How to Create a Responsive Online Course?

Creating a responsive course is extremely easy. Using a right authoring tool you can design the course that fits into any screen. All you need to do is incorporate some basic elements given below:
Employ Device Targeting Authoring Tool
The best way to create responsive online courses is to make use of device targeting authoring tool. Using such tools, you can target specific devices and incorporate the content, images, audios, and videos accordingly. For instance, world map fits the screen size of the smartphone as well as the desktop, because it is designed in a way to enhance user experience. Therefore, if your authoring tool features adaptive capabilities, it is easier for you to design responsive online training courses.
Use Appropriate Image Size
The first thing you need to keep in mind is to use web-friendly images. Usually, you will find several high-resolution images on the Internet that slow down the downloading process while the learner is going through the online course. This causes immense frustration to the learner. Therefore, keep in mind the appropriate size of the image, its width, and height so that it's easier for the learner to download it on any device.
Create Short Videos
While making online courses, you need to keep in mind that the videos you are integrating must be short, crisp and no longer than 4 minutes. If you use long videos in your online courses, you are making your audience bored and disinterested. After all, human attention spans are decreasing and sometimes up to only 9 seconds, which is even less than a goldfish. Therefore, it is advisable to make use of short and engaging videos that build learners interest and keep them going with the flow.
Integrate Fluid Navigation
Smartphone users, instead of swapping or clicking on the button to go to the next page prefer swiping them. It not only makes the process continuous but also cuts down the wait time required to go to the next page. Use an authoring tool that provides a built-in scrolling feature that allows you to create online courses with fluid navigation.
How to Distribute an Online Responsive Course?
Once you are done with the creation part of your online responsive course, you need to distribute it to your target audience. Although there are several options through which you can distribute your course, targeting the right audience is a bit difficult. Therefore, it's important to know the effective ways through which you can directly reach out to your audience and deliver them your responsive online courses in no time. Let's discuss a few ways:
---
Read More:- 8 Ideas to Create Engaging eLearning Courses
---
1. Learning App
A well-designed learning app can help your learners enhance their learning experience. Learners can download the course on the go and study it offline anytime, anywhere. Modern people use mobile apps due to the convenience it offers whether they are traveling or running short of time while juggling their busy schedules. Instructors, on the other hand, can track the learner's performance anytime.
2. Cloud Learning Portal
A cloud-based authoring tool enables you to reach your target audience in no-time. All you need to do is choose the authoring tool that delivers the content rapidly to your learners regardless of their location and time. A cloud-based learning method opens up several opportunities for you as well as for your learners to access the data from anywhere whether it is about the course or tracking the performance.
3. Direct Link Access
Sending a direct link to your online course through email, Twitter, Facebook, LinkedIn is a simple yet effective way to reach out to your audience. However, you need to know your target audience before sending them the link access so that it doesn't get ignored or un-entertained.
4. Learning Management System
Distributing a responsive online course to your learners through a reliable LMS Software is an excellent way. You can not only track your learners' performances but can also make changes to your courses on the go. It is a seamless and a cost-effective way to publish your content and reach out to your target audience.
Wrapping Up
The creation and distribution of responsive online courses are simple and quick. All you need to have is a right mindset and authoring tool with advanced features that make your content creation task hassle-free. Moreover, it is advisable to research thoroughly about online training software and the essential elements that they offer. Make sure that the software you use helps you in designing a course that is easy to understand for the readers.
Do you want a free Training Software?
We have the #1 Learning Management Software for complete learning solution starting at $0