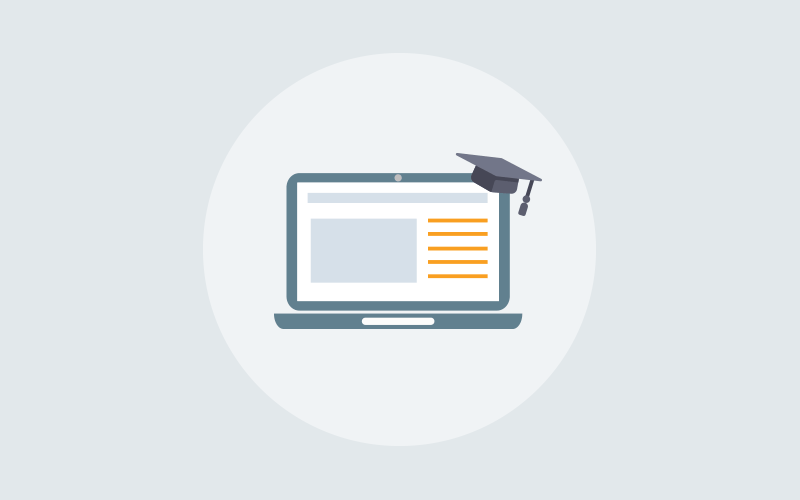 "There is such a special sweetness in being able to participate in creation." – Pamela S. Nadav.
Today, course creation is not the privilege of only professors, corporate trainers, and instructional designers. Anyone with expertise in an area and the desire to share that expertise with an audience can create online courses. If the course is popular, you might even be able to make some money off of it.
With trainers and instructors increasingly taking learning out of physical classrooms into the digital world, the need to create online training courses is on the rise.
If you're trying your hand at online courses, here are eight steps on how to create an online course.
Watch this:

Step 1: Pick a Topic
The first step to creating an online course is to identify a topic. What will your course be about? Ideally, this will be an area where you have not only a high level of knowledge but also a high degree of passion.
Never choose a topic that is too broad as that would take you a year or two to do justice. Instead, narrow down your topic into something that can be distilled into a six or eight-week course.
Depending on your need, the course can be longer or shorter, but these days the tendency is toward shorter versions.
For instance, rather than "Communication," try "Oral Communication," "Written Communication," or "Business Communication."
Step 2: Identify the Goals of Your Course
What will learners be able to do after they have completed your course? Will they be able to explain the causes and effects of World War II? Paint a picture? Communicate better in writing? The learning outcomes you identify will guide you on how you develop the content.
One of the easiest ways to identify learning goals is to first identify your learners. Are the sales representatives who need to brush up on how to find new sales leads? Or are they HR personnel who need to learn new development in the profession?
The moment you identify your target audience, the question of how to create online training courses becomes much easier. After that, you only need to work on the training content part of the courses, which leads us to the next step.
Step 3: Do Your Research
"To do successful research, you don't need to know everything -- you just need to know one thing that isn't known." – Arthur Leonard Schawlow, American physicist
Research mainly relates to the course content. This is the stage where you should need to spend the most time.
Research your topic and understand it thoroughly to make sure you have a comprehensive presentative of the topic. It is better to start with a large amount of content and cut it down to size than to not have enough content to justify a useful course.
Remember, good research is half the work done. After that, you just need to put the content in different places on the course template. Turning the data or pool of knowledge and information into online courses shouldn't take much time with a user-friendly learning management system (LMS).
Step 4: Determine the Course Order
How would you like your learners to navigate through the course? Obviously, it should follow a logical order. For instance, if you are creating a history course, the order is according to a proper timeline.
Learning paths also influence the order that a course takes.
One common strategy is to start out with the most basic and general information and then drill down to the specifics as you go into later sections.
This will help build up a tempo and make learning easier for the course attendees.
Step 5: Create the Content
Now we have come to one of the most critical parts of how to create an online course - creating the courses.
When you use a cloud-based learning management system such as ProProfs Training Maker, the task of creating an online course becomes fun. You can customize your courses and add videos, PDFs, podcasts, infographics, and other visuals to make learning more appealing and engaging.
This will enable you to create awesome online courses that sell.
As you create your online course, keep the 10-minute rule in mind. Whether it is a text, presentation or a video, each piece of content should take only about 10 minutes for learners to complete. If it is too long, learners may start losing interest soon.
---
Read More:- How to Develop Your First Employee Training Program
---
Introduce gamification into courses to make learning an enjoyable experience. Game elements such as learning paths, levels, points, badges, and scoreboards inject a dose of excitement in learners, and learning is no longer a mundane activity.
To learn more about how to create an online course, watch this video:
Step 6: Organize Content into Modules
Organizing courses into modules is one of the indispensable parts you need to remember when you are out to create online learning courses. Each module usually contains all the content related to a particular topic and the assessments.
For Example, a course on the history of American theatre would probably have one module dedicated to Broadway musicals and another on Post-World War II theatre.
A module serves the same purpose that a chapter does in a book. It deals with different themes and topics that are nevertheless related to the title of the book. Such independent yet related units of content make comprehension easier for learners.
Step 7: Put Your Course Online
You have done all the planning and groundwork necessary to create your own online training course. After you create and design your courses, it is now time for the take-off. Upload it online because that's where your audience will find it.
Believe it or not, making a course available online is probably the easiest step of all. You can upload it on your website, ProProfs Store, or any e-commerce site.
So, if you've been wondering how to create and sell online courses, a good learning management system can help you with it. This is because they provide all the support that instructors, trainers, or instructional designers need to monetize their online training courses.
Step 8: Distribute Your Course
After you create your own online training course and make it online, it's time to distribute it.
Share your courses with learners easily by embedding them on website, blog, or social media platform. You can even share the course link via email or other channels to distribute it to any number of audience.
You can also sell your course on an online course marketplace and make some money for your work.
You can keep the course either public or private and send course invites.
---
Read More:- Launching your Own Online Course: These are the Steps You Should Follow
---
Ready to Create an Online Course?
If you've been wondering how to create an online course, follow the steps discussed in this blog post. It would definitely help you. But for that, you first need to choose an eLearning authoring tool.
Create interactive online courses and share your knowledge with the world through ProProfs Training Maker. Take a tour and sign up free to get started. Or ask for a demo today.
Do you want a free Training Software?
We have the #1 Learning Management Software for complete learning solution starting at $0