With ProProfs Training Maker's integration with MailChimp, you can effectively market your courses to learners and instructors. You can track the emails you send, automatically update your email marketing lists, send newsletters about new course offerings to learners and do much more with this integration.
ProProfs Survey Maker integrates seamlessly with MailChimp, so that you can easily send details of your survey respondents to MailChimp. With ProProfs surveys you can any sort of respondents data you want such as their names, phone numbers, email addresses and more. Once you capture this, you can send this information to MailChimp in near real-time and grow your email marketing lists.
Key benefits
Automatically grow your MailChimp lists - Manually updating and managing your email marketing lists is huge waste of your time and effort. ProProfs Training Maker makes it easy for you by automatically adding new course takers as contacts to your MailChimp lists.
Get more learners to take your courses - One of the best ways to market a new course is by sending an email out to your past trainees about the new course offering. You can also keep your course subscribers updated by sending them newsletters or targeted emails.
Keep your instructors updated - While sending emails to learners, you can also keep all your instructors up-to-date on instruction opportunities or new courses. These emails can be periodic newsletters, life cycle emails or others.
Announce special deals & discounts - Emails are one of the best ways to send a "last minute deal" or discount on a course to learners. You can easily get more bookings to your course with such emails.
Let's look at how you set-up this integration in a few steps:
Step 1. Go to ProProfs Training Maker settings and activate the integration by selecting "Yes'' and then clicking on "Manage''.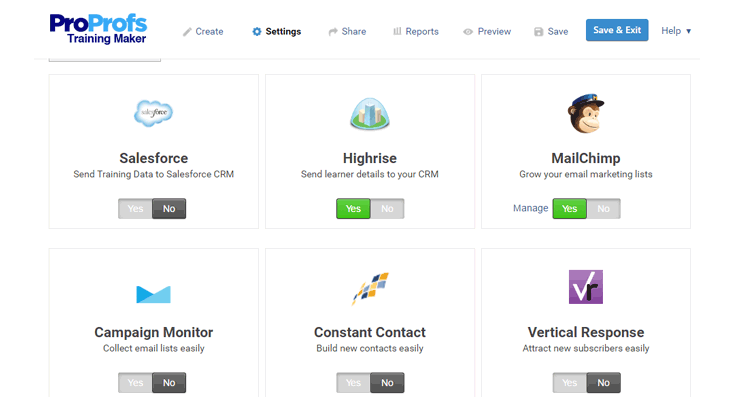 Step 2. Enter the API key and click on Next.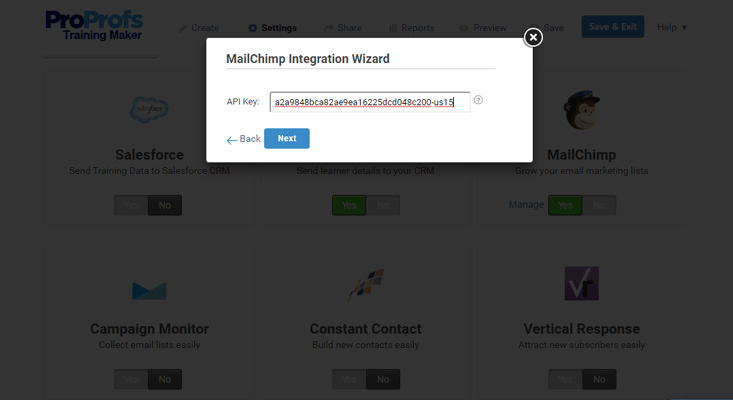 Step 3. Select the MailChimp list which you want to update and click on "Save''.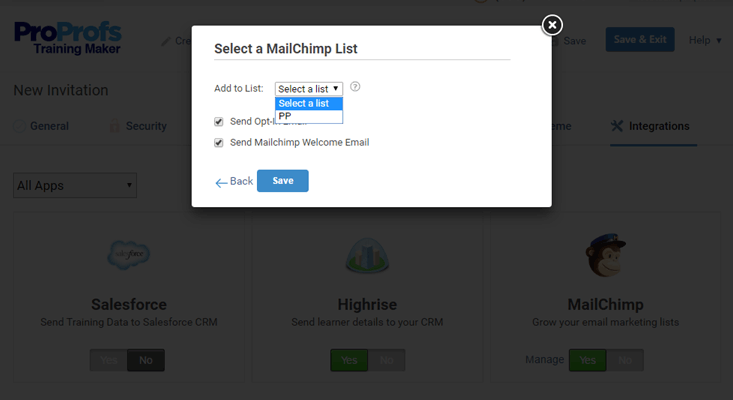 Step 4. After you complete the above steps, a pop-up will appear informing you that the integration is active. Click on "OK'' as shown below and you are all done.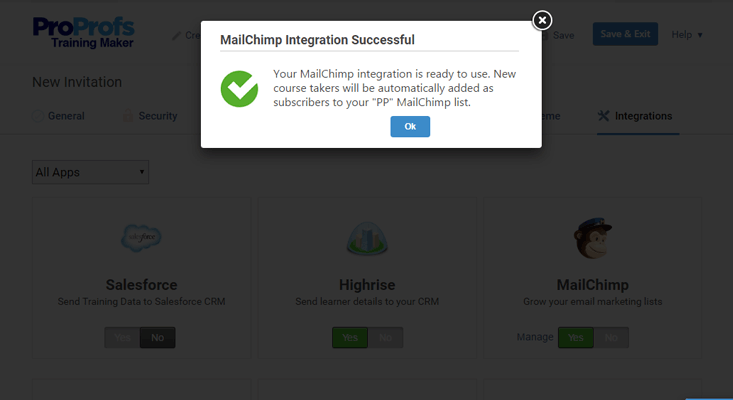 Do you want a free Training Software?
We have the #1 Learning Management Software for complete learning solution starting at $0