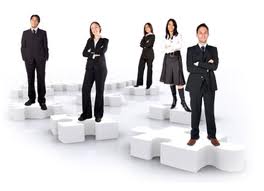 An enterprise Learning Management System (LMS) is a server-based software system that can be used to automate many of the tasks associated with training.
The most powerful enterprise LMS allow businesses to perform different functions and develop a wide variety of training courses for both employees and customers.
Create Training Courses
Powerful Functions

Product training
Project Management Training
Hospitality training
IT Training & More

Learner registration
Curriculum management
Course delivery
Learner assessment
Progress tracking
Training certification
Branding & more
The technology behind a modern, enterprise Learning Management System is web-based, allowing corporate learners to access courses and complete assessments at their own convenience from any web-enabled device.
The following features are typically provided by an enterprise LMS:
Course Creation: Training courses can be created by uploading a wide variety of digital content, including PowerPoint slideshows, documents, articles, images, audio and video. The LMS ensures that all course content is optimized for viewing in a web browser and supports on-demand access from a variety of devices, including computers, laptops, tablets and smart phones.
Promoting Interaction: An enterprise LMS engages learners by allowing them to interact with course content using familiar web-based techniques such as discussion forums, course ratings etc. It also supports communication with course administrators and instructors.
Must Watch: What is a Learning Management System (LMS) Software - How To Use LMS Features & Benefits
Management Structure: An enterprise LMS provides a management structure, through which all learning-related functions are centralized and organized in a single system. Secure access to courses, student data, assessment results and progress tracking information is available for training administrators at any time.
Branding & Security: The content of corporate training materials is kept private & secure with provision for brand messaging. An LMS protects sensitive training information with advanced password controls and privacy settings. Logos and branding messages can also be addedto tie course content to corporate culture.
Record Keeping and Reporting: The LMS Reports stores and manages data about learners. This may include demographic information as well as data about time spent, progress, assessment and other learner accomplishments. Reporting tools are provided that allow training administrators to determine the overall state of corporate training efforts or to enquire about the progress of individual learners at any point in time.
Data analytics: Enterprise LMS systems provide advanced analytics, which allow corporate trainers to identify learner competency gaps, assess the quality of test questions, monitor cheating and perform other advanced functions related to the analysis of learner data.
Global Enterprise Support: Corporations that have an international workforce or customer base should look for enterprise LMS systems that support a wide range of languages and alphabets. Training administrators can then internationalize training materials, allowing learners in different countries to receive equivalent training content.
Enterprise Learning Management Systems have revolutionized corporate training. Instead of sending learners to centralized training centers or transporting trainers to individual offices, an LMS allows a consistent level of training to be delivered to learners with minimal disruption of their work and personal schedules. By facilitating centralized storage and assessment of learning results, an LMS allows a corporation to gain a complete understanding of its training requirements and effectively track progress towards its training goals.
Do you want a free Training Software?
We have the #1 Learning Management Software for complete learning solution starting at $0