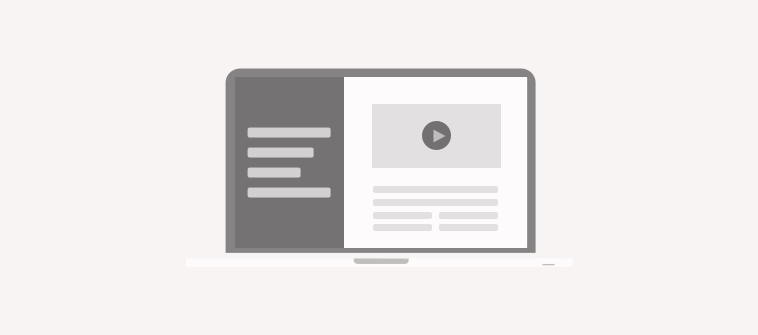 You might be surprised to learn that modern technology does not replace traditional methods. Instead, it works hard to find a new approach which is a perfect blend of old-school norms and modern teaching aids. Pretty contrasting to the popular belief, don't you think? Yes, blended learning software is a progeny of the education system which has gone digital.
Modern learning has become a perfect mashup of traditional and contemporary methods in recent times, courtesy of the digital revolution. The old ways have not taken backstage. Instead, the entire process aims at mitigating the existing issues within the education system that was initially overlooked. The answer to reformation in education, therefore, lies neither in VR/AR/e-learning nor traditional methods, instead of in a perfect mixture of the different approaches mentioned here. This is very similar to what blended learning is all about.
Before digging further into the matter, it is essential to have a brief overview of the topic under discussion:
What Is Blended Learning?
When you Google this term, you are likely to get bombarded with endless definitions. Wikipedia defines blended learning as an education program which combines online digital media with traditional classroom methods.
Today, cloud-based learning has infiltrated not only the corporate world but the schools and colleges as well. Teachers and other academicians have understood that reformation in education is a necessity to meet the changing expectation of young scholars. Blended learning software, Training Maker and few others in the market are nothing but ready-made platforms which are utilized to create professional courses online quickly. You can be surprised by the number of companies like ProProfs who delegate their business objective in forming such platforms and creating engaging SAAS LMS. Students and young learners today are lucky enough to get everything ready-made on a silver platter.
Watch This Video

However, few others are still skeptical about the entire concept. But, it is time to wake up. When students have already got a taste of modernity through increased internet connectivity, it will become challenging to restrain and limit them to the old-school norms.
And only for such cynical users, highlighting the benefits of modern learning prepared on blended learning software can help in clearing the air of doubts.
Therefore,
1. Hybrid/Blended Learning Saves A Lot Of Time
Gone are the days when tutors took the pain of preparing learning materials manually which included hours of researching, collecting, copying, stapling and so on. Who has all that time and patience today? What if the same materials along with supportive images, videos and presentations are easily uploaded on one platform? The teachers will have to share the link with his/her students. Don't you think such a practice will be more convenient and time-saving for all? Mentors can share the links with the students before the sessions such that the latter prepare themselves before attaining the classes. It will be effortless for the teachers to explain the study materials since the students will quickly catch all that is taught in the class.
2. It Is The Perfect Tool For Increased Learner Engagement
Blended learning software or any other training software have embedded features which can be fruitfully exploited to create engaging learning materials. You have to understand the mindset of the young millennials. A survey made by Deloitte states that by the year 2025, millennials will make up 75% of the workforce. They are reputed as having dwindling attention spans and characterized as the most impatient learners of all. On the other hand, their affinity towards technology reveals that they have perfected the necessary skills required to understand the same. Micro-learning and blended learning can prove to be the ideal option to arrest their attention level and help them in the retention of data for a long time.
3. Covers Different Learning Styles
You have to agree that every individual follows their own pace and style of learning. Why were few students good at solving critical mathematical problems and few others enjoyed memorizing? You cannot expect each student to display the same amount of patience, the same style, and approach towards learning new things. Especially the millennials display a completely different attitude as discussed in the above point. Blended learning offers you the freedom to prepare the course catering to different learning styles with the help of different techniques and mediums.
4. Personalize With A Human Touch
The biggest drawback of e-learning is the absence of the much-needed 'human touch' in the form of a mentor. Irrespective of the fact that eLearning courses interestingly display content yet the absence of a tutor can still reduce the level of learners' engagement. Surprised eh! This contradictory statement is applicable for school and college students. Young corporates are matured enough to enjoy the freedom of learning in the absence of a pushy trainer. But the school/college students need constant guidance. Blended online and trainer-led mediums of learning can best serve the purpose for such young learners. Flexibility and engaging content is offered by the cloud-based study material wherein overcoming limitations through expert guidance are catered to by the instructor. The only software for blended learning can give you this leverage.
5. Economical
IBM has made an estimation that 40% of classroom training costs are spent on traveling and lodging. This particular statistic applies to corporate trainees. If you consider the young school/ college students, even then the e-learning process proves to be an economical option for the students. Why? The answer is simple. If the students get ready-made study materials which are self-sufficient, then there is no need for them to search for home-tutors.
The best part of incorporating such software for blended learning or training maker is that the students are segregated into different groups where they can actually experience the practice of 'group study' and solve queries from the mentors or other students online.
Apart from the benefits mentioned above, there are other advantages involved in blended learning. You can track the learner's progress, assess their retention power and certify their performance straight from the online training modules but created on training maker software. Convince your colleagues to implement such a unique, blended system of learning through trainer-led cloud-based courses.
But, how can you implement it?
Simple! Follow the few steps given below:
Explain, in clear terms, why you need software for blended learning?

Create a compelling proposal to convince the parties-in-authority

Evaluate the existing infrastructure

Develop your blended learning program based on learning objectives

Consider learners' preferences when implementing e-learning tools and techniques

Encourage feedback to improve the training process.
Did you know???
E-learning/blended learning has proved to be the most effective method of teaching than the traditional classroom model.
In a

study

, it is reported that 59% of teachers believe that their students were more motivated to learn in a blended learning environment.
36%

of parents expect their child's school to invest more in online classrooms.
70%

of the students feel they learn best in a blended learning environment.
Corporate training

is already a 200 Bn US$ industry out of which e-learning covers 56.2 Bn US$.
The statistics and the benefits mentioned in the article point out towards a much-expected future of education in blending learning. Investing in blended learning software can prove to be a game-changer not only for the education sector but also bring about strategic improvement in corporate training programs. Today, traditional classrooms are slowly going digital. So, the question here is:
Are you ready to take a jump on the blended learning bandwagon?
Do you want a free Training Software?
We have the #1 Learning Management Software for complete learning solution starting at $0