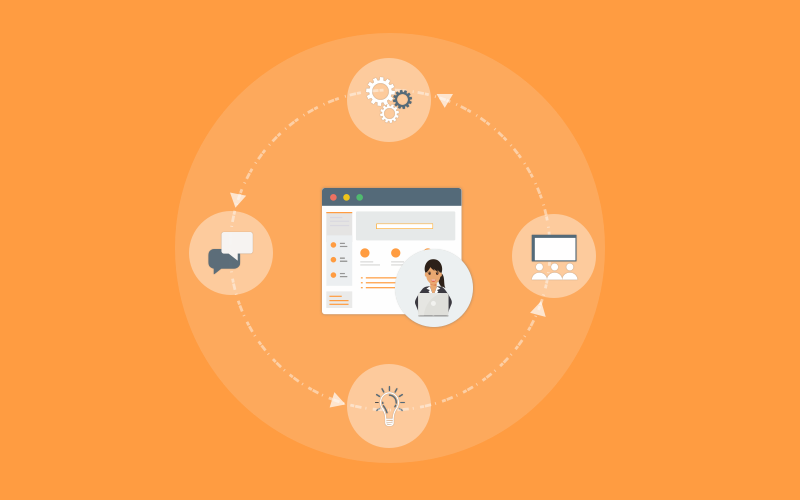 What's the most common hardship that even the pro online trainers face? Creating online courses that engages everyone. Sadly, that doesn't happen all the time. It's not a problem with the skills of the trainer or the course contents that disengages the readers, but the poor attention span of the learner. Thanks to smartphones, the attention span of an average human is less than that of a goldfish, which is hardly 9 seconds. I am sure most of you would agree that it is absolutely necessary to capture the learner's attention, else your course creation efforts go down the drain.
If a learner fails to pay attention, it shows up on their assessments and performance; no matter whether you are teaching PhD or college students. Although online training comes with its challenges, it also offers benefits such as remote access and better engagement when compared to the traditional classroom approach.
The good news is that online instructors can create meaningful and impactful learning experiences for the students while minimizing learner dropout rates.
In this blog post, I will discuss some of the tricks which I have used to make disinterested learners become engaged. Take a look.
Use Multiple Communication Formats: Online learning allows teachers to leverage varied formats for creating an effective online learning experience. While most prefer to use the standard communication methods - course email and discussion forums, you should not overlook the power of embedded video, audio & chat. I have learned from my personal experience that learners prefer content which is supported by explanatory videos because it makes easy to grasp knowledge while saving crucial time on the side.
Watch this video:

Gamify with Certifications: elearning also lets you add gamification elements without having to build a game-based learning course from scratch. When students are rewarded for effectively completing the courses, it instills a sense of accomplishment that keeps them sticking.
I would suggest that if your learners are engaged in the course and working regularly, consider giving them additional credit for making on-time submissions. Believe me, this strategy works great for everyone.
Build Engaging Content: Are you aware that an interesting online course demands a captivating course syllabus? And, an effective one should -
Follow a comprehensive approach

Offer in-depth information about the course information, learning targets, assignments, course related resources

Offers hyperlinks to the web platforms that learners may be required to refer to while browsing the course contents
My association with elearning industry tells me that an engaging syllabus is the one that includes only relevant content. Think outside of the box and be creative. Add images, infographics, PPTs, colorful fonts to entice learners. One can also use graphics like pie-charts, tables, graphs to organize information to make information easy to digest. Aesthetically pleasing elearning content can be quickly assimilated by students and also leads to a visually enticing experience.
Every online instructor should avoid cognitive overload and it can be done by breaking the content into smaller chunks. Never use large text blocks, instead use bullet points and numbered lists for maximum impact. Designing smaller modules that emphasize on particular subject matters instead of content-heavy elearning courses that cover many concepts should be avoided.
---
Read More:- Adaptive Learning: Why It Is Important for Teachers and Learners
---
Allow Students to Track Self-Progress:
Online instructors would agree that not every learner is the same. While some are self-starters, many lack motivation and the zeal to learn. But once they get started, there is no stopping. So, how to handle such a scenario? Look for a robust interactive training software that offers built-in assessment capabilities. When you let your learners monitor their performance, the ability to master and acquire knowledge doesn't feel a task anymore.
Leave Room for Self-Paced Learning: Offering the learners with the flexibility to learn while 'on-the-go' is an excellent way to motivate them to learn. When you let your students learn from a location of their choice, it shows your commitment as an instructor. In such a scenario, using an interactive training software that comes with the flexibility of anywhere, anytime access is the best way forward.
Having online courses that don't create barriers to learning is a must in the elearning domain. If as an instructor, you take necessary steps towards improving content accessibility you are better positioned for success.
Invite Learners to Share Feedback: An online course should allow the learners to share their feedback as this further improves the adoption rate and curtail abandonment. This will come in handy to develop courses that are aligned with the needs of the learners and make learning effective. This tactic does help to improve the student engagement to a great extent.
The Bottom Line
Motivating and engaging online learners isn't tough when you know how to go about it. Without losing sight of the end target to educate your students, there is a lot you can do with elearning. While everyday teaching practices can do a lot to motivate students, making use of the right elearning tool. I will leave you with this thought: every instructor should aim to create a climate of learning that is driven by curiosity, inquiry and engagement.
Do you want a free Training Software?
We have the #1 Learning Management Software for complete learning solution starting at $0