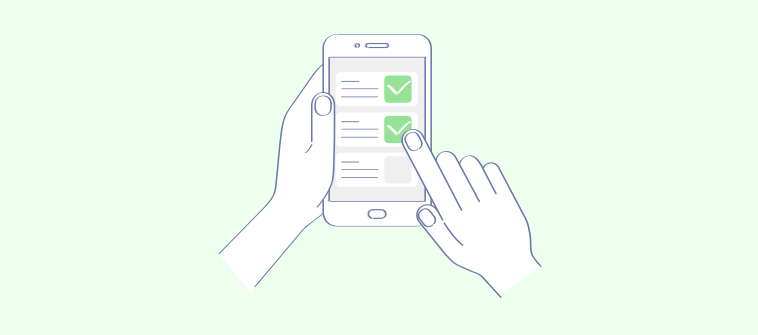 It's the end of a course, and it suddenly strikes you that you need the students to take a quiz the very next day.
What would you do?
Imagine sitting down with your laptop, trying to write the perfect quiz questions. It'd take you hours, and you might even find it difficult to think of the perfect quiz questions.
On top of that, the hassle of distributing the quiz, waiting for the quiz participants to complete it, and then collecting it adds a few more hours.
It just doesn't stop there. After collecting the quiz, you may find yourself spending hours grading them and preparing reports.
Or, you can just create your own quiz for free using a free online quiz generator.
Using a quiz generator is the smartest way of creating and sharing a quiz within minutes.
But, I wouldn't have to tell you this if you already knew how easy it is to create a quiz this way in just a few steps.
So, I'll just cut you some slack here and get to the point- How to create your own quiz with a quiz generator.
To make it simple for you, I'll segment the entire process into three parts-
1. How to identify a good online quiz maker
2. Work on the prerequisites
3. Follow the steps to create
Let's begin!
How to Identify a Good Online Quiz Maker Software
For this, you simply need to check off the following points on your checklist:
It doesn't require further software installation.
It offers a simple user interface.
It's a free quiz generator.
It offers white labeling.
If you're able to check off all of the above, you can rest assured that you've chosen a good online quiz maker software.
Now, let's have a look at what's required for the process of creating a quiz using the ProProfs Quiz Maker software.
Working on the Prerequisites for Creating a Quiz
Create an account - As obvious as it may sound, you need to sign-up and create your account at first. You may choose a plan or go for the 15-days free trial period.
Decide what you want the quiz to be about - Be clear about the topic you want to create a quiz about.
What's the goal you want to achieve with the quiz - Do you want to analyze the learning capability of your learners, raise engagement, or collect leads?Watch: How to create an online quiz


Steps to Create Your Own Quiz

Step 1. Sign-Up

Click on 'Create a Quiz.'

Navigate to the Features templates section and explore quiz templates.

Step 2. Choose a Template

When you begin creating a quiz in ProProfs, you'll first encounter several templates that you can choose to edit and create your quiz.

You can create your own personality quiz, create your own trivia quiz, or build a scored quiz with the help of these templates.

You don't need a separate personality quiz generator.

All you have to do is choose from scored or personality quiz templates depending upon the type of quiz you want to create.

Preview the templates. Edit the template you like to create your quiz.

Step- 3. Create a Quiz from Scratch

Click on "Create from scratch" to create your own online quiz. You'll be taken to the quiz editor.

Click on "Untitled Quiz" to add a title and description to your quiz.

For example, let's suppose you want to create your own geography quiz.

So, you can simply title it as- Geography quiz.

You can also change the image of our quiz and add one that you like.

To change your quiz image, click on 'Change image,' then upload, browse from our image library, or search the web to add an image.

Save your changes.

After saving, go back to the previous window.




Step 4. Add Questions

A great quiz begins with great questions!

From the window appearing at the left, select the question type.

ProProfs offers more than ten different question types to choose from, including multiple-choice, fill-in-the-blank, checkboxes, true-false, and more.

ProProfs Quiz Maker lets you create distinctly specific quizzes using the question types.

For instance, to create your own multiple-choice quiz, you don't need a separate multiple-choice quiz generator. You can just use multiple-choice type of questions to build your multiple-choice quiz.

Similarly, you don't need a math quiz generator to create a maths quiz. You can very easily create one in ProProfs online quiz generator's maths editor.

You can create new questions or import questions from our question bank, which has more than 100,000 ready to use questions.

To import questions from the library, type your topic in the search box appearing above the questions-type window.

You'll be taken to the question library.

Select the number of questions you want to import and click on 'Add questions.'

The questions will be automatically added to your quiz, and you'll be redirected to the previous window.

Right below the question types, there is an option called 'More,' by clicking on which you can add a note to your quiz, upload documents, add audio/video to your questions or answers, or add a comprehension.

Repeat step-4 until you reach your desired number of questions.

Step-5. Assign Points

With our automated scoring feature, you can assign scores to each question while creating the quiz that makes it easy for you to see the results of your online quizzes instantly.

Go to Settings > General Settings > Score & Time.

Under Score & Time, you can assign points to your questions and also limit the time to complete the quiz.

From the drop-down, select 'Assign points to each question' and then click on 'Manage Point Assignment.' The following window will appear:

As shown in the image above, assign points to each question after marking the correct answer and click on Save.

Step-6. Add Instant Feedback

To add feedback, go back to the quiz editor. Place the cursor on the question that you want to add feedback to.

From the bottom bar that appears, click on 'Edit Question.'

In the window that appears next, click on 'Advanced' and then choose the type of feedback you want to add.

After selecting, add your feedback in the feedback box and click 'Save.'

Step-7. Customize Your Quiz

To make your quiz more appealing and interesting, you can add multimedia to your questions or answers.

You can even customize the background images as per your brand's themes and colors. It will help personalize your quiz and help people remember your quiz.

Step-8. Select the Result Type

Selecting the result type is as important as automating scores for your quiz. You can either select a simple result type like Pass or Fail, letter grading, good or excellent, or create customized results.

stomize your results and then click on 'Save.'

If you'd like to create custom results, click on custom from the 'drop-down' menu. A window, as given below, will appear where you can customize your results and then click on 'Save.'

Step-9. Design Completion Certificate

Go to Settings.

Under general settings, select yes on the completion certificate tab. Place the cursor on the sample quiz certificate and click on 'Edit.'

Here, you can customize the certificate with your logo, signature, and the fields of your choice.

Once your quiz takers have completed the quiz, the completion certificates will be automatically assigned to them. Certificates will boost their confidence and encourage them to perform better in the next quiz.

Step-10. Configure Settings

Under the settings tab, you can configure important quiz settings. For instance, you can configure, and you must randomize the order of questions, or shuffle answer options. It will help you prevent cheating on your quiz.

Step-11. Secure Your Quiz

ProProfs Quiz Maker makes it easy for you to make your quiz open to the public or password-protected.

You get to control who gets access to your quizzes.

You can also set up the information you want to require before someone takes your quiz under 'tracking.'

You can get their name, email address, and more so that you can monitor who takes your quiz and follow up with them to discuss the results.

So, that was the detailed description of all the steps you need to create your own quiz using a quiz generator software.

Once you're done creating your quiz, you can very easily share it too.

You can either email your quiz, copy the quiz link and paste it and share it on your social media, or simply embed it on your website or blog.




One for all!

It'd be wrong to not boast about the fact that you can not just use the online quiz generator to create quizzes, but also online tests, online exams, and assessments.

Use these online quiz creator software as an online exam maker, create fun Facebook quizzes, collect leads by creating a lead quiz, as a personality quiz generator to make personality quizzes, or build a trivia. It's up to you in how many ways you wish to create your quiz maker.

And, after going through this detailed article, it won't be difficult to create a perfect quiz in just a few minutes.

Get going!
Do you want a free Quiz Software?
We have the #1 Online Quiz Maker Software for complete learning and assessment starting at $0