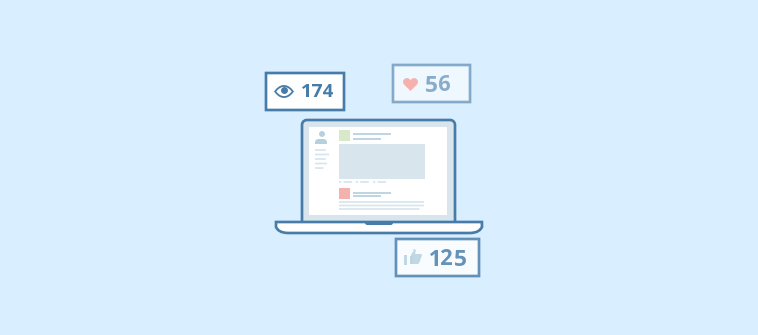 Are you still not convinced about the power of social media and the benefits it offers for your business? Then, you need to take a closer look. With more than 2 billion users worldwide, your target customers are already there. These days, various marketing tools like free online quiz maker, survey makers, learning tools are making up for a crucial part of many brands' marketing strategy.
But when you begin your activity on social media, knowing where to begin is easier said than done. So, consider these game-changing social media tips that will help you grow your business:
1. Create Brand Recognition
Raising brand awareness is a top priority for any business and brand recognition is the key element of building brand awareness. This is because people prefer to purchase from brands they recognize. That's where social media comes in. In contrast to traditional media, social media can put your brand right in front of your target audience faster and easier. Plus, it gets your target audience to think about your company, even when they're not.
When followers glance at your social profiles, it enables them to understand what you're all about. They recognize and remember your brand with your social media personality or the look and feel of your social media handles. From social bios to profile images, how you set up your profile determines whether or not people recognize you.
So, do invest time in creating and posting relevant content, product images, and profile photos on social platforms. Place your logo strategically so that it leaves a long-lasting impact in the mind of your prospects.
2. Post More Pictures & Videos
A picture or a video is often worth 1,000 words. People connect visually and appealing visual content on platforms like Instagram presents a great opportunity to tell stories that will engage people. The right styling and consistent imagery can help brands not only convey quality but also help them successfully tell their company story and create alignment across their brand. We live in a visual culture today. Images capture the imagination and help us understand the context without needing to read the fine print. In this age of intense mobile-device engagement, having good marketing photos is more important than ever before. Good marketing photos are far more likely to engage your audience than text alone, especially if the images are targeted at a specific audience.
3. Monitor Competitors
It may sound strange, but social media is a great way to monitor your competitors!
It gives you an opportunity to monitor and draw inspiration from their performance. You can see what type of content they're posting, and how they're interacting with their followers. Social media can surely help you learn from your competitors. There has to be a good reason why your competitors are performing better than you. You can understand their strategies, but make sure you don't just copy and follow them. What works best for them isn't always best for you. Instead, tweak their ideas and make them your own.
4. Use Social Media Tools
Social media giants such as Facebook, LinkedIn, Twitter, Instagram, etc. have become more than emergent platforms for advertising and marketing. So, you can use social media tools to meet your marketing team's specific goals. For example, you can use tools like SproutSocial, Hootsuite, and Respond to improve your customer services.
In addition to that, online quizzes and opinion surveys too, work great in this regard. With a plethora free online quiz maker, you can create an online quiz anytime, anywhere and post it on your social media platform. You can include questions that will help you know your customers and their preferences in a better way.
5. Add a Strong CTA
For any business, the generation of high-quality traffic isn't the only goal. In order to succeed, you have to convert that traffic into paying customers. A strong call-to-action (CTA) can direct potential customers on what to do next, which can help your potential customers feel motivated to make a purchase. Similarly, you can design an appealing call-to-action and post it on your social media profiles. This will encourage your followers to take the required action, which could be purchasing your product or services.
For Example:- Have you noticed Domino's Pizza encouraged their followers to order online or by phone to gain points to get free pizza? This simple solution directs and motivates prospects to regularly visit their website and make a purchase.
6. Organize Contest, Giveaways, or Offer Discounts
No matter what category your target customers belong to, almost all like discounts and giveaways. Regardless of your business type, this method is super cost-effective and an impactful way to generate sales. Organizing contests or giveaways can also be fun and entertaining. They help increase your engagement rate as potential customers interact with your brand regularly in the hopes of winning something. This can raise their awareness of your service or product as customers excitedly share news about the discounts with their friends.
7. Build Relationships with Communities
The unique benefit of social media compared to other marketing channels is that it allows you to talk directly to customers and followers. You can build relationships over time, rather than asking for a sale right upfront. Be it any domain – travel, food, fashion or art, online communities have a great potential to build any brand's image. Community building is a two-way street; in order for your relationships to flourish, you have to start interacting regularly with your followers.
Like and comment on other people's posts and target these posts by using your hashtags in reverse. The same hashtags list you've created for your content will also work to categorize other people's content for you—ultimately narrowing down your focus and targeting your audience. This helps in building a one-on-one connection. Simply liking and commenting on other people's content can go a long way in terms of building a following and gaining trust in the community. Additionally, you can consider joining an Instagram Pod to start networking with influencers and developing strategic partnerships. When people engage with your organic content or ads, you can jump in and reply, helping to build trust and form the early stages of a rewarding customer relationship.
8. Market Through Influencers
Modern consumers expect authentic brand relationships. They do not relate to a celebrity using your product as much as they would with another ordinary person (an influencer) using it. Influencers are experts with a huge following on social media who are capable of shaping buyer behavior because of the trust consumers have on them. By responding to messages, giving their opinions on products, and offering easy accessibility, influencers set themselves apart from their celebrity counterparts. These actions create a strong relationship and generate trust between the consumer and influencer.
Stick to Your Social Media Strategy
Not all the above tips may work in your favor, but you have to stay patient and be committed to your social media strategy. Develop a schedule that works with your social media audience. Create an online quiz, survey your followers, gamify content or publish posts when they are the most active to achieve maximum momentum. Allocate an hour or less a day to scroll through the comments you have received, check how many likes and share or perhaps retweets you have, reply any inquiries etc. Make it a habit and integrate it into your daily tasks. That way you can avoid creating another business profile that got abandoned in the webs of social media sites.