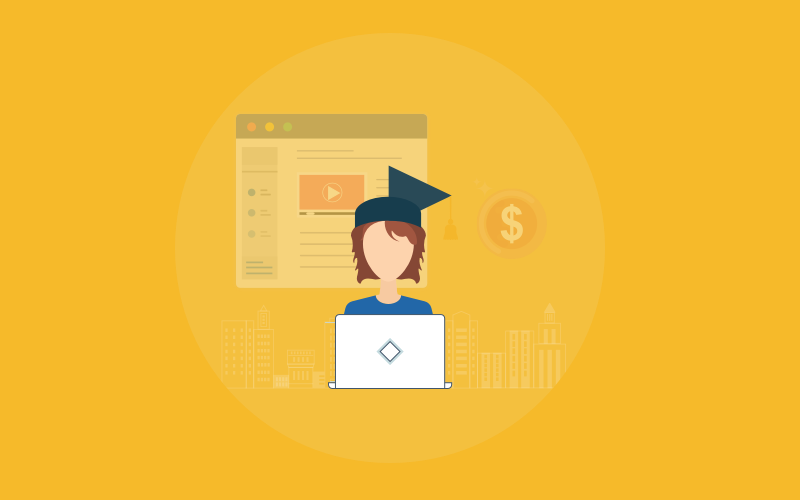 The world has already embraced eLearning with open arms, thanks to anytime, anywhere ability that online learning provides. But, there is a segment that is intimidated to introduce eLearning to empower their learning initiatives; fearing it to be a costly affair. Small business owners and individual trainers think that creating good online courses require huge expenses and expert assistance, which isn't the case. Even if you have budget constraints, you can still create awesome online courses that garner praise from the learners and help you scale your business or supplement learning initiatives. Want to know how? Read on.
1. Decide Learning Outcomes
Most online trainers try to package every information piece into a single learning course without thinking about the learning outcomes. Even if this approach leaves you with an information-rich course, it's sure to burn a hole in your pocket. Want to know why?
When you create a course without keeping the outcome in mind; your course runs in different directions and leads the learner nowhere.
Before you start creating an online course, set aside time to create a learner profile. Asking these questions can also help:
What skills the learner has right now?

What skills is the learner trying to learn?

Are they beginners, intermediates or expert?
Trying to help the beginners, intermediates, and experts through a single course might sound lucrative but backfires since it alienates the learners. The reason:
Beginners can't connect with content tailored for experts. And, experts don't feel like going through beginner concepts unless they need a refresh.
Now that you are aware of the learner profile, you can easily whet their appetite by providing the right amount and nature of information. Since only relevant information goes into the modules, you neither have to waste time nor resources that translate into great savings.
2. Use Pre-Existing Material
Instead of creating eLearning content from scratch every time, try building a course from the material you already have. For instance, it's better to use uncopyrighted videos from Youtube into your courses rather than creating fresh ones with the help of instructional designers and highly-paid experts. You might think that you need better slides, videos, images, and screenshots to create a stunning eLearning course; sometimes modifying your existing contents also works if copyrights are not a problem.
For that to happen, you must have an eLearning repository that contains everything from background music, images, text, and other resources; all under one roof. Using an eLearning authoring tool can also help the case as the course contents get organized automatically in a central location. All you need is to fetch the required files and use them to craft your eLearning courses as and when required.
---
Read More:- 8 Ideas to Create Engaging eLearning Courses
---
3. Create Snackable Modules
Online learners want to learn anytime and anywhere at their fingertips. Creating modules no longer than 15-minutes can help you reduce both developmental and cognitive overload for the learner. When you deliver content as bite-sized modules, you reap these unique benefits:
Creating the module becomes easier regarding content and design that reduces costs

Modifying the content gets simpler and cost-effective

If a particular module fails to engage, you don't have to rework the entire course that might strip your pocket. Simply tweak that module, and you're good to go.
4. Go In-House or Outsource
Whether you want to create online courses in-house or outsource boils down to multiple factors. Asking these questions can help you conclude:
Is this a one-time activity?

Is this a recurrent requirement?
If you are running on a tight budget and want to get your courses created quickly with better control, in-house can be a great option. Outsourcing, on the other hand, can also be tried out if you can designate someone for regular follow-ups or your team lacks the acumen for exceptional cases such as creating highly-technical content. Or, you can blend the best of both worlds to create amazing online courses. If you think adding a gamification element, a simulation or a flashcard might take longer than usual in-house; simply outsource the requirement. Either way, get the estimates to learn exactly what approach saves you money.
5. Aim for Good Enough First
What's your purpose of creating an online course? To educate the reader interactively. Right? Focussing more on information than accentuating the appeal with images can surely help you reduce expenses during the initial creation.
For instance, if a concept can be explained with a single image, why use two? Or, If something can be explained with a video; why use text in the first place? Include visuals and other high-cost elements only when imperative.
If a concept needs elaboration where adding such elements is inevitable; go for it or consider skipping.
To know in-depth how to create a training course in ProProfs Training Maker, check out this video:-

Create Cost-Effective Online Courses Today
There are plenty of instructors who spend a lot on the quality of voice-overs, just to look more professional. What they can do instead is opt for instructor-led training where a person explains concepts in a classroom set-up with slides running on the side that not only looks personalized but also cuts down expenses. Remember you can save money only when you analyze the areas eating up the eLearning budget. To get started, choose a good eLearning solution or LMS Software (Learning Management System tool) that has plenty of templates to get started, offers ample bandwidth to upload media and also takes care of your branding and white-labeling. Also, circulate the course among internal teams to cover the gaps before it goes live.
Do you want a free Training Software?
We have the #1 Learning Management Software for complete learning solution starting at $0