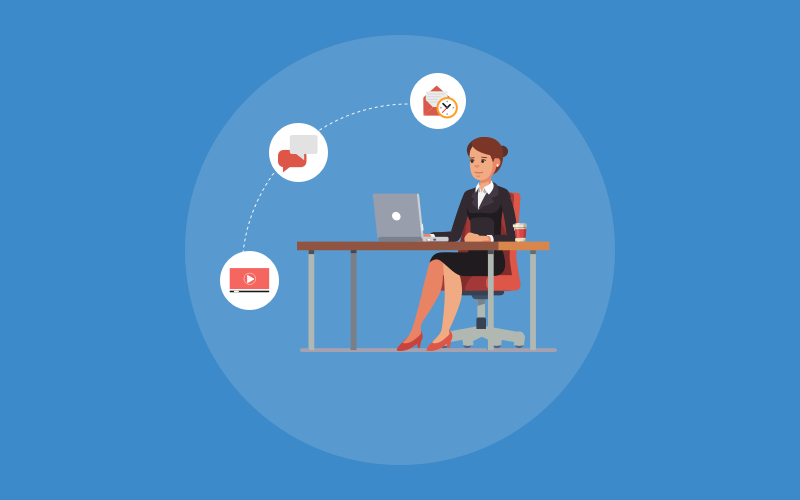 With self-service, customers generally fly through. It will save time and money, unless the order is complex.

Harry Balzer, Vice President, NPD Group
Let your customers sail (or fly) through a self-service knowledge base of your organization. A sturdy knowledge base will help you foster self-service among your customers. How? Let's find out here.
If you are a part of the army of customer relationship experts, you would agree that delivering exceptional customer service is a herculean task. After all, we all want to give out of the world customer service not just to delight our clients, but surprise them in a positive way. And this not just requires knowledge and holistic understanding of the product, but a lot of patience too. The best way to do so is by encouraging self-service among your customers.
Well, patience is a virtue, and not many of us have it. Many times, we just struggle to deal with or get overwhelmed by the number of queries that we have from our customers, both potential or existing.
Are you struggling to solve similar queries of customers day in and day out? Plus, lots of repetitive issues ruffle your feathers? If yes, you can completely relate to what I am saying.
Do you know what happens when we get overburdened by the magnitude of unresolved queries?
We get frustrated, and eventually, the quality of customer service takes a backseat. And this is something that harms our growth as well as the organization's.
All those entrepreneurs right there, do you want this to happen to your customer service agents?
No, not at all.
It is plausible to inch yourself away from this difficulty. Educating customers through self-help portals is one simple yet effective solution, that I would recommend to you.
Pondering over what I am talking about? Let me explain.
How about making your clients self-reliant so that they can solve their queries on their own? After all, who likes to go through the conventional process of emails and calls.
Frankly speaking, If you ask me, I, as a customer, do not prefer much to email or call a representative for a query. It's time-taking, and it makes me feel as if I am incredibly dependent on others to start my product session. I am sure, we all do.
Also, there are times, when I face an issue while using a product, just because, I am not accustomed to how it functions. I realize the triviality of the problem only when a customer service agent responds to my query.
That is the time when I start questioning my senses.
Argghhh…! Trust me, it's irritating.
It's Time to Create A Self-Service Knowledge Base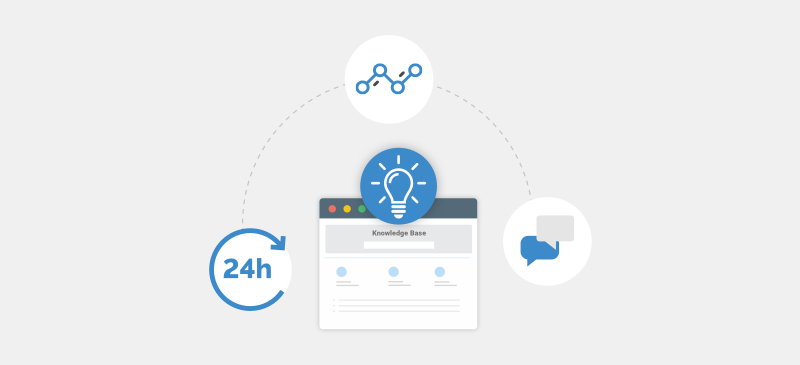 The best way to avoid such situations is to create a self-help center using Knowledge Base - a one-of-its-kind software that is instrumental in managing knowledge effectively. The self-help portal acts as a repository of every information about your company's products and services.
You can include content in the form of articles, customer support FAQs, how-to videos, etc. This will equip your customers with the right information at the right time, solving their queries instantly.
Did you know how much self-help feature is demanded and loved by customers these days?
Read this.
According to a research study conducted by Salesforce in 2016, 59% of consumers and 71% of business buyers feel that self-service availability impacts their loyalty.
This clearly demonstrates the importance that customers give to self-service, especially in this digital age. They feel more empowered on getting access to information, as it eliminates the need to talk to a third person. A self-service knowledge base also capacitates you with the ability to provide customized experiences to your clients.
Creating unmatched self-service platforms is a great way to make customers feel connected with your business. It's a win-win strategy for both businesses and their clients. Adopting it will significantly reduce your workload and save your customers a lot of time. Self-help is going to be the proverbial 'Next Big Thing,' in the business landscape, particularly in the stream of customer management.
Get to know more about self-help sites. Listing down a few benefits of creating a self-help portal for your customers -
Lower costs - Creating a secure web-based help center through Knowledge Base ensures that your customers get answers to their questions instantly. Reducing the number of tickets raised for similar issues, again and again, will save you lot of time and also keep your customers satisfied by giving them seamless experience. It will decrease your support cost significantly by reducing your workload to a great extent. Also, it doesn't require you to install setup or a program.
24*7 support - Create a help center that is compatible with all mobile devices and browsers such as Android, iPad, iOS, etc. This will enable you to provide self-service support 24*7, and your customers will be able to access information in the form of videos and customer support FAQs anytime and anywhere.
Speedy service - A self-service platform ensures that customers get responses to the questions they have about a particular product or service, instantly. This is one of the major benefits of having such a portal. It not just keeps your existing customers glued to the self-help site, but also ensures that any prospective customer visiting the portal gets the right answer at the right time.
The quick response time that you give visitors will eventually help you add more customers to your bucket. For easy understanding of your clients, you can incorporate tooltips in customer support FAQs, including popups and explain convoluted terms with lightboxes, to avoid confusion.
Controlled access - With Knowledge Base, you get the facility to control the accessibility of content shared and edited in the help center. For instance, if you wish to create an internal self-service knowledge base for your employees, you can give viewing rights to some and editing rights to others. It's entirely up to you on what you want and how you want it.
Setting conditional rules will make your help center even more secure, as the content will be accessible only from the chosen regions, devices, etc. This way, you get the power to control the content your customers can see.
Customized portal - You can also create various help sites with unique designs, through Knowledge Base. Make them visually-appealing by using suitable colors, headers, and banners. Building a self-service knowledge base is nothing more than a cakewalk. It takes just a few minutes.
Know the profile of customers accessing your help center and change its design accordingly for best results. If you wish to explore more, you can go the advanced way by using CSS and HTML to personalize the self-help portal.
Given the growing strength of digital customers who are tech-savvy and look for instant gratification, it has become the need of the hour for businesses to satisfy the growing demands of Generation Z.
Digital-first expectations of consumers have fuelled competition among companies to the extent that every organization today is striving to come up with innovative ways to retain their customer base.
If you are reading this post, it means even you are part of the rat race. The question now is, how to ace this race? How to get an edge over others and emerge out as a winner? You already know the answer.
Creating unique self-help sites is one of the best strategies that work wonders today.
Let's corroborate it with some facts.
I am not saying this out of emotion (read: anger while not getting the answers on time). Instead, I am saying this because this is what various studies show. According to a research study conducted by Accenture, 89% of customers get frustrated because they need to repeat their issues to multiple representatives. This has made the point I wanted to convey.
This was all about customer satisfaction. Let's take a moment here to delve into the fact that, self-service also boosts revenue. Take the example of American fast food chain Taco Bell. A Harvard Business Review shows that orders made through the chain's digital app have brought in more profits than orders taken by cashiers. Hence, long-term revenue is another benefit that having a self-service portal gives you.
The self-service concept is gaining wide popularity across geographies. The smartphone culture and the constantly evolving needs of Millennials, are driving this change.
What do you do when you have to find something? Not just you, what do all of us do when we have to search for something? Take our smartphones and Google it. The same is with the customers. They too prefer turning to their mobile devices for all their queries because they want to get the information as fast as possible.
The reason behind this is quick response time and instant satisfaction that you get. It gives you the power to control what you want to look out for and when you wish to do it. There are no time or place restrictions to get the right information. If I talk about myself, I go berserk if I don't have the right information with me when I need it the most. And I guess this situation is with everyone else too.
So, why not make self-service knowledge base a part of your client servicing culture?
The advent of technology has made us so accustomed to getting things done in a single click or swipe that delay in getting queries solved is bound to leave us dissatisfied. This situation has raised the benchmark of the quality of customer service that companies provide these days. Hence, the competition has increased too.
The omnipresence of technology is making it more powerful, attracting more customers to use it for anything and everything. This is why websites having self-help knowledge base are gaining prevalence across the globe, and the concept is now being embraced by every organization, regardless of its size and scope.
Key Takeaway
Do you wish to stand apart from the crowd, be a star in the galaxy of planets? Create your own self-help portal, and within a period, it will metamorphose your business and boost your sales. Your customers will be more than satisfied, and you will certainly have a positive growth trajectory. The competition is harsh and 'Survival of the Fittest,' is the only thing that works here.
If you are struggling hard to manage customers and the quality of your customer service is deteriorating, it's strongly recommended that you switch to self-service sites. Embedding such portals in your website will be immensely helpful in keeping your customers delighted. But ultimately, it's your call. Gauge the pros and cons of using self-service sites and then take the decision that best serves your need.
Do you want a free Knowledge Base Software?
We have the #1 Knowledge Base Software for delightful self-service help center starting at $0