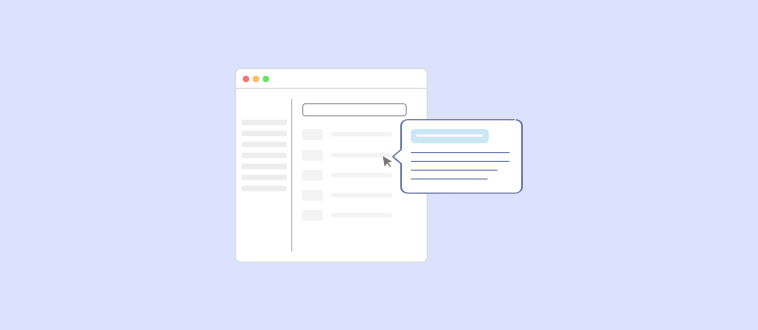 What do you do if you are on a road that has city maps at every junction, instead of big direction boards? The maps may have detailed information about your city, but will you be able to make sense when you are in a rush to reach your destination?

Compared to maps, direction sign boards are more helpful in this situation as they give you a clear understanding of which road leads to where. This shows that help of any kind has to be in context with a user's situation. Context-specific help ensures that users get the right information at the right time, so that they are not stranded midway.

The same is true for businesses as well. To fulfill the ever-increasing expectations of today's customers for speedy, accurate and timely information, you need to embed context-sensitive help in your online product manuals or help sites. If you give your millennial customers some complex, lengthy manuals where relevant information is hard to find, they are bound to raise tickets.

The sole purpose of your manual is to let customers help themselves effortlessly, without depending on any external assistance. Embedding contextual help in your web-based user guide can help you accomplish this task with ease.
Why Do Customers Need Contextual Help?
Simply because it is convenient and time-saving! Navigating through a large manual and hunting for information can be frustrating. Context-based help makes the tedious task of searching for information, a breeze for clients. It saves them from raising tickets and gives them the convenience to solve queries right away as and when they arise.

This ultimately makes for delightful customer experience, and that is what matters in the end. If you look at context-sensitive help from a long-term perspective, you will realize its significant role in creating excellent customer experiences.

Pushing your customers to take deliberate actions to get the necessary help takes HELP away from them. With contextual help, clients don't have to toil hard to get information. Answers to their queries will come moon-walking on the screen when they start searching, making the entire process of information-hunting seamless and effortless.

How to Provide Contextual Help?
Contextual help can be provided using tooltips, lightboxes, and popups. Let's take a look at each one of these in detail:
1. Tooltips
Embed tooltips in your help manual or product documentation to explain various complicated product/service features and functions. You can also use them to give readers clarity on specific policies and procedures, pricing disclaimers, etc.
2. Lightboxes
Walk readers through your product and explain to them about its usage with interactive lightboxes. Delight readers with lightboxes that have a scroll bar effect, which help them navigate through the information quickly. Given the convenience they provide, lightboxes are quite helpful to customers who are new to your product.
3. Popups
Include popups in your help site or manual to offer precise help to your customers. For a better understanding of your readers, you can even show interactive content that has images in it. The good part is that this doesn't require any coding or downloading at your end. You can also use popups as signposts to drive users toward relevant help content.
Usage of Contextual Help
It has two major uses –
to offer self-help support to customers

to provide them with a holistic understanding of your products
A self-intuitive online manual that has context-sensitive help embedded in it can ensure that customers address their queries instantly without raising a ticket. It is best to give your customers the option to help themselves before they reach out to your support staff.
Imagine if your customer opens your product guide or manual to get information on a specific insurance policy. You have put all the details of different policies in your user guide and made every possible effort to provide a complete picture to your customers. But since it is too lengthy, your client will have to go through every page to get the exact information needed. In a few minutes, frustration builds up and they would close the user guide and raise a ticket!
A search bar in your manual or guide and context-sensitive help embedded in it can avoid similar situations. When readers get the most accurate information instantly, the question of reaching out to your support staff doesn't arise.
If your customers are visiting your help site or manual for the first time, you can run them through your product smoothy with context-specific help. Further, if users are browsing through information to carry out a task, you can lead them through every step and provide them with the right direction.
Key Takeaway
With a vast number of choices available to customers, the competition to stay ahead has intensified. Focusing on just product features and its pricing is not enough to create loyal customers. In such a scenario, it is customer experience that can help you turn the table in your favor. You need to shift your focus towards consistently providing your customers with a positive experience.

Adopting contextual help in your manuals or guides demonstrates your dedication towards providing an exceptional experience to your customers. To ensure this, it is essential that you choose the right context help tool that comes with robust functionalities and has all the required features in place.

You will find scores of such tools in the market that promise the finest context-sensitive help. Being research-ready and future-focused will help you select the best tool that can fit your needs well.
Do you want a free Knowledge Base Software?
We have the #1 Knowledge Base Software for delightful self-service help center starting at $0