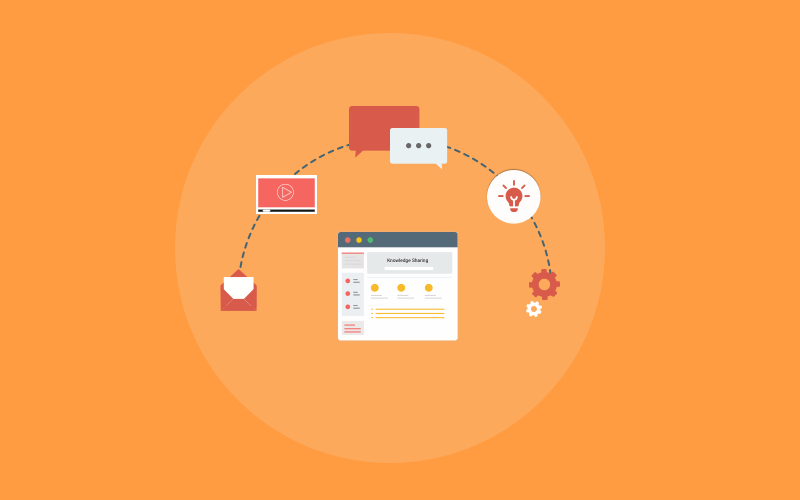 A carefully-crafted, well-defined and meticulously-structured knowledge base can work wonders for your business.
Knowledge base serves as a self-help platform, which your customers can use to address their concerns instantly, without raising tickets and waiting for external assistance. Further, it saves precious time for your customer support teams and helps them solve queries immediately, without going from pillar to post.
On the contrary, an online knowledge platform that is poorly-designed and haphazardly placed information can prove to be detrimental. Not only does it create a negative perception of your brand, but it also harms the long-standing relationship you share with your customers.

While many firms today have an online knowledge base in place, what can give you an edge over others is how differently, impactfully and systematically you build and design yours. What matters is the value you infuse in your articles and how optimally and creatively you use the templates.

Let's look at how you can engineer an unmatched knowledge base for your customers. We will also discuss how you can use the right templates to get started and to give a well-defined shape to your knowledge platform.
#1 Decide the topic
It goes without saying that choosing the right topics that your customers find helpful is the first step for creating valuable knowledge base articles. The best way to hunt for suitable topics is to ask your customer support staff on their opinions. Another sure-shot way is to go through various customer complaint reports and create articles on subjects that have got the most queries.
For instance, if 'how to use a product', dominates your customer query list, it will be wise to create topics revolving around how clients can use your product. Besides this, customer surveys can be an excellent source for knowing what concerns your clients the most. Capture data from different sources and use your own discretion to create relevant topics.
#2 Choose the right template

Once you identify the topics, you need to chalk out the structure for your knowledge base. It can be in the form of a guide, FAQ, manual or a help site. Depending on the type of your knowledge article, you have to select a suitable template. For instance, if your content includes processes to achieve a particular task, you can select an online manual template to get started.
If your knowledge articles are lengthy and provide detailed information about each product, you might opt for an online documentation template. Whichever format you choose, ensure that there is consistency across the knowledge base from start to end.
#3 Include multimedia
If you have a large customer base, it would be difficult to figure out the preferences of different clients. Some might prefer videos and images over plain text. A detailed written description of the step-by-step process might work for some, while others may find a visual infographic easy to understand.
To cater to a vast and varied customer base, it is best to include relevant images, screenshots, how-to videos, infographics, etc. This will give readers a better understanding of your knowledge base content and will ensure that none of them are disappointed. Include everything for everyone and leave no scope of complaints. Adding multimedia to your content will also make your knowledge base, engaging and interesting, thus retaining the interests of your readers.
#4 Keep it straightforward
While creating knowledge articles, it is paramount that you don't beat around the bush. You need to be specific and stick to-the-point to convey the right meaning to your readers. Keep confusion at bay by using simple words and sentences. In case if you need to use jargons, you should simplify them for a better understanding of readers.
For articles that are lengthy, you can divide them into different pieces, covering a single topic in one article. This will give your readers a breather and at the same time make your knowledge base look clutter-free.
#5 Keep updating
Your work doesn't stop once you have built a knowledge base. You have to regularly update and improve your articles to provide clients with the latest information every time they refer to your knowledge base. As your products and procedures get upgraded, those changes should reflect in your knowledge articles as well. This will ensure that readers don't get stale information.

Following these steps will help you create a vibrant knowledge base that can talk to your clients, address their concerns and help them instantly. Your knowledge base is the perfect problem-solving partner for your clients, hence, make sure that you pull all stops while creating one.
---
Related Reads:
Buyer's Guide: How to Find the Best Knowledge Management Software for Your Company
How to 10X Your Call Center Efficiency Using Knowledge Base Software
Importance of Knowledge Base Software for IT Teams
---
Do you want a free Knowledge Base Software?
We have the #1 Knowledge Base Software for delightful self-service help center starting at $0