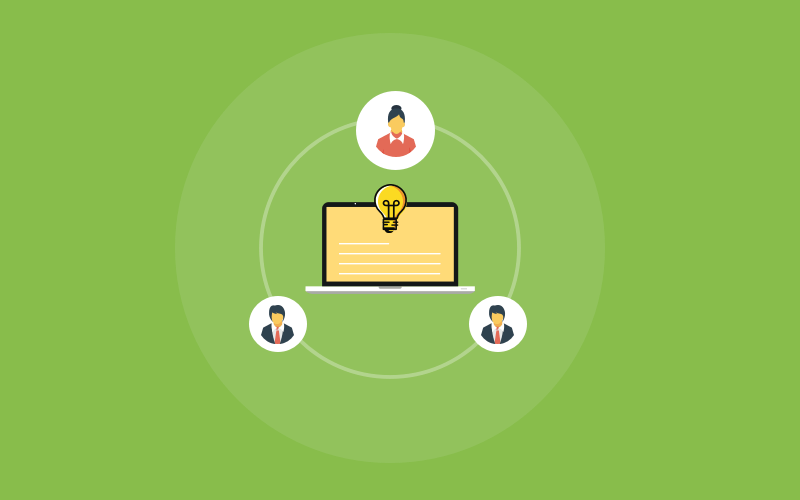 Do you know:
Only 13%

of the employees across the world are engaged at their workplaces.

Talking of the U.S. alone, a mere

32%

of the employees are deeply or superficially engaged in their organizations.
Pondering as to why I am randomly stating these facts? Just to bring into limelight the employee engagement crisis that's brewing across the globe and is poised to reach a level where it can be uncontrollable if appropriate measures aren't taken on time.
But, why is employee engagement important?
Employee engagement is tantamount to your organization's as well as your employees' growth in the long run. It spikes the productivity of your workforce, making it more efficient, responsible and accountable for its work. A full-fledged employee engagement system in place ensures that employees feel that they are an integral part of your organization.
How can you accomplish excellent employee engagement and collaboration at your workplace?
While there are countless ways to do so, the easiest, simplest and the most cost-effective approach is to create a centralized platform where your employees, regardless of which part of the globe they are from, can access it and work on it along with their counterparts.
Housing an unparalleled internal knowledge base that's high on quality and rich in features will give wings to your endeavors of enhancing collaboration and engagement among your employees.
But wait, there is a catch.
Not every knowledge platform works wonders. Only if it has the right elements and functionality, it will give you the desired results.
Here are a few tips that will help you in constructing a compelling knowledge platform for your employees.
Make it informatory -

Include only relevant information in your knowledge base, to avoid confusion and misunderstanding. Putting everything, without gauging its suitability will make the platform cluttered. Give your readers a breather and try to be as specific as you can.

Meticulous and clean setup -

Once you have chalked out the information, you will include in your knowledge base, jump to finding ways on how you can organize it well. A table of contents at the beginning of the portal always helps. Include section headers to separate different sections. This will give a clean appearance to your knowledge base and smooth search experience for your employees.

Brand it beautifully -

Simply putting content in your knowledge site won't suffice. To make a mark and to strike the right chords, you will have to go an extra mile. Wrap your knowledge base using appropriate fonts, themes, and designs that blend seamlessly with your firm's branding guidelines.

Breathe life in it -

Your internal knowledge base is the face of your firm, as every associate, manager and even partner sitting across the globe will refer to it to stay abreast with the latest happenings, understand certain policies or to cull out specific data. So how can you go wrong with it? To leave the right impact on your readers, you can use suitable images, videos, audios, and infographics to support the content of your knowledge base. Besides creating a positive company image, it will also help your workforce get a full understanding of the content placed in the knowledge base.

Incorporate the feedback section -

Create a separate section where your employees can give feedback. Be open to both positive as well as negative feedback and make relevant changes in your knowledge base to enhance its performance.

Hunt for the right software - While embarking on the path to creating an internal knowledge center for your business, one thing you shouldn't forget is the importance of the right knowledge base software. The software forms the basis of your knowledge platform, as it helps you give an ideal shape to your content and bring your thoughts to fruition. Choose software that has got impressive features to start with and promises results as per your expectations.
Watch this video to create an internal knowledge base quickly-

Implementing the above tips will weave magic in your internal knowledge base, making it nothing more than perfect. It will not just keep your wide pool of company information arranged and organized at one single place but will also bolster collaboration and engagement among your employees.
A situation where employees lose productivity and get dissatisfied with their workplace is uncalled for, but it can arise if the right steps aren't taken on time. Taking preventing measures like creating a well-structured and information-rich internal knowledge base can be a saving grace in trying times and somber situations. It can help your workforce conquer the day to day challenges related to collaboration, information hunting, getting abreast with your firm, etc., smoothly and seamlessly and thus help you script a successful growth story for your business.
---
Recommended Reads:
Buyer's Guide: How to Find the Best Knowledge Management Software for Your Company
How to 10X Your Call Center Efficiency Using Knowledge Base Software
Importance of Knowledge Base Software for IT Teams
---
Do you want a free Knowledge Base Software?
We have the #1 Knowledge Base Software for delightful self-service help center starting at $0