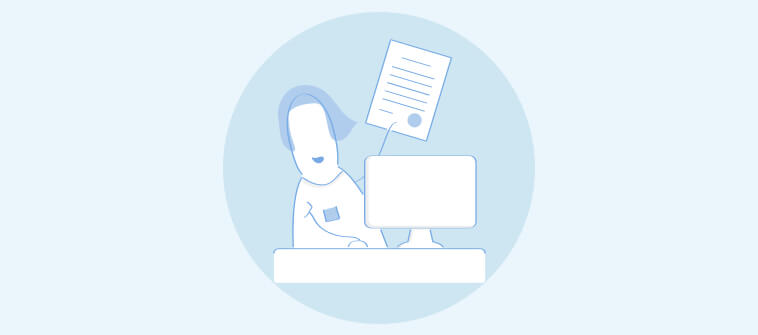 Do you know what is keeping so many entrepreneurs awake at night?
The need to get a better understanding of what their customers think of their brand.
As a result, it's not surprising to see businesses chase customer feedback through interviews, surveys, questionnaires, and more.
However, there is a problem. Even some expert marketers make the grave mistake of considering surveys and questionnaires as the same and often use them interchangeably. So are they really the same? Are they somewhat related or are they completely different?
In this blog, we will reveal the right answers and a lot more. Stay tuned!
Exploring the Difference Between a Survey and a Questionnaire?
A questionnaire can be defined as a research instrument consisting of a series of questions to gather information from respondents. To put it simply, a questionnaire is just the set of questions used to gain specific information.
Think back to your last annual health check-up, you're asked to answer a set of questions regarding your medical history. This is a questionnaire.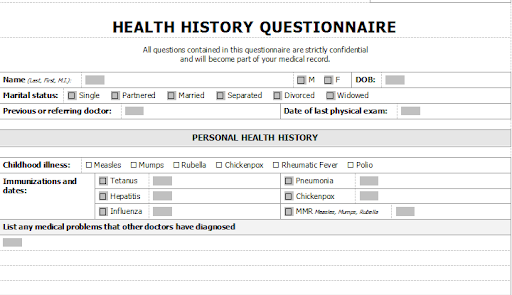 The information collected is used to make a diagnosis and assess health risks for you alone. There is no bigger picture, that is being looked at. A questionnaire is used to evaluate an individual.
Now let's take a look at surveys.
By definition, a survey is a list of questions aimed at extracting specific data from a particular group of people. While a questionnaire is used to assess an individual, a survey is used to assess a group of people. Surveys help you use data to make informed decisions. When you aggregate, organize, and analyze the multiple responses to the same questionnaire, you get a survey.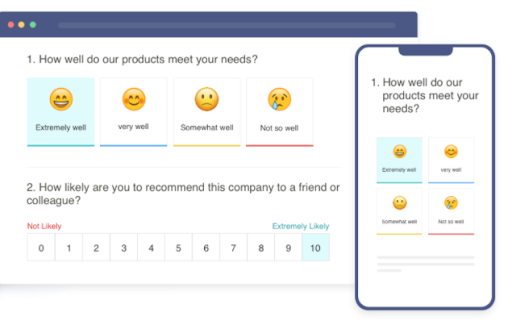 ---
Read More: 250+ Survey Questions
---
Surveys VS Questionnaires: Why the Difference Matters?
Now you may wonder, well, what's wrong with using surveys and questionnaires interchangeably? After all, it's just a matter of semantics.
Well, here's why the difference between the two matters.
Since a questionnaire only assesses an individual, it offers nothing until a time comes that it is needed again. But when you're trying to identify trends or understanding the opinions and decision driving factors, you need a full-scale survey. Raw data can be turned into actionable insights only after the aggregation, analysis, and identification of statistical data over large sample size.

Bonus Read: Advantages And Disadvantages of Surveys
What Makes a Good Questionnaire?
A good questionnaire is one that is designed to achieve the research objectives with a precise set of questions. It must provide complete and accurate information to the interviewer and make sound analysis almost effortless.
While creating a questionnaire, you will not get the correct answers if you do not have the right questions. Of course, you can always use an online questionnaire software to help you do the same, but if you intend to create one from scratch, here are a few tips to keep in mind.
Keep your questions concise and straightforward. Avoid using overly extravagant buzzwords and business jargon.

Try to keep your opinions or views out of your questions. Avoid any sorts of suggestions in your questions.

Avoid using absolutes like right, wrong, never, always, etc.

Be very careful when asking for sensitive data that may compromise the personal life of the respondent.

Avoid double-barreled questions. Cover only one topic in a question. Double-barreled questions will give you ambiguous answers.

Take into account the social, cultural, and educational background of the respondent when asking questions.

Always separate a compound question into two parts and ask only one at a time.
---
Read More: How to Create Online Questionnaire Easily
---
Now, let us understand how you can conduct ideal surveys.
How to Run a Good Survey
Most online survey makers have made the process of conducting a survey pretty smooth and convenient for the users. But this does not mean that the whole process has been automated, and you don't have to do anything once you're using a survey tool. How you design, implement, and analyze the data you gather greatly impacts the outcome of the survey.
Survey design is a significant difference between a survey and a questionnaire. You have to map out each stage of the survey. You need to know your end goal, who your target audience is, and your approach to the data you collect. You can read more

survey tips here.

Choose the right distribution method for your survey. The internet has changed how marketing agencies conduct surveys, and so should you. Whether you choose to send the survey to your respondents through email, text message, or handouts.

Make sure you incorporate a wide range of questions such as multiple choice, check box, drop-down, ranking scale, etc. This will make your survey more interactive and enjoyable.
---
Read More: How to Analyze Survey Data
---
Create Amazing Surveys & Questionnaires Today
Both surveys and questionnaires are going to be an integral part of your marketing plans. This makes it vital for every marketer to know the difference between the two and where to use them.
While a questionnaire can work great for capturing individual inputs, surveys can allow you to dive deep into the opinions of larger groups, such as your customers or employees.
Whether you're collecting customer feedback, measuring your employee satisfaction, or testing a new product, you can use an online survey tool like the ProProfs Survey Maker. It offers a library of over 100+ survey and questionnaire templates and more than 100,000 ready-to-use questions.
Do you want a free Survey Software
We have the world's most versatile survey tool starting at $0