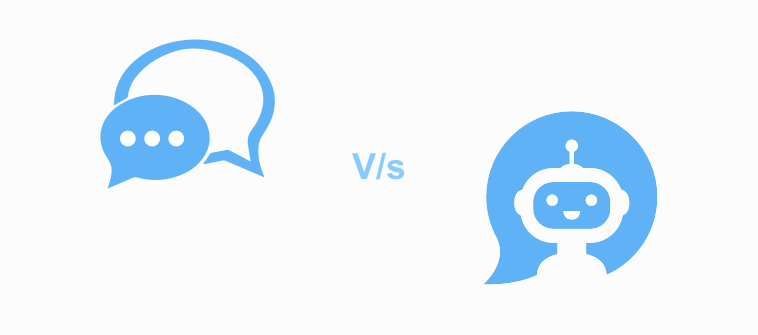 You must have heard this a lot:
Customers want their issues resolved, and they want it done now
And why shouldn't they? They are aware that organizations use tools like live chat software, ticketing systems, and online repositories to make the support process seamless.
When it comes to instant support, we think of live chat and chatbots. They both have resulted in more sales, revenue, and a boost in customer loyalty. Both the customer support tools are known to offer real-time assistance and provide instant answers to website visitors. But business owners across different industries are a little undecided as to which one is more beneficial for their brand.
This confusion takes us to the never-ending debate of Live Chat vs Chatbots. Many feel lost once they start an in-depth study of the two. We are here to put an end to the war. And before we find out who wins the battle between the two, let's explore their pros to make their case strong:
Live Chat Pros
Customer satisfaction – Inc.com states that 92% of customers feel most satisfied when they use a live chat feature. If you've ever tried to reach a business via voice or email, you know how annoying it is to wait for someone to pick up or answer your email when you're looking for a solution. Live chat gives customers someone to discuss their issues right away. That in itself is satisfying.
Facilitates purchase decision – 44% of online customers say that having questions answered by a human during an online purchase is one of the most important features a website can offer. It could be as simple as an inability to find the button for your preferred payment method, or getting clarification on how long shipping would exactly take. Answering simple queries like these on the spot takes away unnecessary friction from the buying process--something all businesses would benefit from.
Builds loyalty – Going back to the first benefit, a satisfied customer breeds another loyal customer. According to WhosOn, 41% of customers think that a company offering live chat is trustworthy.
Chatbot Pros
Handling capacity – While live chat may be far more responsive than voice, it still depends on human agents, thus limiting its handling capacity. Chatbots can simultaneously have conversations with thousands of people. They are not reliant on agent shifts; people who use chatbots will get a response every single time.
Faster onboarding – Employee turnover is a regular aspect of the business, which means the training process will be a continuous one. Apart from setting the foundation for a conversation flow, onboarding and turnover time will be exponentially reduced with a chatbot.
Automation – As pointed out by Maruti Techlabs, people tend to be less productive when given a recurring task. So when it comes to repetitive tasks like offering simple answers, chatbots not only save time but are more productive as well.
Live Chat vs Chatbots
Now that we have seen the pros of both the tools, it's time to see which one performs well under different scenarios:
1. Business Fit
Chatbots are ideal when it comes to answering basic queries and executing predictable tasks. Say, a customer wants to know what pizza flavors are available, wants to book a room, or needs to know the available sizes of a sneaker – chatbots can easily take care of these.
But when it comes to more complex tasks such as providing tech support or comprehensive B2B consultations, then live chat undoubtedly does a much better job, while also being able to address much simpler tasks.
Verdict: Live chat wins
---
Must Read:
Importance of Using a Live Chat Software on Business Website
---
2. Response Time
As discussed earlier, chatbots can respond instantly 24/7, while its human counterparts take more than 15 seconds to respond to a query. Take a look at the Facebook Messenger chat below: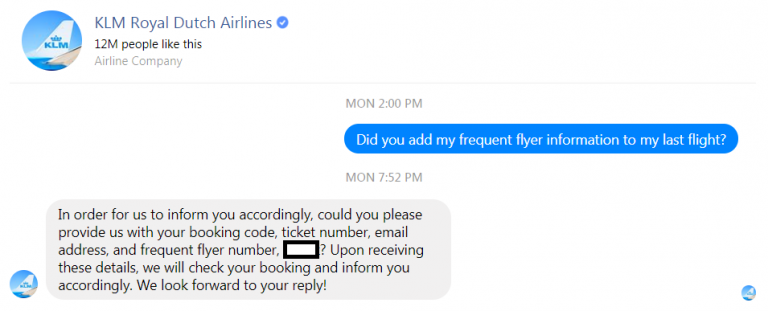 Image Source
As noted by CXL, KLM's human response came nearly six hours later – and even then, had to ask for more info, since they were unable to patch together Facebook data with their CRM. Imagine having to wait six hours just to be asked for additional info!
Of course, while not all chatbots may be equipped to handle such a query, what it can do is escalate it to a human agent. This sort of "agent-assist" has been found to cut average resolution times from 1.5 days to just five minutes.
Verdict: Chatbot wins
3. Human Touch
Of course, response time isn't everything. Customers would much rather wait than get an immediate response that does nothing to help them. Check out the example below:

Image Source
Even with such a simple question, the chatbot failed to send any kind of productive response, making it counterproductive in terms of customer service. And that's not even considering that people generally want to deal with people.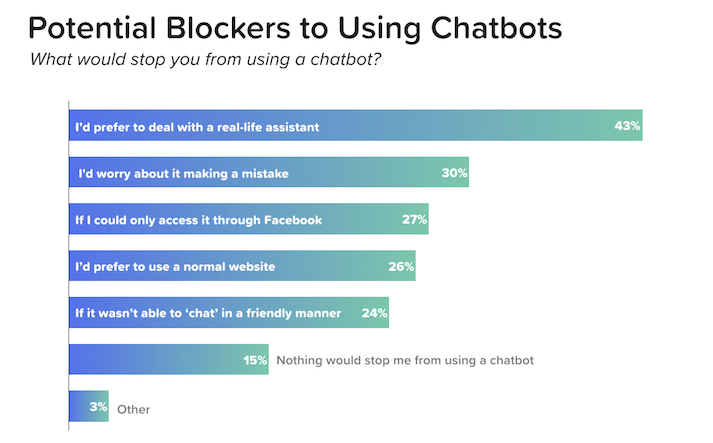 Image Source
There's just something about the human touch that chatbots are unable to cater to in the foreseeable future. Maybe it's empathy, rapport, or simply pointing out the button you need to click on your screen – human touch still prevails when it comes to comprehensive customer service.
Verdict: Live chat wins
4. Customer Retention
Customer retention is much cheaper than customer acquisition, so it's crucial to do what it takes to keep them once you got them. And this is another aspect where chatbots have a long way to go.
People will, more often than not, go off script. In these cases, a chatbot will not be equipped to respond accordingly. That could happen once, maybe twice, but how long before a customer never uses that function again?
Say, you wanted to know what kind of flowers a shop sells, would you rather go through a chat conversation or just Google the answer? If you're not sure what to order from a restaurant, would you go through an entire convo where you're being asked numerous questions or just look at their online menu?
This is not to say that chatbots don't have their place in the world. They do. It's just that there's a reason why they don't fare too well when it comes to customer retention.
Verdict: Live chat wins
5. Costs
According to IBM, 265 billion customer support requests are made every year, which costs businesses an astronomical $1.3 trillion to cater. Both live chat and chatbots can greatly reduce costs, particularly when they are upgraded from antiquated IVRs. Chatbots magazine claims that these conversational solutions reduce costs by up to 30 percent.
But between the two, chatbots understandably come at a much lower price tag than live chat agents. A survey on Glassdoor estimates the hourly rate of live chat agents to be at around $7-$15, while agents with field specialization have been found to charge 20% to 50% more than that.
So if you're simply considering customer support costs, it is definitely cheaper to employ basic chatbots.
Verdict: Chatbots wins
6. Understand Misspelling
We're not talking about the spelling accuracy of live chat and chatbots, but about comprehending misspelled words written by customers. Live chat agents prevail in this regard (which is more important when it comes to reaching resolutions).
Spelling errors throw chatbots off. Whereas a live chat agent can get the message despite errors, you may have to correct your spelling before being understood by a chatbot – adding to friction and time required.
Verdict: Live chat wins
---
Recommended Read
:
Must have qualities for customer service reps
---
7. Query Reach
Since chatbots depend on a specific conversation flow, the spectrum of queries they can resolve is understandably limited. Machine learning will eventually evolve into answering a wide range of questions, but for now, chatbots are unable to match the range of questions live chat agents can handle.
For example, shipping queries (how long it takes to ship to a particular location, how much it would cost for a particular weight, etc.) may be far too complicated for chatbots to address.
Verdict: Live chat wins
Final Verdict: Live Chat Wins

Improving customer service is extremely important as it enhances customer experience, and ultimately, results in brand loyalty.
But before you jump on available solutions like live chat and chatbots, it's important to understand which one suits your business needs. In terms of providing a human touch, adaptability, and most importantly, customer retention—all qualities needed to propel your business forward—live chat gains an upper ground over chatbots.
What have been some of your best experiences with live chat? What don't you like about chatbots? Sound off in the comments section below.