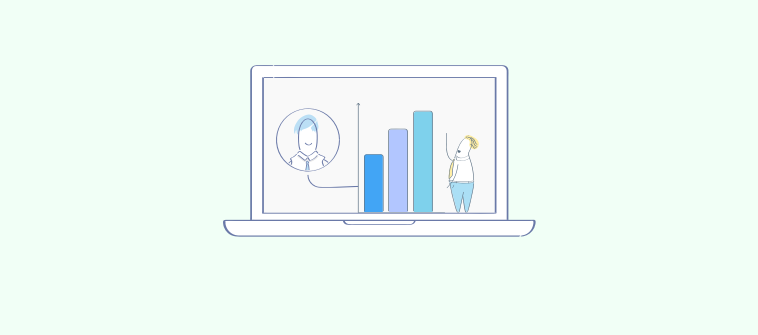 Live chat for sales has become a lot more popular among customers. And, why not?
A live chat software is known to promote:
Instant help

Instant resolution

Instant delight
In short, live chat encourages best practices in customer service industry that makes it one of the best media to interact with a brand hassle-free.
It is said that "77% of customers won't make a purchase on a website that doesn't offer live chat!" This data also implies that people would most likely purchase from a brand that offers live chat for customer service.
Question is, does the use of live chat for sales is the only aspect that makes a customer purchase from a brand? Probably not!
Your operators should also implement live chat best practices that prompts a visitor to convert into a buying customer.
That said, using live chat for sales can help you drive results for your business. Except, it isn't as simple as installing a live chat on your website, and calling it a day. In this blog post, we will share 10 live chat best practices that will help you make the most out of your live chat system, and drive more customer satisfaction and revenue. Read on to find out more!
---
Recommended Read: How to Achieve a Higher Customer Satisfaction Level
---
10 Live Chat Best Practices for Customer Support
To drive more sales for your brand, it is important for you to be equipped with online live chat best practices. Let's dive into studying some of the best practices for live chat in detail:
1. Show Support Rep Names & Photos
Top on our list of live chat best practices? Display the names and photos of your support representatives on your live chat widget. The rationale behind this is that it helps to humanize your brand and demonstrate brand authenticity.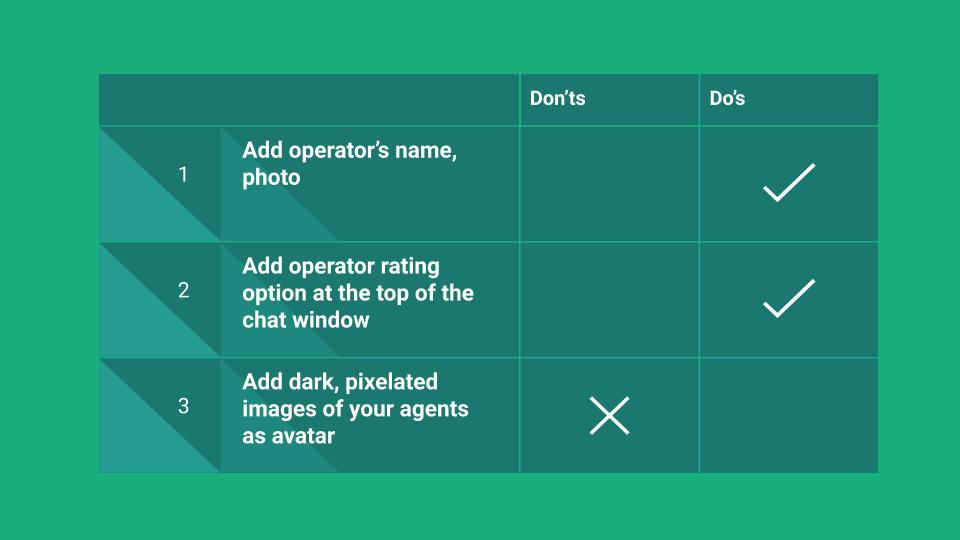 Fun fact: customers say that authenticity is one of the top qualities that would attract them to a brand. Trust us… it's much easier to build rapport and win over your customers when they're not talking to a nameless, faceless person!
2. Adopt a Conversational Tone
Now, while it's important to convey a sense of professionalism during a live chat conversation with a customer, the software is obviously a more informal channel than phone support or email support. Bearing this in mind, it makes sense to adopt a conversational tone, and speak to your customers in a relaxed and friendly manner. That's the next on our list of live chat best practices.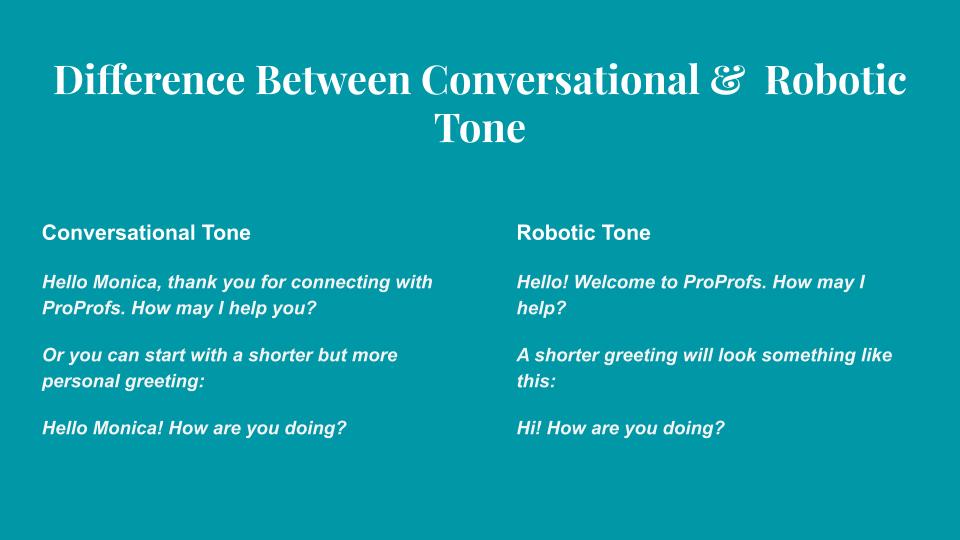 Here are a few negative examples:
Welcome to

BRAND'S

live chat support. How may I assist you?

You've arrived on

BRAND'S

website. If you need assistance, please start typing in the chat box.

Should you want to learn more about BRAND, start typing in the chat box. Our support reps are on standby, and ready to assist.
And a positive example:
Hello! How can I help you?

Got a question? Start typing here!

Want to learn more about

BRAND

? Hit us with your questions!
3. State Your Availability Clearly on Your Live Chat Widget
Ideally speaking, you should be offering live chat 24/7. In real life, this might not be possible though - especially if you're a startup or a small business working with limited resources. If that's the case, make sure that you state your availability clearly on your live chat widget, so that you don't just leave your customers hanging.
Here's an example: Oops! We're currently offline. Our live chat is available from 9am to 5pm. Please check back then, or email us at [email protected] We reply to all emails within 24 hours.
4. Respond Quickly During Working Hours
Here's the thing: live chat only works when you get to speak with someone almost immediately. If a customer logs onto a company's live chat, only to realize they have to wait for 15 minutes before they can get connected to an agent, you can see how this might be pretty frustrating.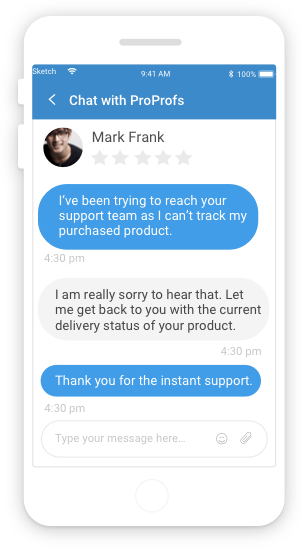 Bearing this in mind, allocate your manpower accordingly, and make sure that you always have enough support staff to power your live chat. If you find that certain times of day (eg 5pm to 6pm) tend to be busier than others, then get more hands on deck during these peak periods. If you need to scale up your support, consider hiring freelance contractors from platforms such as Upwork.com.
5. Train Your Support Reps Properly
Let's say, a customer is connected to your live chat agent, but that novice agent isn't very knowledgeable. So he ends up relaying every single question asked by the customer to his manager, which surely doesn't give your customer a great experience.
To avoid this, be sure to train your support reps properly. Compile a manual with the most common questions and answers for new reps in your team. You might also want to go through a couple of roleplays with new reps first – this helps you ensure that they're ready to answer questions before you let them face your actual customers.
6. Automatically Pop up Your Live Chat
When you set up your live chat widget, you'll be able to configure it to pop up automatically (instead of waiting for a customer to click on it). Not all of your customers will notice the live chat icon at the corner of the screen, so doing this is a great way of catching your customers' attention, and starting a conversation with them.
7. Offer Voice Call & Other Advanced Features
If you're using live chat as a support channel (instead of live chat for sales), we recommend investing in a top-end live chat software tool that comes with voice call, video call, remote co-browsing, screen sharing, and more options. These features help you power up your live chat, and makes it easier for you to resolve your customer's problems.
For instance, if your customer is facing a particularly complex/technical issue, it might be hard for them to describe their problem to you over chat. In these situations, it's much simpler for you to use a co-browse feature to see and interact with your customer's screen.
8. Send a Follow-up Message
Next on our list of live chat customer service best practices is… sending a follow-up message! You would have witnessed how sales reps always follow up with an email after they've connected with a lead? Well, your support reps should do the exact same thing.
If you're wondering what this email should say, it can simply contain a brief recap of the problem discussed and the solution offered. At the end of the email, remember to ask your customers to rate their satisfaction with the support they received, so you can track and improve upon your customer service efforts.
9. Connect Your Live Chat With Your CRM Tool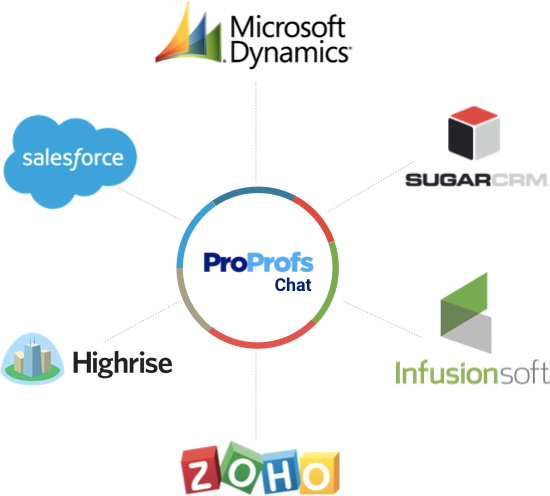 Most live chat software come with plenty of integrations; here, you'll want to look out for a tool that integrates with the CRM you're using. Why is this important? Well, if your live chat integrates with your CRM, then your data will sync automatically, and you'll save your support reps the hassle of copying their notes over to update the CRM. This helps boost productivity, and allows your reps to attend to more customers within a shorter period of time.
10. Track Key Metrics & KPIs
Last but not least, track all your live chat-related metrics, so that you can measure and optimize your team's performance. These metrics include:
Average wait time

Average chat duration

Total number of chats per day

Customer satisfaction by agent

First contact resolution rate

Conversion rates

Missed chats
The vast majority of live chat tools come with in-built analytics and tracking, and some even allow you to generate custom reports with a click of a button. All you have to do is to block out a few hours to analyze these stats every month, then come up with strategies to fine-tune your current customer support efforts.
Why Implement Live Chat Best Practices?

Now that you are aware of various live chat best practices for customer service, it is time to reflect and understand why they need to be implemented in the first place.
Your business cannot survive alone on live chat. The software needs to be used in a way that helps your operators bring in more conversions for your business. Besides that, the right online live chat best practices, you can:
Connect with customers instantly

Learn more about their purchasing intent

Understand their pain-points

Customize service as per their needs

Build a delightful experience

Prompt them to reach your brand for the next delightful purchasing experience
With so many benefits, there is no reason for you to not implement best practices for customer service using a live chat software.
---
Now, let's take a look at some of the frequently asked questions to help you follow live chat best practices easily.
Q. What are the important qualities to provide a good customer service?
Top three qualities that can build a good customer service experience are empathy, attentiveness, and clear communication.
Q. How can I handle angry customers using a live chat for customer service?
Always give the customer the time to describe their problem. Depending on the gravity of the issue, you will be able to conduct a conversation effectively. Also, human touch is important. So, never give them the impression that they are talking to a bot.
Q. How can I optimize live chat for personalized conversations?
You can use chat greetings to initiate a conversation with your visitors before they reach out to you with their problems. You may ask how will you know when the customer is about to approach the brand with their issues? For that, you can monitor their behavior at your website and learn whether they will approach you or not.
Q. How to use my live chat to build a seamless experience for customers?
For that, you need to make sure that the live chat in place is all about speed. It needs to be fast to receive and send messages. Quick responses that reflect you have a solution for your customers at any hour of the day can help you build a seamless experience for customers.
---
Recommended Read:
Do you want a free Live Chat software?
We have the #1 Live Chat software for delightful customer support starting at $0