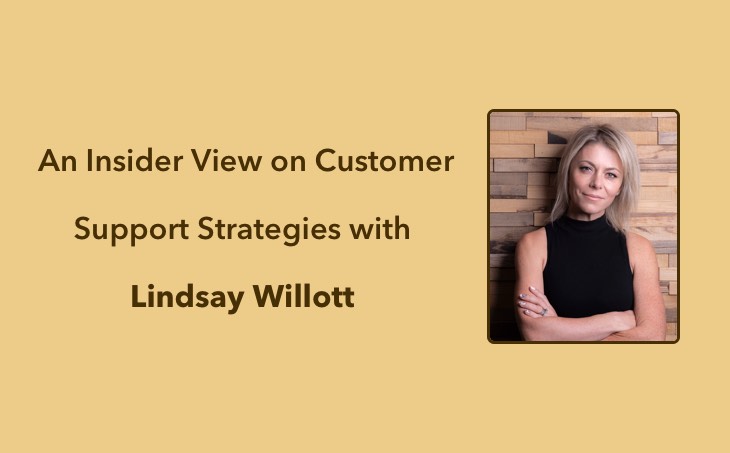 Every brand in the market wishes to revamp its customer support strategies after a certain period of time. No wonder we come across so many articles online that speak of various strategies that organizations can implement to improve their customer service.
But are these articles sufficient enough to revamp the existing strategies?
Well, I'd say why not consult a customer service expert to help you bring the necessary changes to the strategies.
In our recent interview with Lindsay Willot, we got an insight on what are the different things that can help organizations upgrade their strategies on customer service effectively. Lindsay is the Founder CEO of Customer Thermometer. She has worked with reputed brands such as Glossier, Sonos, Dollar Shave Club, RE/MAX, BT, Leica, Reed, Red Cross and Songkick. Lindsay Willott helps her clients get customer feedback in a simple yet fast method that doesn't burden them or takes too much of their time.
In this interview, let's see how she gives advice to organizations on various aspects of customer service strategies.
Q1: Customer delight – A lot of businesses have finally made this concept their primary focus. But are their existing strategies sufficient to keep them in business?
You'd be hard-pressed to find any organization that didn't profess of being customer-centric or investing in customer experience programs. The big question is whether these programs were effective and if they resulted in an authentic customer-centric culture that delighted customers.
The fact is, customers are changing every day, so organizations need to keep pace with their behavior. Technology is allowing businesses to get closer to customers in real time when they interact with their products & services. Leading brands like Amazon, Uber, Reed and Selfridges have spotted this trend. They need customer feedback to keep delivering the right service to their customers. But with customers increasingly ignoring surveys, they've had to change how they get that feedback, so they are opting to get short feedback across interactions, which gives them a fantastic insight across the customer journey.
Insight is crucial to help you convert from creating sales to creating fans. A true fan is someone who is likely to buy from you no matter what you produce next. They will not just recommend you, but evangelize about you. In other words, customers whose faith you have earned completely. These types of customers have a huge role to play in business growth, which should be developed and nurtured at all times.
Q2: According to you, how does emotional intelligence play a role in customer support?
Emotional intelligence is crucial and, in my view, can be maximized in two ways. Firstly, by ensuring you are recruiting the right customer support people that truly embrace your vision and secondly, by empowering your recruits to exercise emotional intelligence. Being receptive to their individuality and ideas gives them scope to grow and delight customers in new ways.
Again, it's about making those words authentic. At Customer Thermometer, we ensure every new employee spends their first month with us learning what customer service is all about and how to deliver the best possible experience; it's after all what our business is about. It also gives us time to learn about them and how we can help them channel their individuality to help delight customers.
Q3: Many tend to ask is there really a contest between live chat and chatbots? Your thoughts.
There is an argument that interactive chatbots have a place in the market as many customers like the option to self-service. For example, according to Zendesk 50% of customers think it's important to be able to solve a problem themselves. While Forrester states that nearly two thirds (63%) of customers are happy to be served by a chatbot, if there is an option to escalate the conversation to a human.
That said, as we are increasingly distant from the brands we interact with, I think it's important to maintain humanity at the core of online offerings. Chatbots cannot yet deliver the human touch and humor. If you look at the examples of live chat that have gone viral, it's often because they are really funny and have a shared experience (Harry Potter, etc) - no chatbot could do that!
Q4: Many brands have set a trend in customer support and become an example for newcomers in their industry. But can you recommend a new strategy that helps newbies get a competitive edge?
There's a strange and shifting alchemy between what customers want and what you give them. There is science in it, but there has to be magic too. More than anything you need to be curious, listen hard and care deeply.
I can certainly advise how we approached our customer support. Given what we do as a business, we knew that to stand out we needed to demonstrate effortless and excellent service. We wanted to create an experience that customer would remember. Then out of the blue, an email came from a customer suggesting that our customer service agents be renamed as 'magicians', because they had given her such great service. It was a seedling of something great and before long the idea had exploded. By 2016 we'd created the Ministry of Magic (our customer service department) with everyone working within it being a Magician!
Since its formation, the Ministry of Magic has done some fantastic work in transforming our customer service experience and journey, including creating an engaging book called 'Good Customer Magician, Bad Customer Magician'. This is like the Bible of customer service and is given to our new recruits to teach them best practices in delivering excellent customer service, producing 'Customer Love' packs (little gifts for long-term customers) and ensuring all customer communications are personalized and sent within a day (our competitors send standard replies and it can take days). We also have measures in place to continually monitor customer satisfaction and make improvements where needed.
Why Your Business Needs these Customer Support Strategies?
With too many trends to keep up, it is difficult at times to build your own customer support strategies. However, it does not imply that you will fail at serving your customers and keep them delighted. During our interview with Lindsay Willot, we were able to narrow down some strategies that will surely help you upgrade your support services to the next level.
Some of them included:
Getting insightful customer feedback and building your services according to their likes and dislikes




Getting onboard the right customer support team and emphasizing the use of emotional intelligence




Maintaining a human touch while delivering support to your customers and build long term relationships with them




Demonstrating effortless and excellent services that leave an imprint on customers for your brand
We hope that you enjoyed the interview! Feedback is always welcomed.
Do you want a free Live Chat software?
We have the #1 Live Chat software for delightful customer support starting at $0