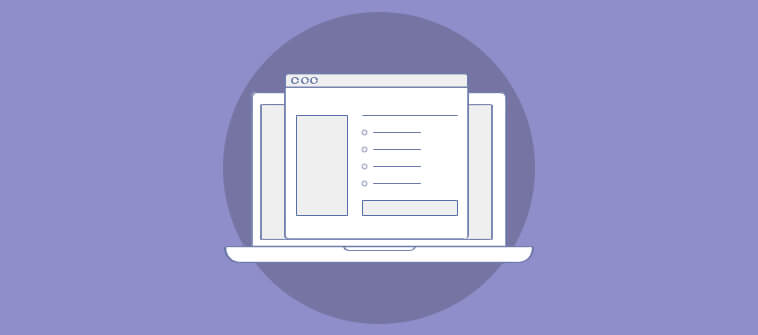 A satisfied customer is the best business strategy of all - Michael LeBoeuf
You have decided to survey your customers. Great!
But is it enough to be aware of this strategy? Of course not, you need to understand what makes a good survey and how can you effectively gauge customer satisfaction with it.
Surveys are one of the best ways to collect information business needs. They help you answer important, specific questions that can help you understand what your customer expects from you. However, the most important aspect you should gauge is Customer's Satisfaction.
Surveying customers is beneficial, no matter if you have a service-based company or a product-based company. Getting feedback from customers about your products and offerings gives you the following insights:
What did they like about the product/service?

What they dislike about your product/service/brand?

What can be done to improve the offerings?
Create a Survey in No-Time
The process of creating a survey starts by establishing the survey goals and target audience. Next, you have to create a list of survey questions that gets you relevant responses from your customers. The major step is to distribute the survey to the target audience in the most frequent manner.
All you need to do is to select the right platform to create and share your survey. Here are your options:
Facebook

: Best platform with a poll feature to survey your target audience on Facebook. However, this method limits you to customers on Facebook.
Google Forms

: One of the fantastic suites of Google's office tools, Google Forms, offers an easy way of survey creation and tracking of survey responses. However, this old tool doesn't leave much room for customization, which is the need of the hour.
Microsoft Excel

: Microsoft Excel is a highly used way of creating surveys to collect heaps of data and analyze it further to draw actionable conclusions. Due to the lack of major functionalities, it is suitable for startups or small businesses.
Microsoft Word

: Easily accessible, MS Word is not a contemporary survey tool. However, emerging businesses, managers, retailers, and educators find this an easy way to create and distribute surveys in person.
ProProfs Survey Maker: Online surveys are one of the best methods of data collection. Unlike traditional survey methods, ProProfs Survey Maker eliminates any friction or stress in collecting customer feedback, with features like customization, branding, reporting, and integrations.
Creating surveys may seem like a daunting task. However, it is not if you have the right tool at your disposal. You can engage the audience well to get insightful feedback.
Multinational companies, thriving businesses, retailers, young entrepreneurs trust online survey tools to pace up their way to growth and development.
ProProfs Survey Maker is one online survey tool that makes the process of survey creation simple and delightful. This tool helps you create a survey for free and share it online quickly.
When you invest in this survey tool you'll enjoy the following benefits:
Full control of the customer experience to make better decisions.

Improve customer retention and minimize churn.

Higher conversion rates in the most cost -effective manner.

Product/service or business idea validation by the customer.

Identification of loyal customers and brand advocates.
Let us now understand in detail how you can make your own survey.
Where to Begin
The first stage to create a survey is to determine your target audience and identify the kind of data you want to collect. Answering a few questions here will help you create a useful, interesting, and relevant survey:
What is the objective?

What information am I expecting from the survey?

In what decisions, the survey feedback will help?
Having such information will help kick start the process of survey creation. Make sure you narrow down your target audience as much as possible.
Each survey question plays a significant role in extracting the best information. Survey questions should be clearly drafted. Customers should be able to understand what you want to ask.
How to Create a Survey
Here are some essential tips that can help you create the best surveys to deliver invaluable insights.
Limit the number of questions you ask in the survey.

One question should target one idea.

Questions should be simple and easy to understand.

Target the audience and make them answer only relevant questions.

Group similar survey questions together for more customer focus.

Never ask a sensitive or personal question at the beginning of the survey.

Use skip logic to eliminate the question relevant to a particular respondent.

Prefer using words and not numbers in your answer choices.

Avoid presenting the survey questions in a matrix to get the user's undivided attention on a single question.

Make sure every question is unique and holds some value.
6 Simple Steps to Make an Online Survey
Surveys are the best way to gauge a user's beliefs and attitudes. They are relatively cheap and easy to administer. As stated, survey creation becomes easier when you have the right support. Online surveys are time savior. Being anonymous, they tend to draw more honest and transparent answers.
How to make a survey? Follow these simple steps to create a survey online in under 10 minutes.
Step 1
:
Select Online Survey Tool
Surveys are the best mode for data collection and draw meaningful conclusions out of them.
The best online survey software boasts a powerful dashboard to provide useful reports and rich insights. It features advanced filters and drop-down options, customized reports for easy analysis of the research data.
To create a quick survey, select "create a survey tab" from the dashboard.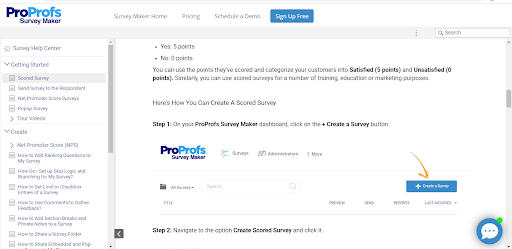 Step 2
:
Use Ready Made Template
Have you heard of writer's block, where they get stuck in with the content and fail to identify how to proceed? Creating a survey can come with a similar issue, especially when you do not have any prior experience.
Ready-made survey templates provide you a starting point. Choose from the various survey templates available, including employee engagement and customer satisfaction. If desired, you can choose to create a survey from scratch.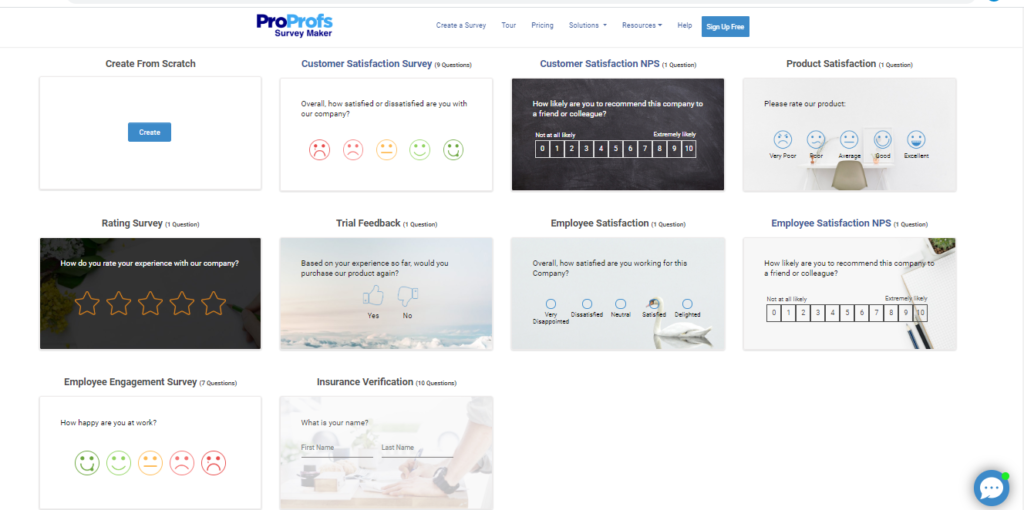 Step 3
:
Choice of Survey Questions
Surveys can be of different types, NPS surveys, scored surveys, yes/no surveys etc. The right tools have the library of question templates, including thousands of question types like multiple choice, rating scales, and more that makes survey creation a simple task. Here are some examples of the common survey questions:
How satisfied were you with our product?
How likely are you to recommend this company to a friend or colleague?
Please rate our product: Very good/ Poor/ Average/ Good/ Excellent
Click on the link to find hundreds of survey questions to build a survey.
Step 4: White Labeling and Customization
You have created a survey, but you want to give it a personalized touch of your brand. You have the option to choose various customization options to add your company's logo, colors, and images.
You can select a predefined theme or upload your custom logo, backgrounds, fonts etc.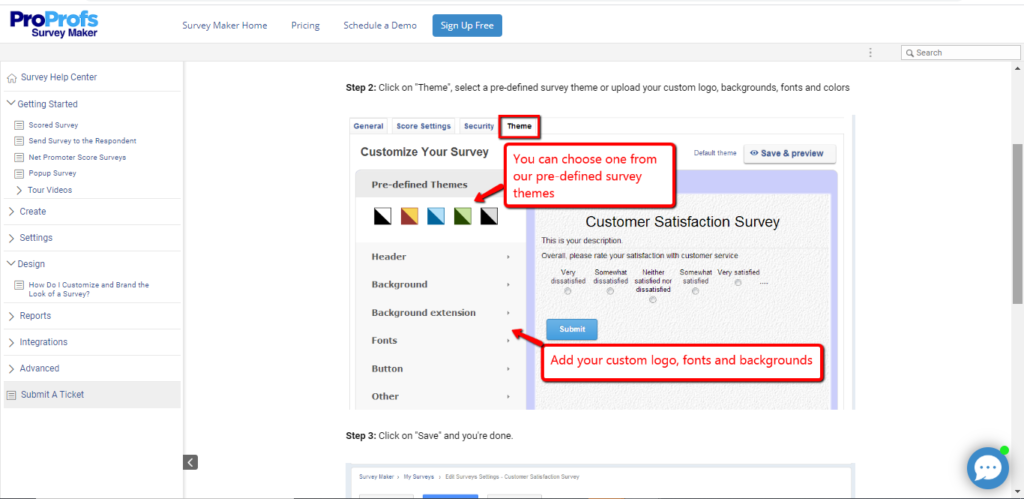 Step 5 : Apply Skip Logic, if Needed
The success of a survey is based on how closely it is tailored to the respondent. One of the biggest pitfalls of designing a great survey is that sometimes the respondent can get annoyed seeing the questions that don't apply to them. Advanced features like skip logic and branching help you create interactive surveys that ask only the relevant questions to the user.
You can apply Skip logic, also known as conditional branching, a feature that changes the question respondent will see next based on their answer to the current question. It is mostly applicable for multiple-choice questions and choose from the list question types.After you have applied skip logic, the answer to the previous question will tell which question needs to be presented to the user next.
Let's understand this process with an example:
Let us say you have created a car survey for respondents with the following questions:
Q1: Which is your favorite car?
Q2: Do you own a car?
Q3: Do you have car insurance?
In this survey, the answer to question 1 will be given by the respondent in text format. After the second question, skip logic is applicable. If the respondent answers YES, that will lead the respondent to the third question, otherwise a NO answer will lead to skipping the third question. A survey that goes with the flow becomes short and sweet for the user. For businesses, this comes as a perk as the user is more likely to finish the survey and provide useful feedback.
Step 6: Gather Customer Feedback via Comments
A customer has made a choice in the survey question? But wouldn't it be nice if you know the motivation behind a particular choice. Let them tell you what they want by adding a comment section.
You can add additional comment fields after the ranking and rating surveys to get more detailed feedback. You can fetch actionable data by asking an open response question at the end of the product, adding comments to multiple-choice questions, or to a grid of choices.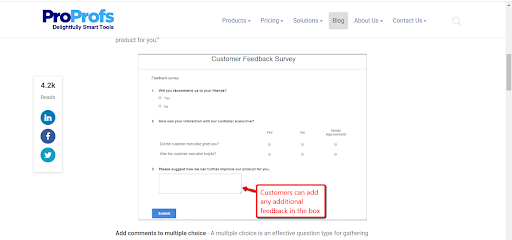 Having said that, all this becomes super easy when you have access to an online survey software.
Conclusion
Now, you know how to create an online survey. However, to yield the results from surveys productively, an easy to use online survey software is much needed leverage. Try ProProfs Survey Maker with ready-to-use survey templates and questions that help make your survey attractive and relevant to the respondent.
Also, the seamless survey sharing across multiple platforms after creating a survey can make this tool your obvious choice. The advanced reporting feature allows you to collect and analyze your data to reveal actionable insights and create long term strategies for business development.
Try out ProProfs Survey Maker for free and for any further assistance, give us a call at (855) 776-7763 (Toll-Free), and one of our team members will be there to provide the required support.
Do you want a free Survey Software
We have the world's most versatile survey tool starting at $0