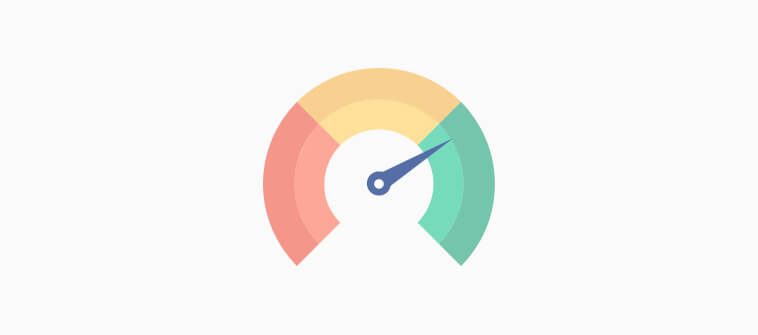 Recommendations work like magic, especially when a customer recommends a company/brand to a friend, family & colleague. These customers tend to repeat their purchase and act as brand advocates at various events/situations.
Positive word of mouth is an ideal situation for any business. Many studies have found that people are more likely to buy products and services recommended by their friends and family. This reduces the cost of new customer acquisition significantly.
Brand loyalty and the likelihood of repeat and new sales can be measured through Net Promoter Score. Interestingly, this single score has the ability to give a business direction for improvement and bring noticeable changes.
It is for this reason leaders and CEOs are making NPS as mission-critical for organizational growth and striving to achieve an up to the mark net promoter score.
You can read the blog, to learn more about the advantages of net promoter score to a company.
In the current article, you will learn what is a good net promoter score and what you can do to achieve it and maintain it consistently.
Before that, let's sum up the basics of NPS in a few words, to get a better understanding of the topic.
What Is NPS
Based on a rating scale, Net Promoter Score or NPS was ideated by Fred Reichheld, a partner at Bain & Company, in 2003. This metric was devised to measure the level of customer satisfaction. NPS helps companies understand the impact they have on their customers. It allows businesses to take measures to enhance the customer experience.
Net Promoter Score is primarily obtained through surveys. A typical NPS survey looks like this:
The customer is asked to give a rating from a mark of 0 (not at all likely) to 10 ( extremely likely).
In general, the low rating is assumed to be negative feedback, middle rating is taken as average feedback, whereas high rating is touted as the positive feedback.
For easy scheduling and management of recurring surveys, companies are actively using the best net promoter score survey software. NPS survey software like ProProfs Survey Maker helps companies to manage multiple campaigns to identify unsatisfied customers/employees as well as brand advocates.
Using the tool, marketers can share NPS surveys via numerous channels in just a click. That's not all. The powerful insights given by smart reporting allows marketers to assess the results quickly. Hence, you are able to see if you have got good NPS, bad NPS, or average NPS on a dashboard. To learn more about why you need a NPS software, visit the link.
---
Read More: Check Out the Importance of Net Promoter Score
---
Let us now understand the calculation that goes behind estimating NPS.
How Is It Calculated?
As already mentioned, NPS surveys require respondents to give the rating from a range of 0-10. The rating tells how much they liked the product and how much they would like their family and friends to give it a try too.
Based on the ratings given by them, the respondents are grouped as follows:
Score 9-10: Promoters:

These are loyal customers who will stick to the brand and help in business growth.

Score 7-8: Passives(Fence Sitters)

: These are customers who are satisfied but are open to trying offerings made by competition.

Score 0-6: Detractors

: They are the unsatisfied customers who didn't like the product/ service. They are most likely to do bad publicity and impact the bottom line.
Once you have received the ratings from the respondents, Net promoter score is then calculated by subtracting the total % of detractors from the total % of promoters.
Net Promoter Score = % Promoters -% Detractors
To calculate the percentage of promoters, the number of respondents who gave the score 9-10 are divided by the number of total respondents. A similar formula is used to find the percentage of detractors.
---
Read More: How to Calculate Net Promoter Score Easily
---
What Is a Good Net Promoter Score?
The range of the NPS can be as low as -100 (every customer is a detractor) and as high as 100(every customer is a promoter). However, NPS never reaches these two extremes.
High Range

: More promoters taking the business towards growth.

Low Range

: More detractors who will ruin the brand image.
For any company/industry, having more promoters than detractors is a favorable situation. However, even for the positive NPS scores, the best NPS scores can be divided into, average NPS score, good NPS score, and subsequently excellent and stellar NPS score.
Average

: zero and above

Good:

From 30 to 50

Excellent

: Above 50

Stellar

: Above 70
Seems easy? It is. However, the biggest mistake a company does is not considering their NPS on an individual basis and comparing their score with other companies.
To understand this well, let's take into account the data published by NICE Satmetrix, a leading provider of customer experience management (CEM) platform), on the Net Promoter Score benchmarks of the prestigious companies that earned the maximum NPS in 2018 in their respective industries.
| | | | |
| --- | --- | --- | --- |
| 1. | Jet Blue | Airlines | 74 |
| 2. | USAA | Auto Insurance | 73 |
| 3. | USAA | Banking | 79 |
| 4. | Vanguard | Brokerage & Investments | 70 |
| 5. | Verizon Fios | Cable & satellite TV | 32 |
| 6. | Cricket | Cell Phone Service | 58 |
| 7. | America Express | Credit Cards | 60 |
| 8. | Costco | Department & Speciality Sores | 79 |
| 9. | Walmart Pharmacies | Drug Stores & Pharmacies | 32 |
| 10. | H-E-B | Grocery & supermarkets | 72 |
| 11. | Kaiser Permanente | Health Insurance | 40 |
| 12. | USAA | Health & Contents Insurance | 78 |
| 13. | Ritz Carlton | Hotels | 75 |
| 14. | Fios | Internet Service | 28 |
| 15. | Apple | Laptop Computers | 63 |
| 16. | Allstate | Life Insurance | 44 |
| 17. | Netflix | Online Entertainment | 62 |
| 18. | Nordstrom.com | Online Shopping | 64 |
| 19. | DHL | Shipping Services | 45 |
| 20. | Apple | Smartphones | 60 |
| 21. | Turbo Tax | Software & Apps | 55 |
| 22. | Amazon | Tablet computers | 68 |
| 23. | Airbnb | Travel Websites | 43 |
Seeing the numbers, it is easy to say that Costco (Department & Speciality Sores) with Net Promoter Score 79 is performing at the optimum level. Customers are highly satisfied with the brand, whereas, customers do not like fios, which is an internet service provider with NPS 28 as Costco.
Now, here is the catch, Net Promoter Scores vary widely by industry. You know that the brand perception and demand differ as per their industry, so will their promoters and detractors.
Here is a glimpse of average net promoter scores of the above mentioned 23 Industries.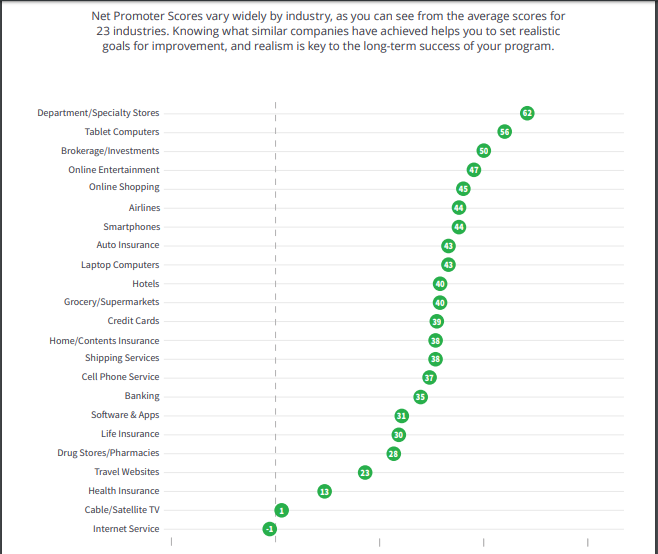 Focus on Internal NPS Benchmarking
Remember how, after clearing an exam, we always felt the need to compare our results with our peers. What does it use to bring? Sometimes, joy, sometimes disappointment and negative self-talks.
Comparing yourself with others can be motivating, but at times it is destructive. Similar is the case with NPS.
NPS is the report card of your individual performance. Comparing your result with another company can actually make you compare their best features against your average ones and vice versa.
Comparing your NPS score with a company outside your industry should be avoided. In other words, NPS comparison by a company in the aviation industry with an ecommerce company, is pretty foolish.
You should keep the higher NPS scores of the companies in your own industry as an ideal score that you should be achieving. Here's one thing that must be known. NPS results of two companies in the same industry can imply different insights. Several external factors like survey methodology, design and even the wording of the NPS question can alter the scores.
Hence, the best approach, "Strive to outrun your previous net promoter results".
Companies have to understand they are their own best benchmark. So, the next time you get your NPS, compare your current NPS score against the NPS score of the last six months or years. An improvement of even 15-20% indicates you are doing well.
In the process, you can always learn from the best. Many studies have shown that companies with the highest NPS showcased some common traits. Here they are:
They offer simple, reliable, straightforward products/services.

The ease of use of the product/services helps save consumer's time.

They offer impeccable customer support offering a transparent window for customer's to make complaints, requests, and give feedback.

Their systems are secure against malicious attacks keeping customer's information safe.
Don't be down-hearted if you see a descending trend in the net promoter scores obtained from the customers. It means you have the opportunity to make improvements. All you need to do is to recognize the cause and take the required actions to win over customers again.
How to Get the Best Net Promoter Score
According to a study published by ResearchGate, companies need to create a closed- loop process to make the most out of their NPS campaigns.
If you are wondering how a closed-loop process looks like, here's one for you:
Customer service reps and internal teams should aim at resolving issues as soon as they come into notice. For best results, net promoter scores should be collected on a daily or weekly basis using a good NPS survey software. This will keep the team motivated to work heads on to convert more detractors into promoters.
After you have collected the NPS score, you have to get in the customer's mind to understand why they would want to recommend you or don't. It is vital to ask follow-up questions or send follow up surveys to unlock the true potential of NPS. Listen attentively to both your promoters and detractors. Get their feedback. Learn from them only what change needs to be done.
---
Read More: Top 15 Net Promoter Score Survey Software
---
Final Thoughts
The importance of customer experience cannot be understated. The NPS score is a clear reflection of customers' feelings and perception of your product/service/brand.
Net promoter score helps a company identify its strengths and weaknesses. The more the loyal customers having trust in you, the higher will be the net promoter score. This means more sales via existing happy customers and new customers acquired by the promotion made by those satisfied customers.
Using a reliable net promoter score survey software you can track customer satisfaction via daily, weekly and monthly reports and capture actionable feedback via simple, professional, and accessible surveys.
After that, all you need to do is focus on issues that are upsetting the detractors and work on them. Also, amplify the features and services your promoters love to make your brand stand out in the market.
Try ProProfs Survey Maker and create unlimited NPS surveys for free.
Build surveys and quizzes using:
100+ ready-made templates

1,000,000+ survey questions

Free 7 day trial
Do you want a free Survey Software
We have the world's most versatile survey tool starting at $0