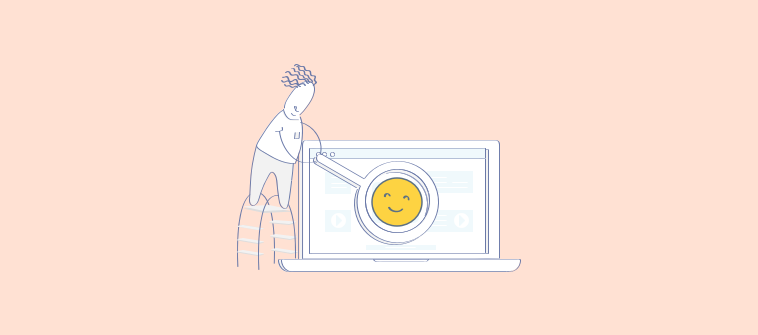 Annually, U.S. companies lose more than $62 billion due to poor customer service. Not surprising, considering Americans tell an average of 15 people about a poor service experience, versus the 11 people they'll tell about a good experience.
Bad customer service has become a major business problem today. It weakens the roots of even a great business and well-known brand.
Let's take an example to understand this better.
Following a trip made from Chicago to Paris, Hasan Syed, one of the customers, was frustrated at British Airways' inability to tackle the issue of lost luggage. Syed thus turned to Twitter and expressed his anger towards the airline.
Instead of responding quickly to the promoted tweet of their customer, the airline giant took eight hours to reply. By that time, around 76000 users had seen the tweet and it also got featured on Mashable.
To make customer service worse, British Airways replied something straight out of things that you should never say on "Twitter handbook".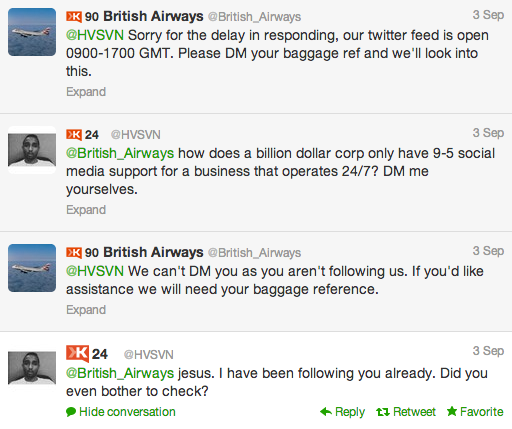 This reply from the airline operator raises the question - "why its customer service was available on Twitter only for limited hours, while the airline operated 24/7?"
After all, when a customer loses the luggage, they expect the issue to be resolved at the earliest.
Proactiveness is the key here. One of the key performance indicators for customer service is the response time. Customers have to escalate the issue and resort to social media channels when they feel the brand does not take their request seriously by responding on time.
People are willing to spend $20 more when an airline responds to them within six minutes.

Having understood the importance and purpose of customer service in the business, let us dig deep to learn why it is the primary stepping stone to your business success.
Improves Customer Retention Rate
When you acquire a new customer, it costs you five times more than retaining an existing one. You can increase profits from 25-95% if you increase customer retention by 5%. Your business accomplishes the goal of a higher ROI, as your customers keep on coming back.
But how to create a customer retention strategy that has the power to keep your existing customers engaged and delighted?
Let's have a look at how MeUndies, a well-known brand for underwear, apparel, and loungewear, does it.
The brand drives customer retention using two elements - referral programs and gamification. They have clever referral programs wherein you can get $20 store credit for every friend you refer while your friend gets 20% off the first order.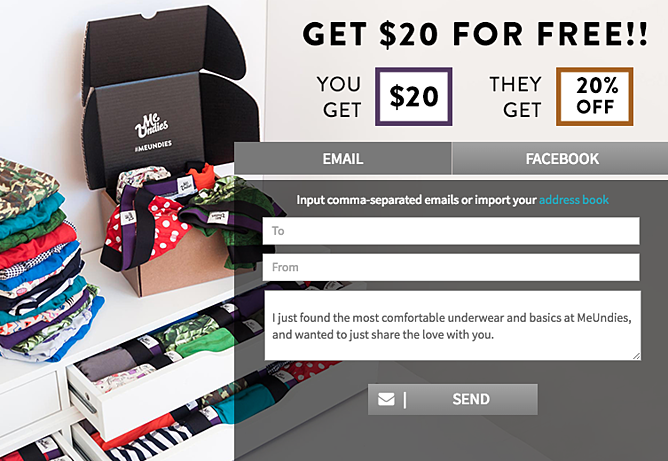 The brand has also introduced a gamification element that shows how far your friend or acquaintance has reached in the buying experience. If your referral leaves just after adding a product to the cart, but doesn't complete the checkout process, you may get an email reminder.
Isn't it amazing and quite unique? The brand simply uses its existing customers to reduce cart abandonment, offering social proof in the process.

Your business can also focus on strong incentivization and gamification like this if you want people to invest in your brand.
The Technology Angle
Besides the strategic move of retaining your customers through effective referral systems, it is crucial to never miss on your customer questions and requests.
How will you resolve your customer questions, when you aren't even aware of the same?
Well, technology comes in handy here. An issue tracking software based on SaaS enables your operators to track all customer issues and requests - all in the same place. You don't miss on any support opportunity, work collaboratively, and resolve issues faster.
Builds Better Brand Equity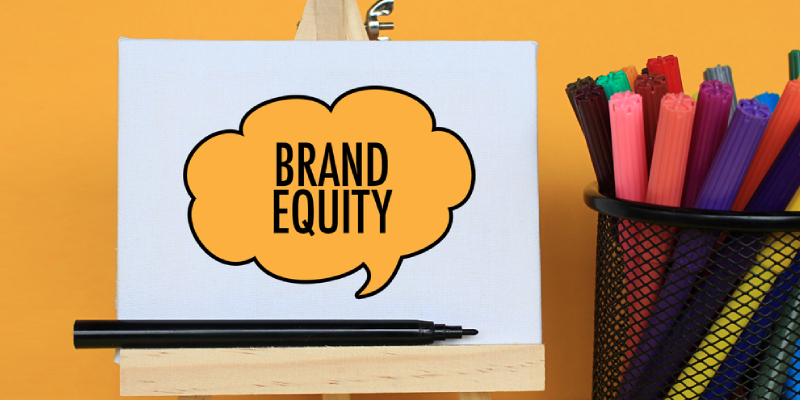 Your SaaS customer service should be representative of your brand image, mission, vision, and values. Acquaint your customers with what your brand represents and the best people to do so are in your customer support department.
It is your operators who directly communicate with customers to convince them of your brand's strengths over those of your competitors. So it makes sense to engage your employees and let them act as your brand influencers.
When your customer support team treats customers well, addresses, and resolves their queries faster, you strengthen your brand equity. The team should also be well-versed about your company's ethics, history, and values.
82% of customers believe that the number one factor leading to a great customer service experience is having quick resolution of their issues.
As the customer support helps to maintain brand reputation through better audience engagement, they can win over more customers, while retaining your existing ones.
Ritz-Carlton Hotel Company is best known for its unparalleled customer service which is part of its culture for which the brand adheres to a framework of gold standards. They consist of the values and philosophy that make the brand work. These comprise of the:
Ritz-Carlton motto

credo statement

three essential service steps

employee promise, and

service values
Ritz empowers every staff member, right from housekeeping to management. They have the liberty to spend up to $2000 per guest per day. They can spend this amount to resolve their customer (here, guest) issue without seeking their supervisor's permission.
The Technology Angle
The customer support team can show customers how valuable they are to them through automated email notifications and canned responses. Help desk software features automatic notifications that update users and customers of the ticket status.
Notifications are sent for:
Automatically responding to the customer on new ticket creation

Alerting the customer on user response

Addition of new tickets

Alerting the user on customer response

Alerts received by users on customer response

Ticket assignment notification

Overdue ticket notification
You can set up canned responses and rule-based automated messages at the time of ticket creation, updates, assignment, and resolution. They help you maintain brand consistency and also fulfill the purpose of good customer service.
Reduces Employee Attrition Rate
Employee engagement is critical to reducing the employee attrition rate. The way you treat your customers the same way your employees will treat you. This may read a bit weird, but your employees pay careful attention to how you behave with your customers.
Value your customers like gold and refrain from engaging in any cheap sales tactic. Don't train and urge your staff to discount or undercut customers with the sole purpose of beating your competitor.
As you stop playing sales and marketing gimmicks with your customers, your employees feel proud to be a part of your organization. They wish to stick around and not leave the company.
Your employees won't feel like coming to work, if they are under-appreciated.
87% of employees who are the happiest with their jobs work harder for their business' customers. This implies that statistically, there is a significant connection between employee delight and customer focus.
Why will your employees, if poorly managed, bother to deliver great customer service? Make your employees feel special and only then will your customers feel more appreciated and respected.
Train your staff, equip them with tools for success, let them grow, work towards their personal development, and act on employee feedback.
Appreciate how employees tackle customers and their job, encourage teamwork, find out who cares the most for the customers, and help them develop the ability to offer unparalleled customer service experience. Your employees need to realize why is good customer service important.
Here's a real-life example of a popular company known for employee engagement. It is Glassdoor. The company has made employee engagement a critical area that all companies need to address in times of today, when employee retention is as important as customer retention.
For those who don't know Glassdoor, it is a website where current, as well as former employees, have the freedom to review companies anonymously. In fact, users can submit and view salaries anonymously. They can even search and apply for jobs on this useful platform.
The Technology Angle
You can engage employees by training them. Providing them with an internal knowledge base does the job for you. Create a secure online resource center accessible to your employees. They should be able to find and share information amongst themselves.
Only when your employees have readily available information can they engage better with customers and this, of course, helps to reduce the attrition rate.
Boosts Lead Generation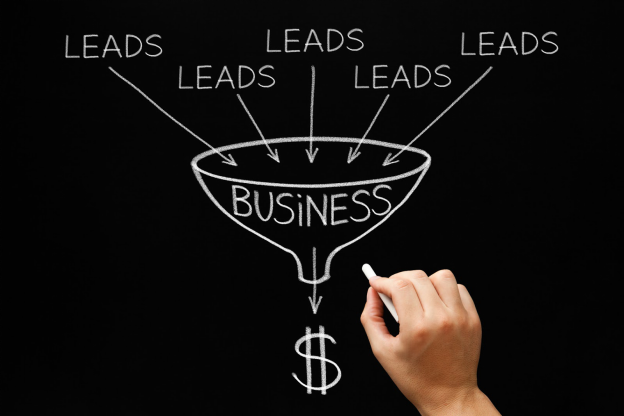 One of the major causes why customer service is important to your business is that it helps in boosting lead generation.
Why will your customers buy from you if they are not served well?
As you resolve their problems faster and show interest in answering their questions, they start feeling valued and won't even plan to switch brands.
Consider this scenario.
Choosing a health insurance plan online can be tricky since there are several options and a visitor may need a lot of information to make a decision. Imagine that's your business and how helpless a visitor can feel when they arrive on your website.
In such a situation, if they chat with your operator or your operator shows help when the visitor is on your website, you can close the sale quickly.
Guidance is the key here

Timely help matters the most

Your customer should not wander from one tab to the other or get lost on your website
The Technology Angle
Have a live chat window open on your online portal always so that operators can resolve customer questions in real-time.
Choose a live chat software that comes integrated with the help desk. This way you won't miss on customer questions that you receive even when your operators are offline.
Encourages Word-of-Mouth Marketing
When you think of the number one factor that not only makes people think of your brand but also recommends it to others, customer service is what comes to the mind.
As your customers feel delighted and are comfortable with your brand, they are sure to refer it to others. In fact, you don't need to pay them for that or even make any lucrative offers.
You can find tons of review websites where your customers and prospects like to review your product/service. It is your excellent customer service that pays off. These customers are your existing customers. They make repeat purchases from you and serve as your brand advocates.
To be honest, they fall in love with your brand, as your product/service climbs to the top of Maslow's Need Hierarchy Model.
Businesses realize the growing significance of word-of-mouth marketing. This is the fastest means of generating leads and leads that are sure to convert for your business.
People trust their friends and acquaintances more than they trust you, and if they find that their friend is happy with a brand, they will definitely give it a try.
The Technology Angle
Technology comes in handy to promote brand advocacy amongst your existing customers. Help Desk Software comes integrated with the survey maker.
You can thus send Net Promoter Score (NPS) surveys to your customers and gather their feedback on service experience to improve on it. Monitor, track, and improve on your operator's performance by keeping an eye on the "reports" dashboard of your shared inbox.
Ready to gear up your customer service and grow your customer base? ProProfs Help Desk is there for you.
Recommended Read:
Do you want a free Help Desk?
We have the #1 Help Desk for delightful customer support starting at $0