Comptia Network+ Study Guide
From Proprofs
Comptia Network+ Study Guide
You are here: Home > Schools > Comptia > Network+ Certification > Wiki Home >Study Guide
Comptia Network+ Study Guide
Welcome to Network+ Study Guide!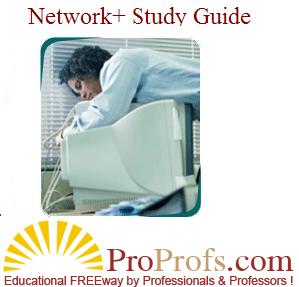 The Comptia Network+ examination is not an unbeatable monster. In fact, compared to many common certification examinations,
the Network+ exam is rather formulaic and easy to master with the right training.
In this study guide, you will receive just that "right" training; in fact, you can master the facts you need to know for the exam in 20 easy lessons. Each lesson is timed to take approximately
one hour to complete (which is a very generous estimate indeed); many people will be able to read the covered material in less than half of that time.
Most of the lessons will follow a similar format – content will be covered, with key points in bold, in a small reading section, followed by a few questions for review. It is recommended that you read the section multiple times to fully comprehend the material, as many of the key points covered come straight out of exam pattern or the Comptia Network+ exam syllabus. The review questions will almost always cover concepts directly addressed in the reading sections and will also reflect typical exam questions.
Periodically, you will encounter some reading sections in which exam material is not directly addressed, such as in the "troubleshooting" or "review" reading sections. Don't be fooled – these are perhaps the most critical passages in helping you succeed on the exam because they cover the concepts and methods necessary to be successful in answering exam questions, especially those requiring some analysis.
After you have completed all 20 days of the Network+ study guide, you will probably be ready for the exam (of course, you may want to check out our"Sneak Peek Review.") So, it would be in your interest to register for the exam ahead of schedule, but do know that you don't have to pay full price for the exam – many online companies offer reduced-price exams and a quick search on our forum will yield some of these providers (also go through the article section formore details on vouchers).
The most important thing to remember while studying for this exam is that it tests primarily for your ability to apply the relatively small amount of information covered by the exam to solve basic network issues. So, when studying, don't simply memorize names and functions; instead, memorize the applications, pros, and pitfalls of all the networking components. Do this and you will succeed in your endeavor to earn the Network+ certification!
Top 5 Contributors to this article
---