The SAT Prep Wiki
From Proprofs
The SAT Prep Wiki
You are here: Home > Schools > SAT Test > SAT Wiki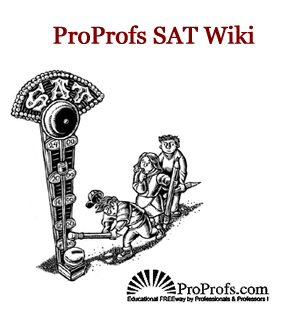 Welcome to the SAT prep wiki page, a resource for finding and sharing articles and notes on the SAT exam. On this page are some articles, tips, and tricks related to the SAT in general, the reading and writing study guides, and the reading and writing cram sheets. ProProfs invites all users, (both educators & students) to make contributions, edits, and improvements to this Wiki to create a continually-improving, comprehensive guide to the SAT. We encourage you to do your part in helping to make this Free resource the best and most thorough SAT guide available on the web.
SAT Articles : Articles on SAT.
[edit section]
SAT* Wiki Guides: SAT Reasoning Test Guides
[edit section]
Free SAT* Premium Content
Get an additional SAT practice exam, vocabulary notes and a lot more of other premium SAT content for FREE when you join our SAT forum and do just 2 posts (active members). Just Two posts on the forum will get you access to the full premium content section for FREE. It's free to register and post, so register now. Read more at active member benefits.
[edit section]
SAT* Wiki: Share Notes & Articles
All content on this page and the rest of the WIKI is created and maintained by ProProfs community members like you! You can help by contributing and editing. Simply login (you are automatically logged into the wiki if you login to the forum & then visit wiki) and click "edit this page" to start contributing. Even small corrections make a difference in providing the learning community with the most accurate source of SAT preparation material available on the web. Thanks for all of your contributions!
Math Tip: Means, Medians, Modes
Writing Tip: Avoid the -ing's!
Math Tip: Domain and Range of Functions
Top 5 Contributors to this article
---