Subject/Verb Agreement
From Proprofs
Subject/Verb Agreement
You are here: Home > Schools > SAT > SAT Wiki > SAT Writing Guide > This Page
Subject/Verb Agreement
[edit section]
Subject/Verb Agreement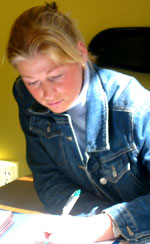 Subject/verb agreement errors are the most commonly-tested errors on the SAT Writing section and certainly within the ISE portion. They are also the simplest errors to recognize and spot in a sentence. The basic premise in English is that a verb (something you do) matches its subject (something you are). For example:

John eats pizza

is a simple sentence that follows the basic idea of subject/verb agreement. John is the subject and "eats" is the verb. The correct conjugation for "to eat" in the third-person is "eats," so the sentence is correct. What if we try to complicate things a bit with a non-essential clause?

John, a famous author and father of two who I respect immensely for his driven passion and attention to detail, eats pizza.

Well, this is something of a run-on sentence, but you get the point. Even though there is a long description (we call it a "non-essential clause") of John in between the subject and the verb, the subject is still John and the verb is still "eats." The sentence is still correct.

Simple subject/verb agreement questions will test you on your ability to recognize subject/verb agreement in clear-cut situations, like:

Terrance, the acclaimed songwriter, say that he doesn't like opera.

Obviously, "to say" is the verb, but it is conjugated incorrectly. "say" should be "says."

However, College Board likes to throw in a few tricky questions. Some subjects sound plural but are really singular. Here are a few:
Whoever/Whatever/Whenever
Committee/Board of Directors/Congress/Chamber of Deputies (etc.)

Watch out for these "trick subjects." The key to identifying a subject is to understand who or what is performing the action in the sentence. For example:

The commission of peers tell us that we have thirty days to leave.

This sentence may seem correct. After all, "peers" is plural and "tell" is the correct plural conjugation of "to tell." However, "peers" is not the subject! "commission" is really the subject, and so a commission is singular. In general, questions on the SAT will often feature a subject that is singular followed by a description or phrase that is plural, like committee, board, group, and so on.

The College Board will also throw in strange sentence structures to throw you off. Do not be "fooled" or get off track. For example:

Phillip is among the many people who goes to school.

Reading the sentence, you may spot something fishy. Actually, you should spot that "goes" should be "go." But why? As you read the sentence, you should be aware that "people" is the subject and "to go" is the verb. Match the two accordingly.

Finally, watch out for conjunctions. Here are the rules:
John AND I see Mary. (AND is plural)
Either John OR Bob dates Mary (OR is singular)
Either John OR I date Mary (Even though OR is singular, you must go with the conjugation of the word closest to the verb, which is I DATE)
Neither John NOR I date Mary (Same rule as above)
Both John AND I date Mary. (Same as AND)

Subject/verb agreement questions should be "gimees," so watch out for them and be sure to earn all the points you deserve from these easier questions.
Subject/Verb Agreement
Top 5 Contributors to this article
---